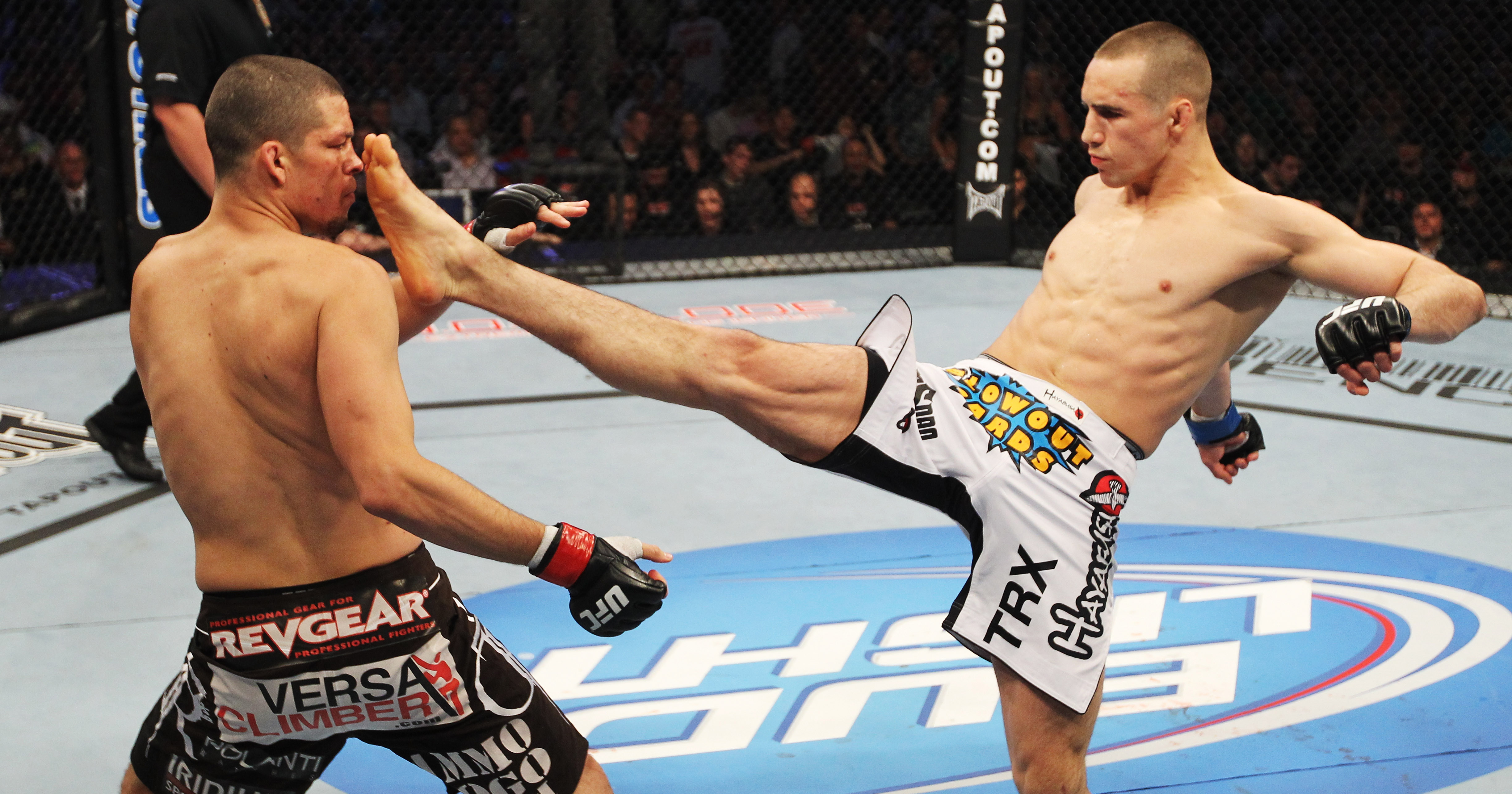 Rory MacDonald vs. Nate Diaz
Coming off a third round loss to perennial title contender Carlos Condit, Canadian Rory MacDonald looked to get back on track at UFC 129 in Toronto. His opponent was the outspoken Nate Diaz, who had won two of his previous three bouts coming in to the matchup. Diaz, however, couldn't handle the all-around game of MacDonald and was taken down a then-career high seven times.
Watch this fight for free here!
Andrei Arlovski vs. Aaron Brink
Former heavyweight champion Andrei Arlovski entered the UFC as a relatively unknown fighter with a big upside. That changed quickly, however, the New Jersey crowd saw Arlovski submit Brink in just 55 seconds. The rest is history.
Bonus Round: KO of the Week: Andrei Arlovski vs. Vladimir Matyushenko
Ryan Jimmo vs Anthony Perosh
Heavy-handed light heavyweight Ryan Jimmo may have lost out on an opportunity as a contestant on The Ultimate Fighter but still managed to make a name for himself in the UFC. The Canadian tied the record for fastest knockout with this one-punch KO of Anthony Perosh.
Bonus Round: Fighting Through Failure
Watch the electric knockout here!
Ali Bagautinov vs. Marcos Vinicius
The odds were stacked against Ali Bagautinov in his debut against marcos Vinicius. Not only was it his first bout in the Octagon, but the Russian-born fighter was tasked with fighting a Brazilian in Brazil. Bagautinov was up to the challenge, however, dropping Vinicius with a big right hand after a back-and-forth affair.
Demetrious Johnson vs. Joseph Benavidez
Demetrious Johnson was scheduled surging flyweight Joseph Benavidez at UFC on FOX 9 in the highly anticipated rematch between the pair. Benavidez, who had finished his last two fights, had only lost to Johnson in his previous eight fights and was anxious to get his revenge on the first-ever flyweight champion. The hype was short-lived however, as Johnson stopped Benavidez with punches midway through the first round.
Bonus Round: Demetrious Johnson vs. Damacio Page