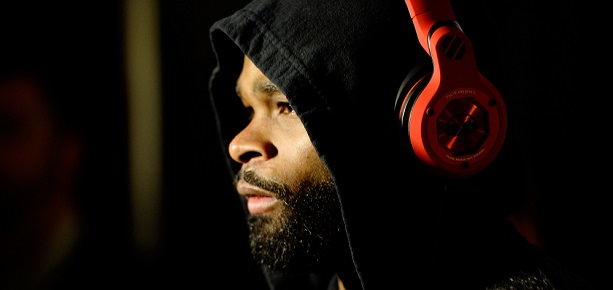 Sometimes it's not what you say, but what you don't say. So when asked about the announcement that the next shot at
Johny Hendricks
' UFC welterweight title is going to go to the winner of July's bout between
Matt Brown
and
Robbie Lawler
, the normally loquacious
Tyron Woodley
doesn't have much to offer, at least not publically.
"I have no thoughts on it, no comments," said Woodley, the number three-ranked welterweight who figured that his June 14 fight with number two-ranked
Rory MacDonald
was going to determine who gets the shot at the 170-pound crown. "I can't afford any distractions. This is a very tough fight and I think this kid deserves my full attention."
Fair enough.
"My mom told me if you don't have anything good to say, don't say anything at all," chuckles Woodley, but this is no laughing matter for him. Despite what he says to the world, this one hit him hard, and though he won't come out and address it directly, little hints show up throughout a conversation that has moved on to the UFC 174 co-main event next week in Vancouver, British Columbia, Canada.
"I'm just preparing for the one that looks spectacular," said Woodley of the MacDonald fight. "At any point, if you prepare for the A+ game of Rory MacDonald, and you go in there and it's anything less, you should be overprepared. I'm prepared for that guy who comes in and finishes guys off and looks like a serial killer in the cage. That's the one I'm prepared to fight and I'm confident in my preparation, my team, my training partners, and my mentality. Some things from yesterday (the Brown-Lawler announcement) took a half a day from my training and distracted me a little bit, but I prayed about it, went to sleep, woke up refreshed and renewed, and I'm back on my grind."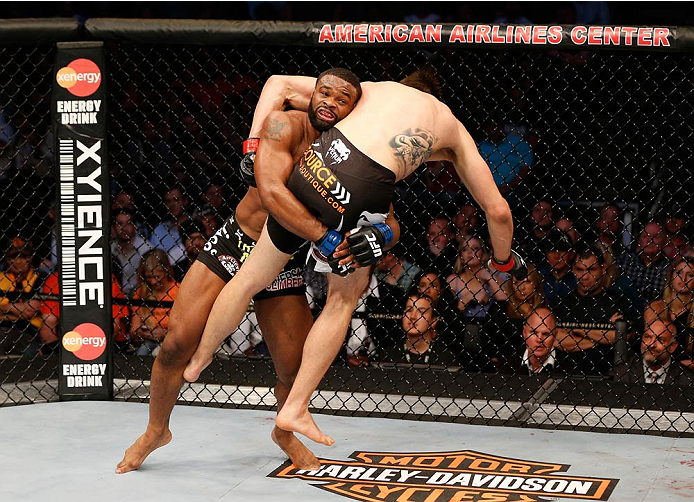 And now he's in point-proving mode, a scary proposition for a welterweight division the 32-year-old already believes has been put on notice by his three UFC wins (all stoppages) over
Jay Hieron
,
Josh Koscheck
, and
Carlos Condit
.
"One of my coaches told me, 'don't worry about everything that everybody's saying, don't worry about what they're doing in the division. You are the best. Everybody in this division is shook,'" said Woodley. "Any welterweight that acts like they're not worried about me, that I don't pose a threat to them, they're lying. I can bang, I can counter, I can slam people, I can take them down, I can submit them, I can knock them out, and I'm so mad that they might have to come to save Rory MacDonald. I believe in myself what people have been believing in me over the last five years. I'm a dangerous fighter who's got nothing to lose, who's continuously forced to prove himself. So each opponent is getting undeserved chaos that they didn't do anything to deserve. But if that's what it takes, then that's what it takes."
> Check Out The UFC 174 Extended Preview
The first recipient of that undeserved chaos was Condit. Fighting underneath the vacant welterweight title fight between Hendricks and Lawler at UFC 171 in March, Woodley ripped off a right hand in the first 30 seconds that shook Condit and those at Octagonside, because you could hear the impact of the blow. Watching the replay of the fight just doesn't do it justice – this was danger in a four-ounce glove.
"No other welterweight in the UFC is gonna take that shot and not hit the ground," said Woodley, and few would argue. "I guarantee that. But I'm really happy with my composure, that I hit him so hard and just did it again and again. I knew what type of chin he had, and granted, that's probably the hardest I've ever hit someone and I didn't knock him out. So I had to be prepared to do that for 15 minutes, and I was."
He didn't need to go that long, and though the fight ended in the second round due to injury, Woodley was at his best that night in Dallas, looking as if he was going to end the fight if Condit's injury didn't. As for that right hand, he believes the next time he lands it, there will be a definitive finish. And it may come as soon as June 14.
"Rory MacDonald is not gonna take a shot like that," said Woodley. "If I hit someone with that punch in the same situation, I'm not even going to follow up. I'm gonna just walk away because I know it's going to be over with."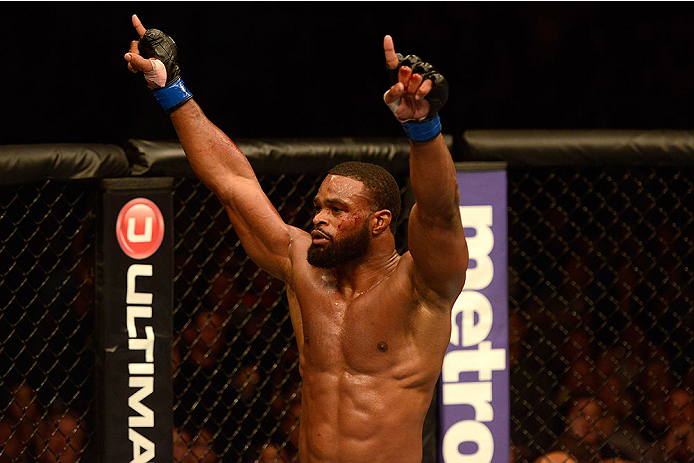 Talk like this is why this sport is as intriguing as it is. Before entering the UFC, the longtime
Strikeforce
standout took his share of internet abuse for three straight decision wins over
Tarec Saffiedine
,
Paul Daley
, and
Jordan Mein
. I ask Woodley if he has a long memory.
"I remember people said I was a blanket, I was Nyquil, I was boring," he said.
Long memory? Check.
"I had three fights with guys who hadn't been finished very often, all three of them were studs, and then I was a boring fighter."
Now he's the greatest thing since pizza, so he doesn't take the criticism - or the praise – to heart.
"I'm just a good chess player," he said. "I'm a smart fighter, I make adjustments within a fight, and people will say anything. So I know that you're only as good as your last performance, and as long as you make your last performance a really good one, people will say all good things about you. But it really doesn't matter. I fight for my family, I fight for my kids, I fight for my legacy, and I fight to leave my stamp in this game. And no fan, no media, no critic is going to take that away from me."
And the way he sees it, no one is going to stop him from getting that title shot. He's even convinced that with his performance against MacDonald, he might be able to change UFC President Dana White's mind about who gets the next shot at Hendricks.
"I thought I was there," he said of fighting for the belt. "But I might go out there and smoke Rory so bad that he (White) has to give me the title shot. So I'm not ruling out the option that my performance and the fact that if I beat the number two guy back-to-back and I do it dominantly both times, I think Dana might reconsider."
'Nuff said.