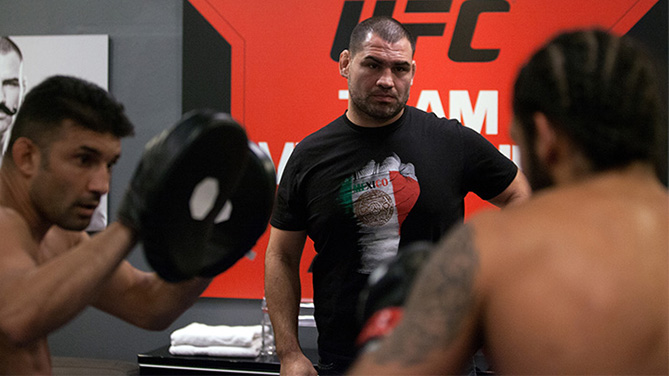 We begin at the TUF house where Guido is still in shock over his split decision loss from last week. Members of Team Latin America and Team Mexico haven't agreed on much this season, but they both agree that Guido hasn't been able to accept this defeat. He's telling every person that will listen (and some that aren't) that he was cheated out of a victory. He even calls it "The biggest robbery in the world!"
From the most outspoken member of the team, we shift focus to the quietest. Leonardo Morales is from Nicaragua, and that's about all his teammates know about him. He's a bit of a loner and keeps to himself a lot. Leo says that it's nothing personal against the housemates. "I'm quiet by nature," he tells us, "I don't speak much." As he prepares for his fight against Masio Fullen, the only real talking he plans on doing is with his legs. Coach Werdum wants Leo to use his Muay Thai skills and strong kicks to keep Masio off balance. Masio is a strong boxer and they want him to be so busy using his arms to block kicks that he can't punch.
Back over on Team Mexico, we see them getting prepared for their night out on the strip. Since they beat Team Latin America at the 8-ball challenge last week, they get an all-expense paid night out. The only thing higher than the calorie count on all the food they eat is their BAC levels. The tequila is flowing free and they finish the night with a late night pool party. Teco tells us that it's ok because, "We'll exercise tomorrow." As far as the fight is concerned, it looks like Leo's instincts were correct. Masio feels that he has the superior boxing and plans on making it a stand-up fight. He knows that Leo has strong kicks, but says that the coaching staff has been working on some techniques to combat that. He's pretty tight lipped about what those strategies are, though, and doesn't reveal much else about the gameplan. We'll see if it works out because it's fight time!
> Watch: Meet Team Velasquez Fighter Masio Fullen | Meet Team Werdum Fighter Leonardo Morales
ROUND ONE
Working from a southpaw stance, Leo begins the fight attacking with his left leg. Masio takes an aggressive stance and back his opponent against the fence. Masio blitzes in and Leo counters with a clubbing left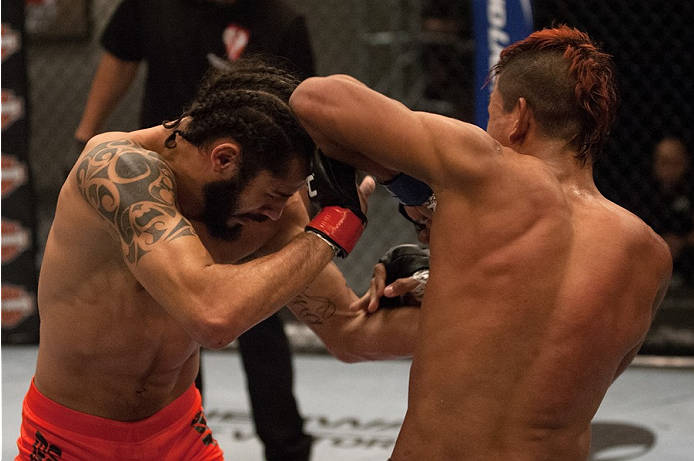 hand. Masio falls, but it's more of a slip than a knockdown. Leo keeps hacking away at Masio's front leg with low kicks. Masio closes distance and rips off a quick uppercut/hook combination on the inside. Leo maintains his offense with kicks while Masio keeps searching for some flow with his boxing. His coaches keep telling him to close the distance, but he starts to give Leo too much space in the second half of the round. This allows Leo to repeatedly attack with the low kicks and Masio's left leg shows obvious bruising. In the closing seconds of the round, Masio lands his best punch of the round -- an overhand right.
ROUND TWO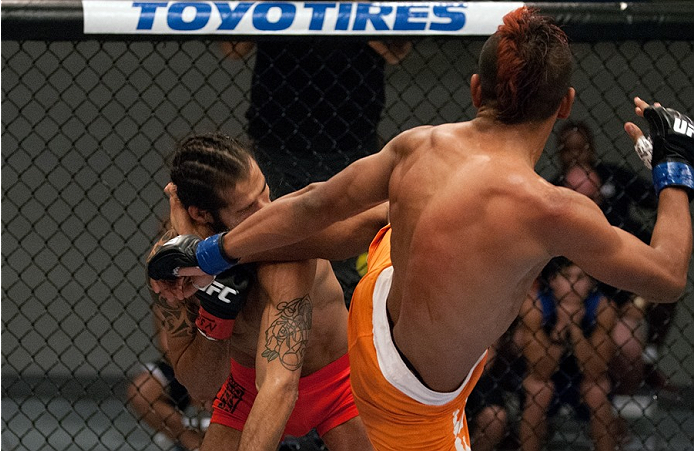 Leo opens the round with another low kick. Following his coach's advice, Masio rushes in and ties Leo up. He even goes for a takedown. He briefly put Leo on the ground, but can't hold him down. They break apart and Leo connects with another low kick. Masio tries to make it a clinch fight, but he can't hold his opponent against the fence. They break apart again and Leo continues to chop down Masio's leg. All the low kicks finally pay off halfway through the round. Leo goes for another kick and Masio misreads the height. He thinks it's going low, but Leo brings it high. Leo's shin cracks Masio right in the face and Team Mexico's boxer drops to the ground. Leo jumps in for some ground and pound, but the ref quickly jumps in to stop the fight. Leonard Morales is Team Latin America's second fighter to advance with a devastating second round TKO with 2:23 remaining.
> Check Out: Octagon Photos from Fullen vs. Morales
Dana White calls it "a perfectly executed fight." He goes even further, saying, "It couldn't be done any better."
There's no time to gloat over Leo's performance, however, because we move straight to the semifinal fight selections. Dana White, Coach Werdum and Coach Velasquez call each one of the remaining fighters into the office and asks them who they would like to fight. After hearing each fighter's thoughts, Dana reveals the matchups. It will be:
Featherweight
Yair Rodriguez vs. Rodolfo Rubio
Leonardo Morales vs. Gabriel Benitez
Bantamweight
Alejandro Dominguez vs. Marlon "Chito" Vera
Marco Beltran vs. Jose "Teco" Quinonez
We close out with a sneak peak into next week's epsisode. Can Team Mexico deal with teammates fighting one another? Who wins the coaches' challenge? How dirty is the kitchen at the TUF house? Find out this and more next week on The Ultimate Fighter!