Las Vegas, Nevada –The
Ultimate
Fighting Championship® organization can reveal the English-language version of
The Ultimate Fighter®
Latin America will screen exclusively on UFC FIGHT PASS® for US subscribers.
Filming is already underway in Las Vegas, with UFC heavyweight champion
Cain Velasquez
leading a Mexican team against No.1 contender
Fabricio Werdum
's squad of fighters from across Latin American. The season is scheduled to premiere on UFC FIGHT PASS®, the UFC's digital subscription service, in August with new episodes uploaded weekly.
"I've been waiting 15 years for this," said UFC President Dana White. "Passion for fighting is unrivaled in Latin America. It's part of their history and their culture. There's a lot of potential in this season's cast and I know they're going to bring it every fight. Adding a little extra rivalry – pitting Mexico versus the rest of Latin America - doesn't hurt either."
Fans from the following countries will be able to catch the season on their respective free to air networks: Argentina: CN5, Bolivia: Red Uno, Mexico: Channel.5, Nicaragua: Channel 13, Panama: NexTV, Paraguay: Telefuturo and Uruguay: Channel 10. The season will premiere on these Networks the week of August 18, though dates and weekly episodes will vary per country. Viewers should check their local listings for further information.
More networks will be confirmed prior to the series premiere and, additionally, subscribers to the UFC Network in Latin America will also get the chance to catch replays and watch exclusive content.
In the first Latin American edition of the series, the 27th edition overall, the eight bantamweight (135 lbs) and eight featherweight (155 lbs) fighters have been divided into two teams – Team Mexico, coached by Velasquez – and Team Latin America, coached by Werdum. Over the course of 12 weeks, they will face off in the most challenging sports tournament on television and compete for a six-figure contract with the UFC®.
The coaches will then face off in the famed UFC Octagon® for the heavyweight championship of the world on Saturday, November 15 at UFC® 180: VELASQUEZ vs. WERDUM at the Arena Ciudad de Mexico in Mexico City.
The list of finalists was trimmed from more than 600 applicants, with the final fighters hailing from Argentina, Bolivia, Chile, Colombia, Ecuador, Mexico, Nicaragua and Panama. The competitors are listed by weightclass and alphabetical order (Name, professional MMA record, age, hometown):
TEAM VELASQUEZ
TEAM WERDUM
Bantamweight
Bantamweight
Marco Beltran (5-2), 27, Morelia, Mexico
Guido Cannetti (5-1), 34, Buenos Aires, Argentina
Henry Briones (13-4), 33, Tijuana, Mexico
Fredy Serrano (1-0), 34, Bogota, Colombia
Alejandro Dominguez (22-6), Tlatenango, Mexico Bentley Syler (5-0), 31, Santa Cruz de la Sierra, Bolivia
Jose Quinonez (10-1), 23, Tlatenango, Mexico Marlon Vera (5-1), 22, Guayaquil, Ecuador
Featherweight
Featherweight
Gabriel Benitez (16-4), 25, Tijuana, Mexico
Humberto Brown (4-4), 29, Panama City, Panama
Masio Fullen (6-4), 27, Guadalajara, Mexico
Leonardo Morales (4-0), 21, Managua, Nicaragua
Yair Rodriguez (2-1), 22, Parral, Mexico
Diego Rivas (5-0), 22, Temuco, Chile
Rodolfo Rubio (12-6), 27, DF, Mexico
Alex Torres (1-1), 25, Bogota, Colombia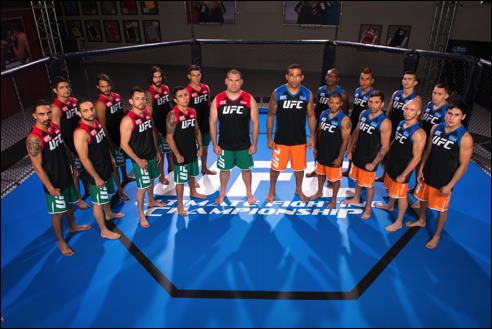 Front row (left to right): Quinonez, Rubio, Briones, Dominguez, Velasquez, Werdum, Serrano, Cannetti, Syler and Rivas.
Back row (left to right): Benitez, Beltran, Fullen, Rodriguez, Brown, Morales, Torres and Vera.
The Ultimate Fighter® has launched the careers of more than 100 UFC fighters and produced UFC champions such as
Forrest Griffin
,
Rashad Evans
and
Matt Serra
and season winners including
Michael Bisping
,
Ryan Bader
and
Nate Diaz
. Mexico-born
Efrain Escudero
captured the season eight lightweight title, while Mexican-American
Diego Sanchez
was the first ever winner of the franchise, defeating
Kenny Florian
, a fighter of Peruvian descent, at
The Ultimate Fighter 1
Finale in 2005. Other Mexican Americans to follow in his stead include,
Tony Ferguson
, season 13 winner,
Kelvin Gastelum
, winner of season 17 and the first ever female winner of the series, Juliana Pena, winner of season 18.
For more show information, bios, videos and photos, visit UFCFIGHTPASS.com and don't forget to follow us on Twitter @UFC_FightPass or on Facebook.com/TUF.