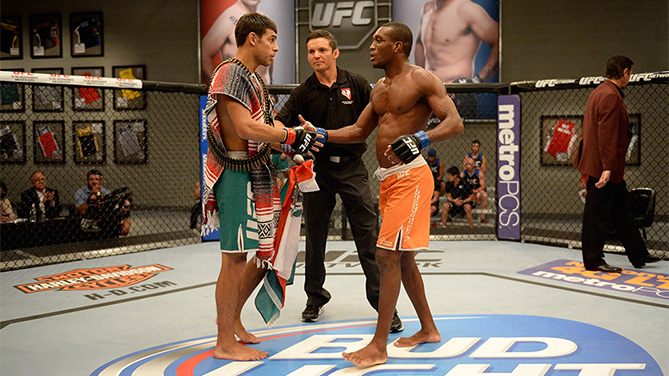 The episode opens up with Team Mexico riding high. They've won all three fights this season, and show no signs of slowing down. As great as Team Mexico is feeling, Team Latin America feels the exact opposite. They're clearly annoyed at the current situation and can't even find the humor in Team Mexico's underwear pool parties.
Next up looking to change Team Werdum's luck will be Panamanian Humberto Brown. After following his brother into the world of MMA, Humberto decided to stay in the sport so he can buy his mother a house. Extremely tough and aggressive, Humberto still appear a little raw. Coach Werdum loves his power and Muay Thai, but needs to shore up his jiu jitsu. During training, we see Humberto get caught in a triangle choke. Hopefully it's not a sign of things to come.
On the Team Mexico side, Yair Rodriguez also fights to provide a better future for his family. More than that, he's placing his entire career on the line. He says that if he loses on The Ultimate Fighter, his life as an MMA fighter is "over." Coach Velasquez doesn't seem too worried. He praises every aspect of Yair's game and thinks he's accomplished everywhere.
Besides preparing for fights, most of the housemates are trying to get to the bottom of the Great TUF Food Caper. Sure it may not have the same ring to it as The Hounds of Baskerville, but it's a lot more personal. If there's one thing you don't do to fighters cutting weight -- it's take their food. Apparently Team Latin America's food is disappearing while they're at practice. The teams come to the conclusion that the answer to their situation is segregating the refrigerators. One will belong to Team Mexico, the other belongs to Team Latin America. We'll have to find out if any more pineapples go missing later. It's fight time!
ROUND ONE
Yair comes out kicking. He repeatedly attacks with his legs form different angles and levels. A flying knee stings Humberto and brings the Panamanian to the ground. Yair doesn't want to fight on the ground and lets his opponent stand up. Yair controls the standup game and continues to connect with his legs and a hard left hand. He goes to the spin kick well one too many times, though, and Humberto uses that to take him down to the mat. He can't hold Yair down, but he controls the clinch against the fence. Both fighters try to hit trip takedowns from the clinch, but Humberto's physical strength controls the engagements.
He can't control his knees, however, and a few of them land below the belt line. The ref stops the fight and warns Humberto. They restart with 1:21 to go, and Humberto lunges for another takedown. Yair defends and lands a few hammerfists for good measure. Humberto reloads and tries again, but to no avail. The third time is a charm, but he's left with only 20 seconds to work. Yair is content to hang out with a reverse triangle loosely applies and we're heading to round two.
ROUND TWO
Humberto wastes not time bringing the fight to the ground and scores the takedown 37 seconds into the round. Working form half guard, he seems content to hold Yair tight and doesn't attack. Yair, on the other hand, doesn't plan on waiting. He gets his guard back and starts throwing elbows from the bottom. Humberto throws a couple ineffective punches, but he doesn't generate much offense. Yair stays active off his back, throws up a triangle attempt and secures the tap out at the 2:41 mark.
Back in the locker room, Coach Werdum is visibly upset. Any loss is tough, but Humberto's bothers him especially. He knows that Humberto is better than that, and didn't like seeing him lose "without fighting." Humberto apologizes to the team, but doesn't have much else to say. He doesn't know what happened. He simply couldn't generate enough energy.
We move to next week's fight announcement and it will be Team Mexico's Henry Briones taking on Team Latin America's Marlon Vera. Can Marlon get one step closer to paying for his daughter's surgery? Does Henry extend the Team Mexico shutout? What ever happened to that pineapple? Find out this and more next week on The Ultimate Fighter Latin America!
Watch Past Episodes

Episode 1 | Episode 2 | Episode 3 | Episode 4 | Episode 5