Previously on The Ultimate Fighter…
UFC women's bantamweight coach Ronda Rousey had the first fight pick, and opted to align her first female pick, 10-year-veteran Shayna Baszler against Team Tate's first female pick, Julianna Pena, in a bout that would set the tone of the rest of the competition.
Despite a series edge in experience and having controlled the first round with her grappling, Baszler came out flat in the second frame as Pena pushed the action, battering "The Queen of Spades" on the feet before sinking in a rear-naked choke late in the second round to give Team Tate the upset victory.
With the win, Team Tate takes over control, and gets to choose the first fight on the men's side of things, selecting Chris Holdsworth to face Chris Beal, who injured his hand in his fight to get into the house.
From a strategic perspective, it's a wise move, but filled with emotion from Baszler's loss, Rousey is irritated by the selection, referring to it in terms that can't be printed here. Frustrated by being down 0-1 in the competition and vexed by the excitement her rival coach and competitor Miesha Tate was showing after her team's victory, Rousey told Tate she was going to make her pay for "smiling at [her] girl's pain" as the two sides exited the gym, setting the stage for this week's third episode.
Emotions Riding High
Through two episodes, we're all seeing what kind of competitor Rousey is, even when she's not the one in the cage doing the fighting. She is emotionally invested in the success of her team, and seemingly walking a very fine line between blowing a gasket and bawling her eyes out with her face smashed into a pillow.
And having her nemesis residing at the complete other end of the emotional spectrum right now isn't helping matters any.
It's not that Tate isn't invested in her team's success – she very much is – but she couldn't be more different than Rousey in the way she carries it, and it seems as if the champion is looking for ways to turn Tate's actions and reactions into a slight against her and her team, and fuel for her competitive fire.
As the teaser for this week's episode showed at the end of Episode 2, tensions are running high and start to spill over, so it will be interesting to see just what happens not only this week, but in the weeks to come as well.
Women's Competition is Wide Open
Shayna had to be considered the favorite going into the first fight – not just to win her bout with Julianna, but for the competition as a whole. Most of the female fighters said as much in the first two episodes.
With her having been eliminated, this is now anyone's ball game, and that will surely have an impact on how things play out going forward. As much as there are two teams, this is still an individual competition, which means each fighter will be jockeying for position and scouting their potential future opponents – even the ones on their own team – from here on out, and you can be sure that is going to lead to some awkward interactions and a whole lot of gamesmanship in the very near future.
Obviously, by not just beating, but submitting Shayna, Julianna takes an early step forward to replace her as the favorite. That being said, Canadian Sarah Moras has to be feeling pretty confident right now as well. She dispatched women's MMA pioneer Tara LaRosa to make it into the house, and already holds a stoppage win over Julianna.
Who Becomes the Outcast?
Every season has at least one fighter that gets set aside from the group – the one that irritates everyone or simply marches to the beat of their own drum, opting to stay mostly isolated instead of falling in with the rest of the group.
It's a tradition that goes all the way back to The Ultimate Fighter 1 where Diego Sanchez was off in his own little world and Chris Leben was – well – Chris Leben.
Someone is going to say something stupid, do something stupid, or just generally get on everyone else's nerves, and it's only a matter of time before the dynamics of having 15 Type A personalities (Roxanne Modafferi is very much a Type B personality) under one roof creates an "outsider" situation, and waiting to see when it happens is part of the fun.
Early Favorites Collide Again
Ronda and Miesha aren't wasting any time looking to establish dominance in this one. The top two picks on the female side of the competition were matched up in the opening bout, and the first fight on the male side of things pits Miesha's second pick, Chris Holdsworth, against Ronda's first pick, the partially injured Chris Beal.
Two fights in, Team Rousey could be without their top two selections, and if you think losing the first bout annoyed Ronda, how do you think she'll react to being down 0-2 and losing her top choice on both sides of the tournament?
On paper, this is a classic striker versus grappler pairing. Beal blistered Sirwan Kakai on the feet to get into the house, while Holdsworth choked out fellow Team Tate member Louis Fisette, who returned to the competition as a replacement for the injured Tim Gorman.
As two of the top four picks in the men's bracket, the winner of this one will position himself as the one to beat heading into the semifinals. It might seem early to say that, but unless Team Tate's top pick Cody Bollinger is matched up with Team Rousey's second choice on the men's side, Davey Grant, this will be the best quarterfinal match-up of the bunch, and the winner will be the one to beat going forward.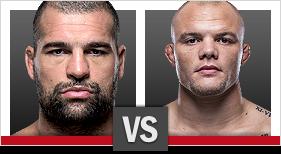 Sunday, July 22