If you've seen the gang from Team Alpha Male at any moment over the years, it's clear that the Sacramento stalwarts don't need an excuse to take their shirts off. But when the idea came up for them to do a calendar, bantamweight contender and team founder Urijah Faber wasn't too sure.
"There are only so many MMA / UFC fans that want to see a bunch of guys with their shirts off," he laughs.
Enter Faber's friend, photographer Sam Hon, who suggested that the members of the renowned fight team get together for a shoot that doesn't just serve as the basis of their 2015 calendar, but commemorates the 15th anniversary of the iconic film Fight Club.
"For a lot of years people have been saying we should do a calendar, and I couldn't really get myself to do a regular one," Faber said. "I didn't think it would be that cool, so I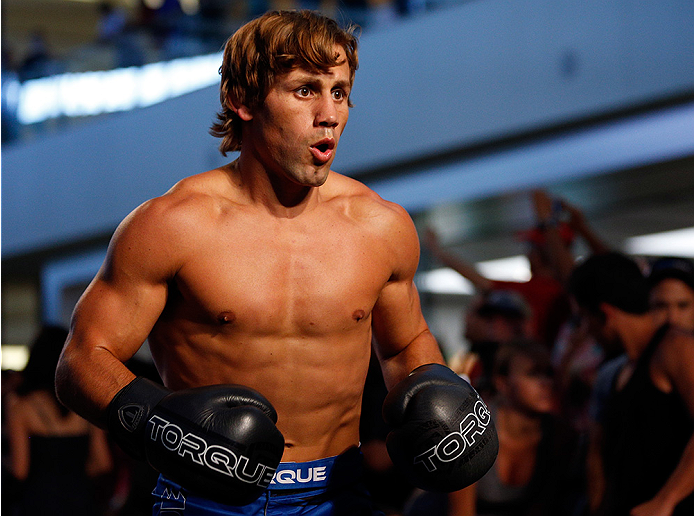 figured we would need some sort of theme, and my good buddy – and an amazing photographer – Sam Hon came up with this great concept to do this Fight Club remake with the guys for the calendar. So it was a way to appeal to everybody and we made it as interesting as possible. We added some blood and some reenactments of a classic movie, and everybody got involved and got excited for it, so it was pretty cool."
Featuring the entire team, including UFC vets Faber, bantamweight champion T.J. Dillashaw, Chad Mendes, Joseph Benavidez, Danny Castillo, Andre Fili and Chris Holdsworth, the calendar pays tribute to the Brad Pitt film that immortalized the following lines:
"The first rule of Fight Club is: You do not talk about Fight Club. The second rule of Fight Club is: You do not talk about Fight Club. Third rule of Fight Club: Someone yells stop, goes limp, taps out, the fight is over."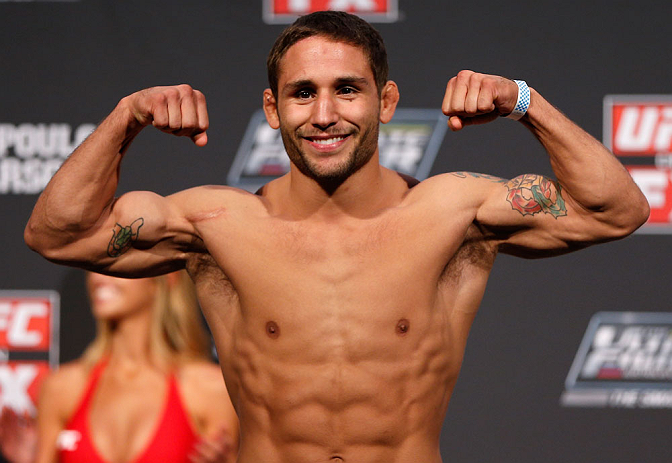 The film, which was based on the book by Chuck Palahniuk, didn't just appeal to moviegoers, but it spawned an underground fighting culture which was far removed from legitimate mixed martial arts competition. Despite this, many equated one with the other back then, and pro MMA fighters went to great lengths to let the public know that what they did for a living bore no resemblance to what happened on the silver screen. To Faber, the fact that they can do a project like this and not have fans believe it is real life shows how far the sport of MMA has come.
"The awareness and the market is just night and day from what it used to be," he said. "Back in the day we were doing everything in our power to let people know that we were civilized and that the sport had rules, and now I think people understand what a great sport this is and at this point we're able to poke fun and not confuse the market."
There will be a market for this calendar though, and Faber and company put in plenty of hours to make sure it was done right.
"I was a huge fan of the movie, and I feel like a lot of the characters we have in the gym are similar to a lot of characters in the movie as well," he laughs. "But Sam had the concept together, and he had the Hasseblad and broncolor, which are two of his sponsors, to help get him the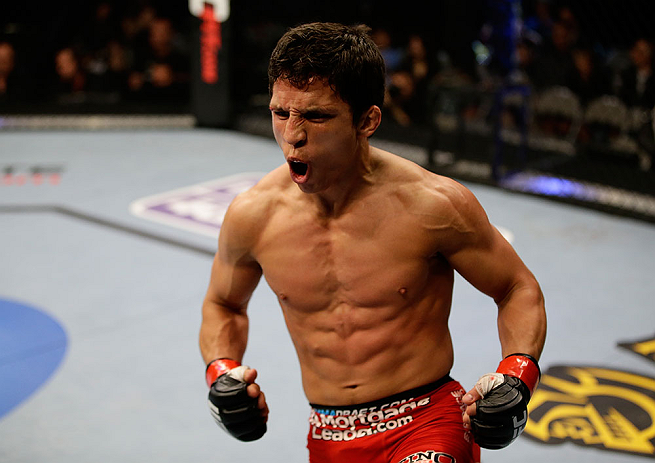 equipment to make this thing really top-notch, so he really went above and beyond to make this thing as cool and unique as possible. A lot of it is us showing up, but even more of it is Sam's creativity and his expertise as far as a photographer and artist goes."
As for the time spent on set, Faber admits that some of his teammates did have some tales to tell from the days before they were pros.
"A lot of guys were talking about how they used to have some Fight Club stuff going on," Faber said. "I think that movie spurred on a lot of underground fights, so there were a lot of war stories that started to pop out, for sure.
But he won't reveal those stories because you know the rule…"The first rule of Fight Club is: You do not talk about Fight Club.
The 2015 Team Alpha Male calendar is available at http://teamalphamale.com/