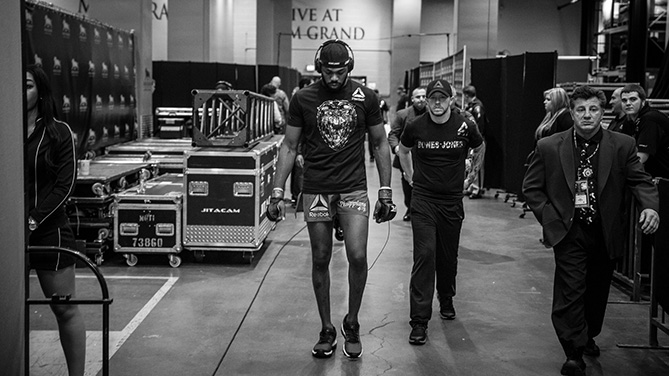 While Daniel Cormier, the earnest challenger to Jon Jones' light heavyweight title, was backstage Saturday night meticulously going over every last detail in preparation for the most important fight of his life, the champion was casually roaming among the crowd.
Jon Jones was signing autographs.
"I was cold for some reason, I couldn't get going. So I went out into the arena and I drew energy from the fans," Jones said at the post fight press conference following a unanimous decision victory over Cormier at UFC 182.
That fan-inspired energy propelled Jones to his eighth straight title defense as he outlasted Cormier in a grueling, five-round grind of a championship contest.
> Read: Jones Decisions Cormier, Bad Blood Still Boils
All week, ever since Jones stepped off the plane at McCarron Airport and made his way to the MGM Grand, a calm and confidence radiated from the body of the pound-4-pound king.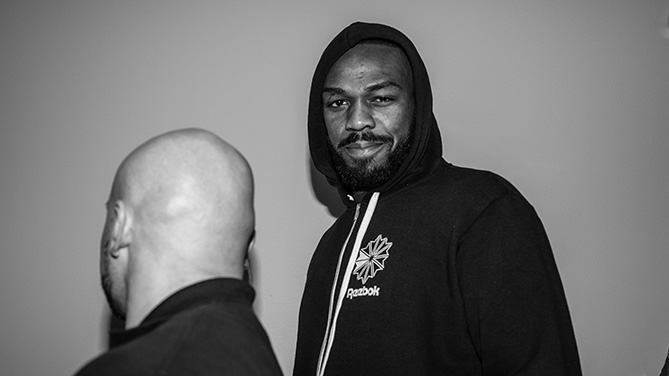 Jones was impervious to the "Break Bones" T-shirts that were ubiquitous throughout hallways, walkways and sidewalks of the Las Vegas Strip.
The champion knew something we didn't. Or maybe we knew, but not all of us wanted to believe it.
Jones knew that he is unbreakable.
"Fighting tough, scary dudes is what I do," Jones said calmly as he summed up the details of his latest title defense. "I've accepted my job. I accept that it's not going to be easy, but I know that I have the cardio to last. As long as I don't get knocked out I'm going to be there, in your face, no matter what you do to me, fighting you back for 25 minutes."
Cormier found out exactly what Jones meant -- the hard way.
After a decisive first round for Jones, which included a first-ever surrendered UFC takedown of the former Olympian's career, "DC" started to find some life. He pushed through Jones' substantial reach advantage to get inside and start landing some significant strikes from in and out of the clinch.
He built some momentum and started to believe that he could be the man to rip that belt off the shoulder of the 27-year-old champion. But as the fight continued, Jones' experience and pure athletic prowess allowed him to yank that momentum back.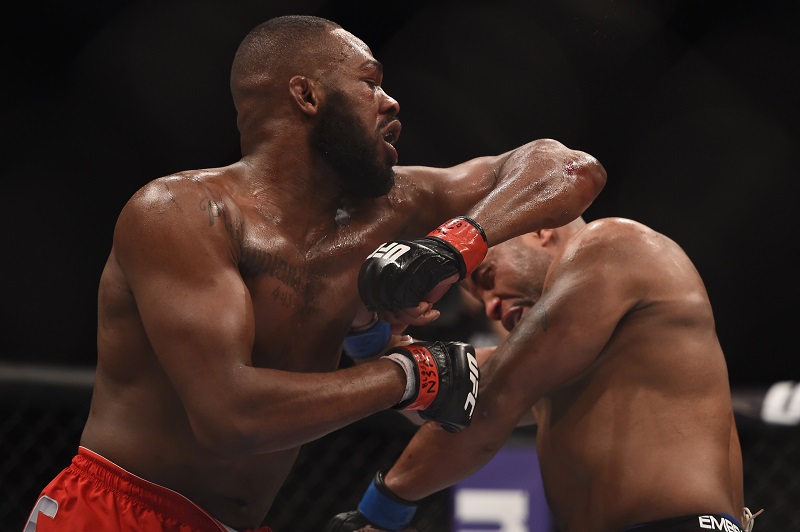 In the fourth round, Jones demoralized Cormier, scoring a pair of clean takedowns along the fence to take a commanding lead in the fight.
Jones outwrestled perhaps the most decorated wrestler to ever compete in MMA.
Cormier said he was impressed with Jones' championship resolve.
"By the end of the first round we were both bleeding and I was like, 'you know what? This is what a championship fight should be.'" Cormier said. "He has a champion's spirit and he showed that.
"I've shared that cage with a lot of very strong men – superheros – and I can't say enough about his grit and determination."
Cormier may be on to something with that superhero reference. Jones seemingly possesses super powers when it comes to studying his opponents and their fight tactics.
"I watch (my opponents') fights so much that I actually absorb who he is," Jones said. "I watched (Cormier) hold my boy Frank Mir up against the cage, and I was just like, 'I see what you're doing there.' I watch (my opponents) on film so much I start to subconsciously inherit their talent and their gifts. So a lot of times you'll see me do exactly what they want to do to me, I do to them."
The end result, White said -- Jones with his hand raised against one of the toughest fighters in the world -- again proves the champion's greatness.UFC President Dana White said he thought the first round of Jones vs. Cormier was one of the best first rounds he's ever seen in a title fight.
"Jon Jones has so many tools and so many weapons," White said. "But if you want to be the greatest ever you have to continue to be motivated to come in and perform like he did tonight and every other night. Now we've seen if you want to bring a dogfight to Jones, Jones can do that, too.
"It's hard for me because Jon Jones is so young and has so many more things to accomplish. But he's beaten the who's who, he's cleaned out the division, he's breaking records, and if this continues, yeah. He's probably the greatest ever."
> Watch: UFC 182 Post Fight Press Conference Highlights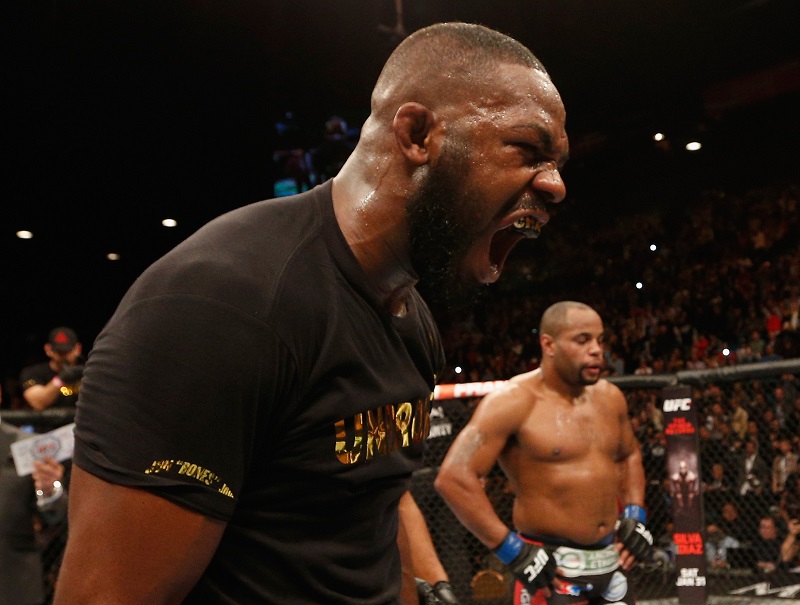 When Jones walked up to Cormier years ago and joked about being able to take him down, Cormier felt disrespected. He asked Jones, "Do you know who you're talking to?"
Jones knew exactly who he was talking to back then. As it turns out, Cormier had no idea about Jones. He didn't know that that man was positioned to be the greatest MMA fighter on the planet, with the confidence of a superhero.
Cormier didn't know exactly what he'd be up against years later, in the fight of his life, for the grandest prize in the sport. But while he was going over every last detail, Jones was out in the audience at the MGM Grand, talking to fans.
Relaxed.
For Jones, there was never a doubt. He was the champion then, and he is not letting it go.
Main photo by Wilson Fox