The two fighters who arguably shined brightest at UFC 178, Conor McGregor and Dominick Cruz, happen to be the same two that made the biggest splash in this week's official UFC rankings release.
Cruz makes the biggest jump, going from No. 10 all the way up to No. 2 in the bantamweight division, while McGregor takes Dustin Poirier's No. 5 spot at featherweight, dropping "The Diamond" two spots to No. 7.
On the pound-for-pound list, UFC flyweight champion Demetrious Johnson used his fifth consecutive title defense at UFC 178 against Chris Cariaso to surge past heavyweight king Cain Velasquez into the No. 3 spot amongst the best fighters from every weight class. Cruz, now No. 15 on the P4P list, knocked lightweight Gilbert Melendez out of the top 15.
> Check Out The Complete Official UFC Rankings Page
> Read: UFC 178 Musings -- Fallout From Super Card
Cruz earned himself a future title shot against UFC bantamweight champion T.J. Dillashaw with his impressive first-round TKO of Takeya Mizugaki. He also regained all the respect he had built up before being forced out of action for almost three years with a laundry list of injuries.
"I don't care who's one, two, three – this man (Cruz) was the champion. He did not lose his belt in a fight and he had a string of unbelievable bad luck," UFC president Dana White told UFC.com's Megan Olivi after UFC 178. "He came in here and annihilated the number five guy in the world, and a guy that you don't treat like that. He absolutely, positively deserves a shot at his title again."
> Watch: Dominick Cruz UFC 178 Backstage Interview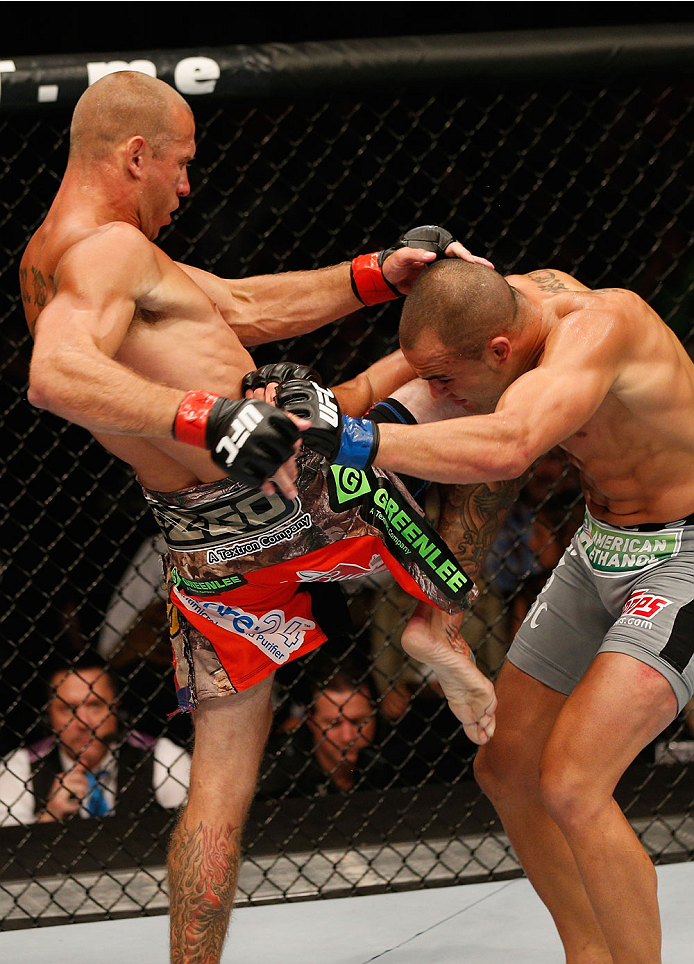 Cruz's jump moves the majority of the top 10 down a spot, starting with Urijah Faber down to No. 3 all the way down to Bryan Caraway, who now finds himself as the No. 10 bantamweight ahead of his co-main event showdown at Fight Night Halifax against No. 4 Raphael Assuncao.
In other P4P movement, No. 1 light heavyweight contender Daniel Cormier moved up a spot past the former top contender Alexander Gustafsson to No. 13.
In the lightweight division, Donald "Cowboy" Cerrone earned a one spot bump to No. 4, passing Benson Henderson, after his impressive decision win against Eddie Alvarez, who jumps to No. 10 despite coming out on the losing end vs. Cerrone. Nate Diaz reappears on the rankings at No. 15 at 155 pounds as he prepares to face No. 3 Rafael dos Anjos in December. Michael Johnson (No. 11), Edson Barboza (No. 12), Jorge Masvidal (No. 13) and Rustam Khabilov (No. 14) all drop a spot behind Alvarez. Ross Pearson is dropped from the list.
With McGregor's four-spot jump at 145 pounds, Dennis Bermudez falls to No. 8 and Nik Lentz drops to No. 9.
A big shakeup in the middleweight division happens after Yoel Romero's controversial win over Tim Kennedy. Romero jumps four spots to No. 6, dropping Kennedy to No. 7. Michael Bisping falls two spots to No. 9, C.B. Dollaway falls a spot to No. 10, and Thales Leites moves ahead of Costas Philippou into the No. 11 spot.
> Read: UFC 178 Recaps Main Event | Main Card | Prelims
In the women's bantamweight division, Bethe Correia moves ahead of Amanda Nunes, who lost to No. 1 Cat Zingano at UFC 178, into the No. 8 spot.