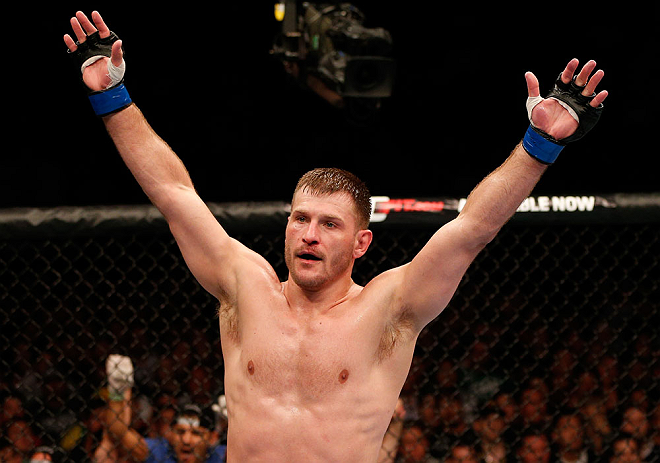 Since returning to Cleveland after a three-year absence in 1999, the Browns have only managed a single playoff appearance, back in 2002. So to say the city is starving for a competitive team is a serious understatement.
On Thursday night in the first round of the NFL draft, arguably the most popular player in the field, Johnny Manziel, fell to the Browns, who traded up to the 22nd pick to snag "Johnny Football."
UFC heavyweight Stipe Miocic, who fights Fabio Maldonado in the main event of UFC Fight Night: Miocic vs. Maldonado on May 31, has been a Browns fan his whole life, and thinks Manziel is the perfect fit to quarterback his hometown team.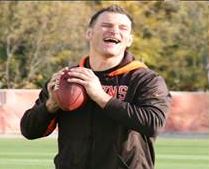 "Johnny football. That's awesome and I'm excited," Miocic said on Friday afternoon. "He brings a lot of excitement to the team and the city - he's the whole package. I think he's going to be great. ... He is a player and he comes to play no matter what. He is always trying, and you don't ever count him out on a play."
Manziel was the second QB taken in this year's draft after Jacksonville selected Blake Bortles out of the University of Central Florida third overall. But some feel the Texas A&M product has big-time potential, including Miocic, who said the Browns' faithful are ready for a winning team.
"Our fans are supporting them no matter what - win or lose. We come out to the game to scream as loud as we can and get behind the team," he said. "Browns fans are die hard fans and they're great fans."
Miocic was scheduled to face former UFC heavyweight champion Junior Dos Santos in Sao Paulo later this month, but the former champ suffered a broken hand during training.
Maldonado stepped up to fight in front of his home country, and Miocic was ecstatic that he was able to still fight in Brazil.
"I'm happy Fabio took the fight and I still get to fight," he said. "I get to fight in front of the Brazilian fans and I think it's going to be a great fight. I'm excited."
As far as his Browns go this season, Miocic is hoping they do well. With Manziel and Oklahoma State defensive back Justin Gilbert (No. 8 overall), he feels the team is headed in the right direction.
"I don't know, hopefully they do good this year. Hopefully they do well, they're getting more talented players, and now with Manziel and Josh Gordon playing together, they're going to be a great combination," Miocic said. "Gordon is a freak. He is fast, can catch and he has the whole package. Manziel can make big plays happen, so I think they're going to be great."