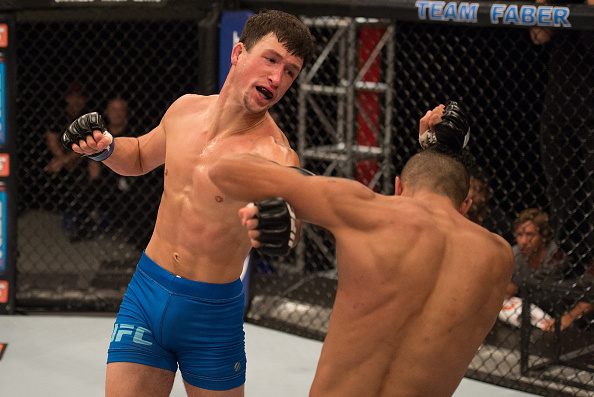 Despite having a spot on the UFC roster that he earned with a split decision win over his Ultimate Fighter 22 cast mate Marcin Wrzosek in December, featherweight Julian Erosa wasn't particularly happy with the fight.

"I wasn't super impressed with the way I performed in that first fight against Marcin, and that was honestly because I think I gassed my arms out in the first round trying to choke him out," he said. "Being under the lights and thinking about bonuses and this and that, I caught him in a D'Arce choke and I was like 'all right, here it is. I'm looking for that 50 grand.' (Laughs) And I think I got over excited. Then between the first and second round, my arms were really gassed. I didn't tell my coach, but I knew I wasn't going to get him again. So I pushed through it and was able to eke out the win, but winning by split decision is not what any fighter really wants."
RELATED CONTENT: 'Juicy J' fighter bio | Matchup with Teruto Ishihara | Erosa gets victory at TUF 22 Finale
At least the 26-year-old's heart was in the right place, and with 13 finishes in 15 fights, it's clear that Erosa isn't just talking about ending fights before the final horn – he's actively pursuing his goal. So when it doesn't go that way for him, he wants to rectify that situation as soon as possible, hence a quick follow-up call to the UFC matchmakers to let them know that he was ready to go ASAP.
"I don't want it to seem like I was trying to take any time off, because I'm at the beginning of making it to the UFC, so I wanted them to know that I was eager to hop in there as soon as possible," Erosa said. "They said be ready for March, and it worked out perfectly. I didn't think they were gonna put me on this big card, but once I got the announcement that I was going to be on the McGregor card, I was like 'oh, hell yeah.'"

Don't miss Julian Erosa vs. Teruto Ishihara this Saturday! Join UFC FIGHT PASS and watch the early prelims at 6:30 pm ET
Hell yeah, indeed, as Erosa will face Japan's Teruto Ishihara in a UFC FIGHT PASS bout that will take place on this Saturday's highly-anticipated UFC 196 card in Las Vegas. It's a nice matchup on paper between two aggressive competitors, and in reality, Erosa likes it even more.
"I think Ishihara is a good matchup for me, especially at 145," Erosa said. "I'm 6-1, so I'm a big '45er and Ishihara isn't really that big of a '35er, so I think I'm going to have the size and strength advantage and the reach is going to be pretty ridiculous too. He's a tough kid and is ready to bang, but he's not super technical in any aspect of fighting. You can get far being tough, but everybody has to be tough in the UFC."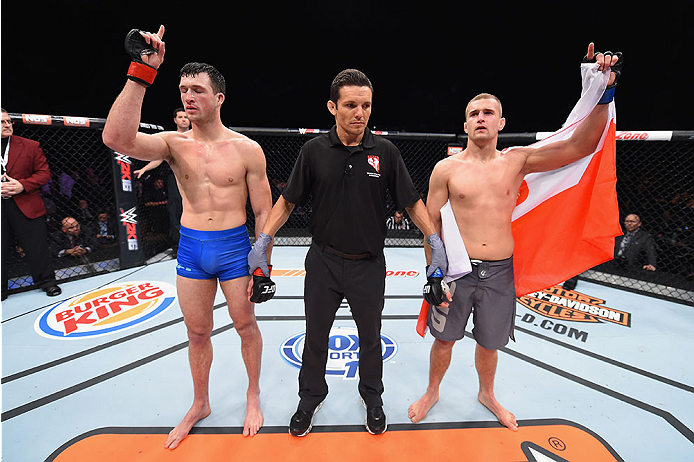 Erosa has that area covered, something you could tell immediately by seeing Yakima, Washington next to his name. The Pacific Northwest has long been a hotbed for world-class fighters who can gut out a three-round decision or leave an opponent staring up at the lights in equal measure. It's a testament to the amateur system up there and the number of quality gyms that may not get a lot of press, but that are always producing legit fighters. Yakima MMA is where Erosa hangs his hat, and with ten amateur fights under his belt before he starting punching for pay, he learned his craft, old school style.
"I always tell the amateur fighters that I train with that this is the time to learn your mistakes," he said. "Go in there with those doubts and figure it out. Right now is the time to learn that. I had those 10 amateur fights, and I turned pro because I felt confident in the fact that I was able to go in and fight those amateur fights and I had that experience. It let me be comfortable in the cage. Everybody's going to have nerves, but having that experience, being able to walk out and know in my head that I'm ready to handle business and those nerves aren't going to get in the way, helps me focus on performing the task at hand."
This weekend's task? Leaving the Octagon with his hand raised before 15 minutes are up.
"I'm hoping for a finish in this fight, because if I keep winning by decision, no one's really going to be impressed by that, and I'm not going to make the leaps and bounds that I really want to in the UFC."