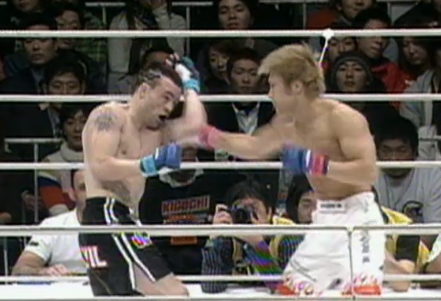 This Saturday, with the first two fight winning streak of his
UFC
career in his back pocket,
Takanori Gomi
will look to make it three straight in a UFC on FUEL TV 8 battle with
Diego Sanchez
. Can the former PRIDE champion regain past glories in his home country of Japan? Well, past history has shown us that you can never count out "The Fireball Kid."
Gomi gets a Lil' Evil on Jens Pulver
PRIDE Shockwave 2004 – 12/31/04
With the UFC's lightweight division on hiatus from 2004 to 2006, it was the perfect time for Japan's Gomi to stake his claim as the top 155-pound fighter in the game, and what better statement to make than to beat the last (and then only) man to hold the UFC crown in Jens Pulver? And "The Fireball Kid" did just that, knocking Pulver out in the first round of an exciting standup scrap.
One for the Time Capsule against "Mach" Sakurai
PRIDE Shockwave 2005 – 12/31/05
When talking to Gomi before his UFC debut in 2010, he described his 2005 knockout of Hayato "Mach" Sakurai as "the greatest moment in my life as a fighter." That's not surprising, given Sakurai's iconic status in the sport in Japan and the fact that Gomi won the PRIDE Lightweight Grand Prix and its first lightweight title with the win. But maybe it was the way he won that was so memorable, using a ferocious ground and pound attack to soften Sakurai up for the standup finish moments after the two got back to their feet. This was definitely one for the time capsule.
Chute Boxe vs Takanori Gomi
2005
During the PRIDE years, the feared Chute Boxe team had their issues with Brazilian Top Team and
Mark Coleman
's Hammer House squad, but in 2005, the standouts from Brazil got into it with one man – PRIDE lightweight boss Gomi, who beat Jadson Costa and Luiz Azeredo, the latter provoking an in the ring altercation over Gomi's late shots on Azeredo. Gomi apologized, but still got the last word with two more wins over his rivals that year.
The Fireball Kid Erupts on Tyson Griffin
UFC Live – 8/1/10
Gomi's long-awaited arrival in the UFC got off to a rough start in 2010, as he was dominated and then submitted by
Kenny Florian
in March of that year. If he dropped a second consecutive bout against always tough Tyson Griffin five months later, things would look even cloudier as far as a continuing run in the Octagon was concerned. But with a single right hand that sent Griffin face first to the canvas, Gomi resurrected his career, and earned his first UFC win (and first Knockout of the Night bonus). All in just 64 seconds.
Back in Form against Mac Danzig
UFC on FUEL TV – 11/10/12
After the Griffin fight, Gomi hit a two fight losing skid, dropping disappointing bouts to
Clay Guida
and
Nate Diaz
in 2011. 2012 marked a new start for Gomi though, one kicked off by a homecoming knockout of countryman
Eiji Mitsuoka
at UFC 144 in February. But it was his year ending split decision win over Mac Danzig that truly showed a return to form for "The Fireball Kid," as he battled three hard rounds to earn the victory and a Fight of the Night bonus. On Saturday, he'll look to do it again to make it three in a row.