Ashlee Evans-Smith is an optimist.

Maybe more accurately, Evans-Smith, who faces Marion Reneau in a UFC FIGHT PASS featured bout this Sunday, can find the silver lining in anything.

On the surface, there were not a lot of positives to gleam from the bantamweight's UFC debut, but one wouldn't know it talking to her. The broad strokes were that she took the UFC 181 fight on short notice, got choked out by Raquel Pennington with one second left in the first round by a maneuver that's only been used successfully inside the Octagon a handful of times, tested positive for using a diuretic and got suspended for nine months.

Sounds pretty bad, but Evans-Smith sees things differently.

"Basically, losing your UFC debut could go either way," Evans-Smith said. "You could be like, 'Wow, I don't deserve to be here, clearly.' Or, you can realize you made it here for a reason. Not everyone gets called to fight at the top level. Leading up to the submission, everything was going as planned - to the game plan. It did seem like I was winning the first round. The choke did surprise me. I've never really been in that position before. The bulldog choke is definitely unorthodox. I might have let my guard down in the end there with just 10 seconds left. I thought I was winning that round, but, yeah, she caught me. Regardless of that outcome, I know I belong in the UFC. Now, I'm going to come back and show that with a win this time."
.@quiltyryan1 #AskAshlee pic.twitter.com/WwIEoGbORz

— UFC Fight Pass (@UFCFightPass) February 18, 2016
The 28-year-old, who was born in NorCal and is living in SoCal, is completely correct that she was winning before she lost. Evans-Smith landed more strikes, scored a takedown, cut Pennington with a knee to the face, but, in the end, "Rocky" wrapped up a rare bulldog choke with seconds left in the first period. It's not too difficult to see those positives in the first loss of her 3-1 pro career, but Evans-Smith's belief about her suspension is what is truly impressive about her character, maturity and perception.
"The suspension was really good for me, to be completely honest," Evans-Smith said. "I got to the UFC maybe not taking my career 100% seriously. I really feel like the suspension put my entire opportunity to be an amazing athlete and to not live a mediocre life in perspective. I've given up a lot of things this fight camp, this whole year, but I haven't been sitting on my butt. There was a time where I felt depressed and felt that loss, but once I realized this suspension is not forever - a light bulb went off. I have never trained this hard and have never dedicated myself to something this much in my entire life. I know it sounds kind of corny, but everything happens for a reason. Even though it was very unfortunate and this year has been rough financially not being able to fight, I can't wait to show the world how much I have dedicated myself to this sport and I will be taking full advantage of being in the UFC now."

Don't miss Marion Reneau vs. Ashlee Evans-Smith! Join UFC FIGHT PASS and watch the early prelims at 5:30 pm ET
Not surprisingly, the former four-time All-American wrestler out of Menlo College was a proactive superstar in her year away from the sport. On top of training with Adam Lynn at her home gym - SubFighter MMA - in Laguna Hills, Evans-Smith added two more coaches to Team Ashlee with Muay Thai striking coach Tyler Wombles and 10th Planet Jiu-Jitsu's Casey Halstead. Also in 2015, Evans-Smith was busy teaching MMA and wrestling seminars for kids and adults all over the US, and she found a way to compete, even if it wasn't in MMA.
"During my suspension, I took full advantage of being able to compete in jiu-jitsu tournaments," Evans-Smith said. "But then, a couple months ago, I was like, 'All right, I'm going to be off suspension soon and I need to start punching people.'" (Laughs)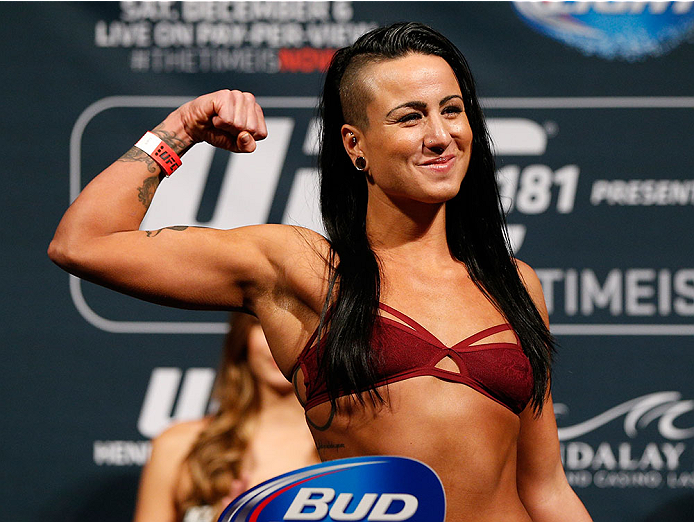 This Sunday, Evans-Smith will be making her Octagon return in Pittsburgh against "The Belizean Bruiser." Owning a 6-2 pro record, Reneau stormed into the UFC last year with two notable wins in less than two months' time, including a Performance of the Night submission finish of Jessica Andrade. In July, Reneau's lone Octagon loss would be via decision against the current queen of the division - Holly Holm.
While many would be hesitant to tangle with such a tough opponent in their first fight back in 14 months, not Evans-Smith. She's way too optimistic for that.
"I'm really excited to fight her for a lot of reasons," Evans-Smith said. "One, she is ranked #12. After my loss to Raquel, I was thinking that I was really going to have to work my way back up the ranks. I feel like they're doing me a favor giving me a top 15 opponent. She's no chump. She had two wins and her only loss is to the champ. That says a lot. A lot of people have said, wouldn't you want an easier fight in your fight back in and because you're coming off a loss? My answer will always be 'no.' I'm going to be more conditioned, more technical and way more hungry. Way more hungry. At the end of the day, we're going to get paid and I'm going to win. And if that opponent is a strong, tough and well-rounded opponent, that win feels so much better."