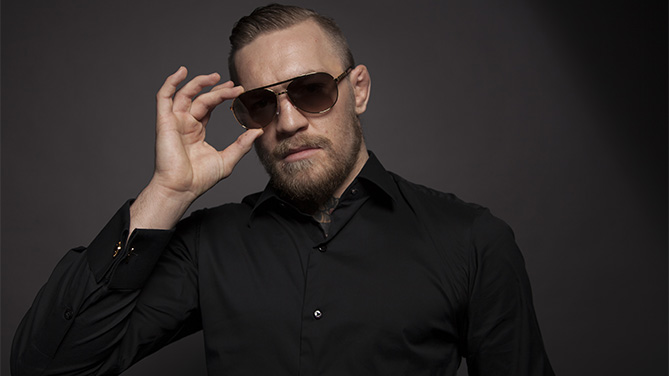 Conor McGregor's bravado was in the spotlight Monday at the UFC's "The Time is Now" press conference at The Smith Center for the Performing Arts, as the brash Irish superstar talked about his superiority in the UFC featherweight division — and as a marquee name in the sport.
In anticipation of his next opponent, Germany's Dennis Siver, at UFC Fight Night 59 in Boston on Jan. 18, the 26-year-old Dubliner put all his swagger on display, dismissing everyone in his division while taking shots at Ricardo Lamas' assertion that McGregor "needs to fight a wrestler like me."
> Watch: The Time Is Now - An Incredible Season of Fights
Said McGregor, "If you look at the last featherweight contest in Mexico (UFC 180, Mexico City last Saturday night), it was between a guy who had a horrendous fight against Jose Aldo, Ricardo Lamas. He fought like a (bleep); he ran for five rounds. And then you look at Dennis Bermudez, who's was on a false win streak – (CB) Hollaway beat him. These are two average, OK, 20-win fighters.
"Yet there was so much light on that fight, so much attention on Dennis, who is a decision machine, and Lamas, who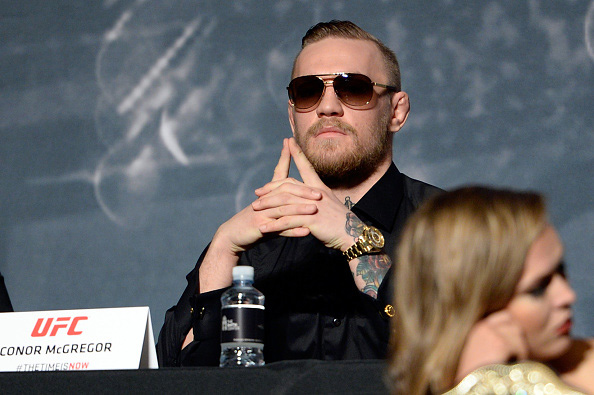 fought like a (bleep). And they still got that exposure!
"There is only one."
And when McGregor says that, he is always referring to himself.
Among his other zingers Monday:
Does he think Siver's fighting style will be a threat?
McGregor: "I feel extremely confident that I will use my movement to freeze Dennis, I believe. He is a compact fighter as it is, and I will use my movement to freeze him. And then I will take his head clean off and raise it in beautiful Boston city – Ireland No. 2, I like to call it.
> Read: Siver - I Will Punish Conor McGregor
"And then it's on to big things. Jose (Aldo) will be told what to do, and he'll be told he must fly economy to Ireland to meet me in an 85,000-seat football stadium, break records … biggest crowd, highest pay-per-view. And then he will hand over that belt on home soil.
"That's my year plan, right there."
Who motivates him for his next fight?
McGregor: "Um, for me, I am self-motivated. I show up every day, I train intelligently. I train smart. I take note of how every single human being on this planet moves, how they approach their chosen profession. And I focus on the mental aspect.
"For me, I motivate myself. I am a self-motivated individual and I prepare my own journey – whupping ass and collecting checks."
Is there any featherweight who can give him problems?
McGregor: "It's been pretty easy so far. I've said what I was going to do, and then I went down and did it. The only person who can give you problems is the guy in the mirror, the person that you stare at every day. Once you have that locked in, which I do, I believe I'm the most mentally strong guy on this roster.
I don't feel the guy who can give me problems exists. For me, it's smooth sailing all the way. It has been so far and it will continue to be."
> Read: The Time Is Now to Get Excited!
Asked if he were to pay to see any of the fighters on the stage with him, who would it be and why?
McGregor: "As an employee of the UFC, I would pay for every single one (laughter). There are a lot of great stars up here, a lot of huge, huge fights. But let's see at the end of 2015, let's see who has the highest pay-per-view numbers.
Let's see who has the highest gate. Let's see who has the highest attendance. Because I am setting up for that.
Again, I won't look past Dennis (Siver). I will look through him. That's exactly what I plan on doing, and then carry on. But I believe 2015 will be my year. I know a lot of featherweights are bitching and moaning and hating on me. But they don't have to love it. They can even hate it. But they will be forced to accept it."
On seeing Jose Aldo defeat Chad Mendes in a unanimous five-round decision and record his seventh title defense at UFC 179 in Rio de Janeiro last month.
McGregor: "I watched the contest up close; it was a great contest. I believe there are a lot of holes that I can capitalize on. He showed his frustration in the contest. But it was a tradition, Thai-style contest – you hit me, I hit you. Both competitors were very similar in styles. And that's why the contest was what it was.
"I pose different movements and different reactions than anybody else, not just in the division. So I am highly confident that I will shoot Jose Aldo down, in spectacular fashion. And take over again."
"I say it how I want to say it – the King speaks however he wants!"