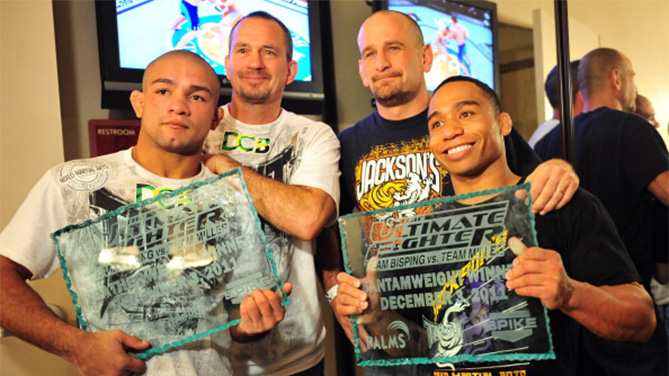 Mike Winkeljohn admits he got into fighting for all the wrong reasons.

Getting into street scraps as a teenager is pretty ordinary, but what is completely extraordinary is that over the next three plus decades since Winkeljohn started fighting he became a husband, a father, a world champion, a local business owner, and - without a doubt - one of the most revered coaches mixed martial arts has ever known.

"I got into it for all the wrong reasons," Winkeljohn said. "I wanted to learn how to fight better, there's no doubt about it. I never had thought about fighting competitively as a kickboxer or anything at the time. I just wanted to learn how to fight better because somebody had gotten the better of me in a street situation. At that point in time, I had pretty much won all my fights. I was lucky. I was real lucky I walked into Bill Packer's gym. He had one of the top kickboxing programs in the U.S. at the time and I saw these guys throwing down and beating each other up and I was like, 'Whoa! If I can do that.' Back then I was mad about it, but he made me do traditional martial arts as well as kickboxing. He knew the values and what it would do for me long term. I started doing Kenpo."

Well before the UFC champions, The Ultimate Fighter winners, the unbridled success of Team Jackson-Winkeljohn, there was an 18-year-old Albuquerque tough with bad intentions who was lucky, very lucky, to walk into the gym of a particular man who was one of the key influencers in the American kickboxing movement of the 1970s and 80s.

If there's a common theme in Winkeljohn's story, it's meeting good people at just the right time. Whether the good person is Bill Packer, Greg Jackson, Holly Holm or Winkeljohn's wife Heather, from those seemingly chance encounters, "Wink" is loyal and ready to put 100% of himself into the hard work to make these relationships as great as they could possibly be.

Under Packer's tutelage, Winkeljohn was quickly on a new path toward bettering himself through the world of Kenpo karate, with all the katas and bowing one could imagine. If Winkeljohn wanted to learn how to kickbox from Packer, then he had to learn Kenpo first. Wink did both. He would go on to become a 5th degree black belt in Kenpo and a 25-7-3 pro kickboxer, as well as the winner of two world titles in Muay Thai and an ISKA world title in kickboxing. To this day, Wink's background in both kickboxing and Kenpo guide him as a striking coach for many of the UFC's best and brightest.

"I fought for 17 years and fought all over the place and I won world titles in kickboxing, but that Kenpo stuff - not only are the traditional values so important, but suddenly all these little things that are taught in Kenpo can be brought out and put into mixed martial arts," Winkeljohn said. "I think people can see that in our style now and will continue to, as mixed martial arts is evolving. Basically, if stuff works - use it. If it hurts your opponent and it doesn't hurt you - it's right. If it hurts you and it doesn't hurt your opponent - it's wrong. It's played out that doing the things that people cannot predict are things that are based in traditional martial arts."

A prime example is former UFC light heavyweight champion Jon Jones' use of "oblique" kicks. Call it a push-kick to the knee or a lowline kick or a shovel kick or whatever, but it has been an incredibly effective technique for Jones, especially in his title defense against Quinton "Rampage" Jackson, and because of his success with it, more and more fighters are trying it. While it was innovative to UFC fighters and fans, those kicks were from traditional martial arts and for years were thought to be impractical, but now with Wink teaching those kicks to the right athletes who are then employing them at the right time, it's the evolution of MMA striking.

Kicks, elbows, different angles and so forth, Winkeljohn draws upon his Kenpo for the unpredictable, but it was his first-hand experience as a professional kickboxer that shapes his overall approach. While he did win a few titles and he did defeat a few big names, coach Winkeljohn wants you to be that fighter he wasn't.

"I was a straightforward fighter," said Winkeljohn. "I beat Coban [Lookchaomaesaitong] who was a legend in Thailand. When I fought him, he threw a right kick and I checked it. My ego was, even though it hurt, I was like, 'Throw it again! Throw it again!' Instead of using movement and I had length on him, I just wanted to brawl with him. I won that fight. I beat him up, but I decided to do it that way. I was always the guy who went straightforward and it kept me from becoming a big star in it. I was stubborn. My coach would say, 'Mike, why don't you come at him from this angle?' And I'd be like, 'Yeah, whatever. I'm going to fight.' Looking back on my career, I see the downside in that. I coach other fighters to be the guy who hits and doesn't get hit."

***

It was a change in combat sports from kickboxing to Drako that led Winkeljohn to his famed partnership with Greg Jackson. In the early 90's, Wink started competing in the Russian-based MMA-like sport, which had striking and takedowns, but no submissions. Obviously, the kickboxer wanted to learn how to survive the wrestling situations to keep the fight standing and knock them out there. Winkeljohn sought help from a former Manzano High School classmate, Chris Luttrell, who was a three-time State wrestling champion and an Albuquerque police officer.

"I found Chris Luttrell and we started wrestling," Winkeljohn said. "I actually showed Chris his first armbar and he thought it was crazy, but he trashed me in wrestling. I learned how to defend takedowns because I didn't want to get trashed again. How do you use your forearms, how do you use those oblique kicks like you called them? Chris introduced me to Greg Jackson. Greg and I just started training every day. Greg was inventing moves on me daily. I was trying to work with him on the stand-up. He was a young kid and we built this great rapport. We both loved fighting. I had three schools at one time that were kickboxing based. The guys would come to my gym and spar and then they would go down to Greg's and roll. We always did that back and forth. In the early days, Joey Villasenor, Keith Jardine, Rashad Evans, Georges St-Pierre came down - they would come to my little kickboxing gym and then they would go down to Greg's and roll."

Even from the very beginning, Wink was the stand-up and Jackson was the ground, which is still true today. The two began a working relationship and friendship sharing their expertise, their side of the coin to the other and, eventually, to each other's students to help create these well-rounded fighters. The natural dichotomy in styles fit their differing personalities as coaches as well, but, regardless of whether Jackson or Winkeljohn is coaching, the same passion and care is present toward each fighter.

"Greg's the kind of guy who tells them they're looking good, he believes in them - he gets them to believe," Winkeljohn. said "That's so important that they believe in themselves, so they will perform in that cage. I come at them with, 'If you do that in there then you're going to get your ass kicked, but if you do it this way then you'll win.' It plays out. I'm kind of a hard-nosed guy and it makes them work that much harder, it makes them think about doing things right. I'm definitely not a yeller, but I'm going to tell them the way it is. They can like it or not. I think there's a lot of respect there because I used to fight. They do say 'no nonsense,' but I believe in what we're doing is correct and I expect excellence out of these guys and for them to push themselves. Greg and I in the gym have a good cop, bad cop kind of thing. If I see them helping others, that's how they get me. Going the extra mile, I think that's important in life. To help each other. I think that's why we're successful."

Getting on Wink's good side is simple - work hard and help others. Just like how the grapplers Jackson and Luttrell helped the striker Winkeljohn and vice versa, Wink wants to see the same in his gym and he does so often, which is why Team Jackson-Winkeljohn consistently produces some of the best UFC talent. Working hard and helping others is a way of life that turned Winkeljohn from a street fighter to a pro kickboxer and gym owner, and it's what makes people champions inside or outside of the Octagon.

"I come from a place where it is all about hard work," Winkeljohn said. "I figure if they come here, hopefully they become the best fighter in the world, but I'm also going to make sure they're a gentleman down the road. That's important to me. Let's get them some life skills. So many fighters come in and they have nothing else. If you're up for 16 hours a day, they're only in the gym for so many hours. Are you doing your studies, are you getting a job, are you taking care of your kids? The important things in life. Fighting is small and short in life; we love it, but there are more important things in life. And life will go forward and we want them to be prepared for that."

***

For years, the two generals of Winkeljohn and Jackson shared fighters while operating their separate gyms. Feeling burned out from being a gym owner for near two decades, Winkeljohn was thinking of closing up shop, continue doing other projects like real estate development and construction and, hopefully, train Jackson's fighters when he could. What Jackson did next came as a complete surprise to Wink.

"I told Greg I kind of just wanted to hang my hat with him and help with the fighters when I had the time," Winkeljohn said. "And I came around the corner one day and my name was on the sign - it said Jackson-Winkeljohn. It was always Jackson's Submission Fighting before that. I came around the corner and I saw that and that was it. I always thought of him as my little brother and I was always going to train the fighters kind of behind-the-scenes, and now here we are today. I know some people think we have the #1 gym in the world; I know I think we do. I think by early next year we're going to have most of the UFC titles."

Earlier this year, the Jackson-Winkeljohn gym uprooted itself from the "warzone" section of Albuquerque, where the gym was neighbors to a methadone clinic, to the much more civilized downtown of Albuquerque. Obviously, the new facility is bigger and better, but it also has apartments and dorms for fighters to live in when training. Jackson and Winkeljohn are finally in a proper place for them to truly explore their coaching craft.

"Greg and I call this place an academy," Winkeljohn said. "It's much more a school and not just a place where we let people beat the crap out of each other. Let's not spar so hard and let's try to learn what we're doing about strategy and game plans and proper tactics to win the fight. I really like my job. I really like being there. I really like telling people what to do in the fights. We have a communication system set up in the fights where no one else knows what we're saying. We can talk to each other. People outside get to watch the fight, but I get to control it like a videogame sometimes, which is very cool. If Jon Jones does what you just asked him and he puts somebody out with it, it's pretty cool. It's a real cool feeling."
***

One fighter who has experienced the gym's transition from a local story to an international one as their own career has paralleled that rise is UFC women's bantamweight Holly Holm. Another Albuquerque original, Holm first met Winkeljohn as a cardio-kickboxing instructor, but, not long after, Holm wanted to leave behind the moms and dads looking to stay in shape and try out the real thing. Like John Dodson, Keith Jardine and Diego Sanchez to name a few, Holm has been a tried-and-true pupil of Winkeljohn and Jackson since day one.

"The people that start with us from day one, it's a great thing," Winkeljohn said. "You show them their first punch, their first jab and you get to see how these things play out. When I first met Holly, her first workout I was like this kid can't go real hard and, 15 years later, she is the hardest worker in the gym. She has that drive. Now, the guys don't want to go running in the mountains with her because she doesn't stop. She works hard. Yeah, she's definitely the hardest worker in the gym."

Nowadays, "The Preacher's Daughter" is an undefeated, 9-0, striking savant who is staring down a title fight with UFC women's bantamweight champion "Rowdy" Ronda Rousey at UFC 193. Within her first year in the company, Holm is 2-0 inside the Octagon and is set to headline what is scheduled to be the largest attended UFC event ever against, arguably, its most popular star. It's the polar opposite of where Holm and Winkeljohn came from in 2001, when there was no women's MMA to speak of nor pro kickboxing, so Holm made her mark as a boxer - and did she ever.

"With Holly, she's always been around [MMA]," Winkeljohn said. "She's always been a better kicker than a boxer. She never had an amateur boxing match. She had amateur kickboxing matches where she went undefeated and won a title, but there was no professional kickboxing for her, so she had to box. She started boxing and it went pretty well, and the next thing you know - she's challenging Christy Martin. Everybody thought I was crazy to let her fight Christy Martin. If you don't know who Christy Martin was, she was always on cards with Mike Tyson - she was a big name. People were scared of her because she could hit hard. But Holly went in there and made her look like a child. Holly met her in the middle of the ring and her footwork gave her fits. That was really the beginning of her career where I knew Holly could go in there and dominate people with her intelligence."

From 2002 to 2013, The Preacher's Daughter earned a 33-2-3 pro boxing record as well as a wealth of gold world championship belts. Throughout her esteemed boxing career, Holm trained in an MMA gym and learned alongside MMA fighters. In 2011, Holm made her pro MMA debut, which allowed her to unleash the kickboxing talent that was trapped inside of her, with The Preacher's Daughter scoring six KOs across her nine pro wins, mostly stemming from her kicks.

"It's very exciting for her to show people the arsenal that she has," Winkeljohn said. "People don't even know what she has. She has held back so much on what she's capable of. That's the exciting part is that she's got things people haven't seen. She's been in our gym for so many years. She'd go with the guys, she'd go with the girls. She picks up on things quick. It's exciting. She's going to be show off all of her tools."

As for the November 14 title shot, Holm, without question, will be the best striker Rousey has faced to date. Matching Holm's movement and ability to attack at range versus Rousey's in-your-face aggressiveness and unstoppable throws has been a highly desired matchup from fans even before Holm signed with the UFC. After going 2-0 inside the Octagon already this year, Holm will tangle with Rousey in Melbourne, Australia in the clash that had to happen sooner than later.

"Holly is determined and she's ready," Winkeljohn said. "We're in a great place right now. There's no second guessing the timing of it because that doesn't matter. No matter what - it's here. Holly's never turned down a fight in her life and she never will. She's getting prepared for it. We're putting together a good plan and we've got a lot of guys around me who are smarter than I am and we're getting ready to shock the world. It's the two styles. Ronda is so good at what she does and she's beaten everybody, so of course you have to respect that. She's got a great coach around her and he's improved her boxing skills, which has made her throws that much more impressive. There's no doubt she's going to try to get close to Holly and throw her down and do what she does - she has to. If she wants to strike with Holly then we're definitely having a good time."
***

Winkeljohn's success as a coach has transcended different disciplines, decades, gyms, weight classes, fighters and, even the loss of an eye. On September 23, 2009, an average mitt session turned into tragedy as an errant toenail sliced Winkeljohn's eye on a head kick attempt. "He was doing what he was supposed to and I just happened to be looking at the wrong place at the wrong time and wasn't paying attention," Winkeljohn said. The accident left Wink basically blind in one eye, but it did not deter him one bit as a coach or as a person.

"It made me take things more serious and take a look at things in a different light," he said. "Looking at injuries, not getting hit, not getting hurt in training. We spar a lot less than we used to, but we drill a lot more. I think that's all played out together. I couldn't attach one thing to just the eye. It's a little bit more about safety and being smart everyday in life as well as being smart in the cage. I wear goggles, I look goofy, but I definitely look at life differently than I did before because I only got one eye. In many ways, it has been a blessing because it has made me appreciate so many more things about life. It kind of worked out. Everybody calls me 'Wink' anyway, so I have no choice now to only use one eye."

Since the accident, coach Wink doesn't get to rough house and push the fighters around the Octagon like he used to, but he's still in there every day making them better, making them earn it, just like always. While his own competitiveness is part of how he was able to mend and return so quickly, Winkeljohn's true strength comes from his family. What motivates this admitted "bad cop" striking coach over all these years are the four ladies that make up Wink's home.

"My thought was always to train the fighters hard, get in there, do the fight, coach them, go home, and spend as much time with my family as possible," Winkeljohn said. "That's the important thing - my wife Heather and my girls, my three daughters. That's the most important thing is to make sure to give them a better life down the road by being successful at what we're doing. That's where I'm at every day. I wake up and go to work early and do what I have to do, so I can quickly drive across town to help do homework and then go quickly back to the gym. It's not about my time, it's about making sure everyone else is taken care of."

He may have started fighting for all the wrong reasons, but Mike Winkeljohn has continued fighting for all the right ones.