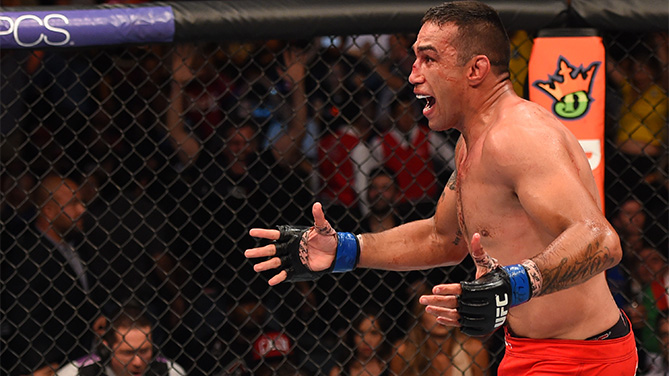 In his first fight since winning the UFC interim heavyweight title last November, Fabricio Werdum made that title undisputed Saturday night at the Arena Ciudad de Mexico in Mexico City, submitting and dethroning Cain Velasquez in the third round of the UFC 188 main event.
> Order UFC 188 Replay
"I had a good strategy and I had a big dream," Werdum, who defeated Mark Hunt for the interim title in the same venue at UFC 180, said. "I got it today."
"Sorry to everyone here," Velasquez, a two-time champion who was making his first start since October 2013, said. "It's more motivation to come back and win the belt again."
> MORE CONTENT: Dana White UFC 188 Recap | Fabricio Werdum Backstage Interview | Post Fight Press Conference Highlights
As for the high altitude of Mexico City that Werdum spent over a month in, Velasquez said, "Two weeks I was out here training; I guess it wasn't enough."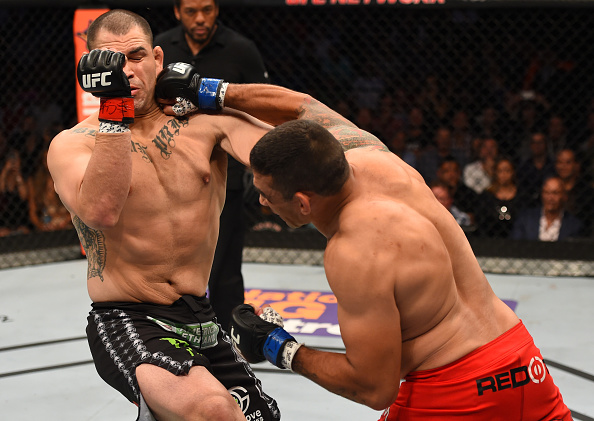 A favorite in the building last November when he fought Hunt instead of Velasquez when the San Jose resident was injured, Werdum found out quickly that this time around, the crowd clearly belonged to the first major combat sports heavyweight champion of Mexican descent.
But the seven months of waiting to fight were unleashed as soon as referee Herb Dean waved the two fighters into battle, each man getting in hard shots before Velasquez bulled Werdum against the fence. In the midst of the close quarters scrapping, Velasquez emerged with a cut over his left eye. Moments later, Velasquez scored his first takedown, but soon enough the two were back to their feet and exchanging. Midway through the round, Werdum landed his own takedown, but Velasquez bounced back up and pinned the Brazilian to the fence. After a brief spell there, the two separated and began throwing punches once more, Werdum holding the edge. Velasquez was unmoved by these attacks and he responded with a quick takedown, and as Werdum got back to his feet, Velasquez was bloodied, but Werdum looked a bit fatigued.
That was a mirage by "Vai Cavalo" though, as while Velasquez came out throwing leg kicks to begin round two, Werdum focused his attack on punches upstairs, and with two minutes gone, Werdum appeared to be pulling ahead in a big way, as he couldn't miss with his hard punches and knees to the head, while Velasquez was wobbly and seemingly exhausted. With 20 seconds left, Werdum landed with a crushing uppercut that nearly finished the Californian, but Velasquez made it to the end of the round.
Told by his corner to get the fight to the mat, Velasquez did just that early in round three, but the reigning champion wasn't able to keep Werdum there. A kick to the head by Velasquez gave him some more positive news, but Werdum shook it off easily and went back to work. Velasquez made a last ditch effort for another takedown, but as he drove into his foe, Werdum caught him in a guillotine choke, the tap out coming seconds later at 2:13 of the third round.
"I trained a lot for this moment," the 37-year-old Werdum said. "I knew he was going to take me down. I was waiting for that moment."
It's a moment years in the making, and with wins over three of the greatest heavyweights ever – Velasquez, Fedor Emelianenko and Minotauro Nogueira – Werdum may have turned that trio into a foursome.
With the win, Porto Alegre's Werdum improves to 20-5-1; the 32-year-old Velasquez falls to 13-2.