It took 22 minutes and 47 seconds for
Stipe Miocic
to do it, but that's no reflection on the performance of the number four heavyweight contender, who dominated
Mark Hunt
from start to finish in their
UFC Fight Night
main event at the Adelaide Entertainment Centre in Adelaide, Australia on Sunday, ultimately halting the gutsy knockout artist in the fifth round.
The victory was the first for Miocic since his December 2014 loss to
Junior Dos Santos
, and with it, he put himself back in the title picture with an exclamation mark.
> WATCH Fight Night Adelaide replay on UFC FIGHT PASS
Miocic may have surprised Hunt with his takedown in the early going, but "The Super Samoan" was just as surprising as he hopped back to his feet immediately and got back to the business of dropping bombs.
Miocic wasn't doing too badly in that department himself, landing several hard right hands. Midway through the round, Miocic easily scored with a single leg takedown, and this time he was able to keep Hunt on the mat, where he fired off short forearms and punches until Hunt got to his feet with ten seconds left in the round.
> WATCH: Fight Night Adelaide - Stipe Miocic Octagon Interview
|
Backstage Interview
It was the jab that was Miocic's weapon of choice as round two commenced, and in the second minute, the Ohio native put Hunt back on the deck. After taking several shots to the face, Hunt managed to get upright, but Miocic's right hand continued to punish the Sydney-based New Zealander. Hunt did explode in the final seconds with a hard punch to the head, but by the time the horn sounded, Miocic was firing right back.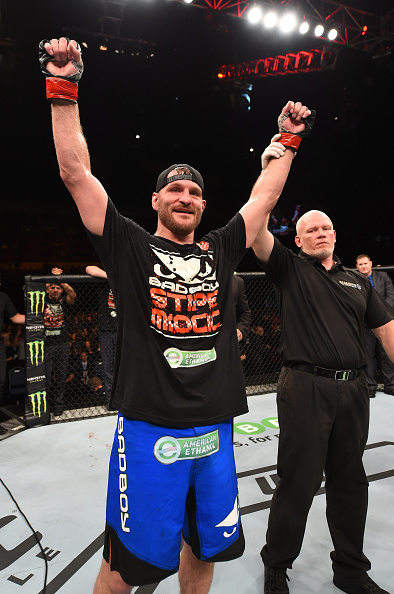 The Aussie fans didn't like it when Miocic took Hunt down to begin round three, but it was a good strategy from the American, who was rapidly emptying his opponent's gas tank while piling up the points. Hunt got up briefly with under two minutes left, but Miocic put him right back down and began unloading. With referee John Sharp threatening to stop the bout, Hunt threw the occasional punch back, but it was seemingly only delaying the inevitable, as the bloodied and battered veteran staggered back to his corner.
Not surprisingly, Miocic got the takedown in the opening minute of round four, and it was back to the pattern of the previous frames, with Hunt having no answer for the ground-and-pound of the Ohioan. Hunt made it back to his feet with 1:20 remaining, but again, he was unable to mount any sort of offense.
After a visit from the Octagonside physician between rounds, Hunt was cleared to continue, but things didn't get any better for him in round five. Miocic got his customary early round takedown and followed up with more ground strikes, with referee John Sharp finally making the call to stop the bout at the 2:47 mark.
With the win, Miocic improves to 13-2; Hunt falls to 10-10-1.