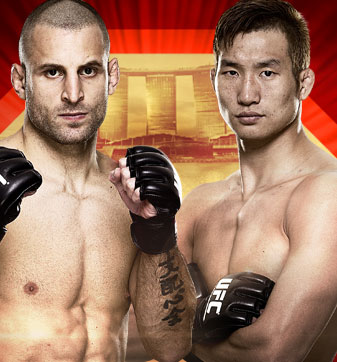 For the first time ever, the
UFC
will land in Singapore for an event as former
Strikeforce
welterweight champion
Tarec Saffiedine
makes his Octagon debut, while a legend from PRIDE also lands there for the first time ever as
Tatsuya Kawajiri
looks to make an immediate impact in the featherweight division.
The upcoming UFC Fight Night card will be the first show to debut on the new
UFC Fight Pass
digital network and there is a ton of new talent on this card to discover as some of the international fighters hope to make the Octagon a permanent home.
In today's fantasy preview we will look at the four main card fights that will lead the upcoming Singapore show, including the main event pitting Saffiedine against Korean knockout artist
Hyun Gyu Lim
.
With so many new fighters appearing on the upcoming card, just a few correct picks could make the difference between winning and losing this week.
TAREC SAFFIEDINE VS. HYUN GYU LIM
It was almost a year ago when Tarec Saffiedine last fought, as he defeated
Nate Marquardt
to close the door on Strikeforce before making his move to the UFC. Unfortunately, injuries have prevented him from making his debut until now and he's getting a tough test in late replacement Hyun Gyu Lim.
On paper, Saffiedine's big fight experience trumps Lim in every area. The Belgium-born fighter has taken on some tough competitors over the last few years. In addition to Marquardt, Saffiedine has faced Octagon veterans like Scott Smith,
Brock Larson
and
Roger Bowling
, as well as current welterweight contender
Tyron Woodley
. On the other side, despite a seven fight win streak and two in a row in the UFC, Lim has faced nowhere near the same level of talent, but he's got the advantage of having nothing to lose in this fight.
Lim is a gigantic welterweight, standing at 6'2" tall, and he knows how to use his range. He's landed two knockouts via knees so far in the UFC, but he has yet to take on a fighter the caliber of Saffiedine.
Saffiedine is a rangy striker with some of the nastiest leg kicks in the division. He used them to chop Marquardt down like a tree in their battle, but don't discount his wrestling either, which he can use in the right situations. Saffiedine trains under legendary fighter
Dan Henderson
at Team Quest, so he's used to going against some of the top wrestlers in the world. Saffiedine is also elusive and uses good in and out motion to stay away from big exchanges, which is where Lim is hugely successful.
Saffiedine should get the win here by unanimous decision by frustrating Lim with his quick feet and non-stop movement, and by the later parts of the fight, the Korean's size could come back to haunt him as his cardio may fade, allowing the former Strikeforce champion to truly take over.
> Watch: Saffiedine Talks Training in Southeast Asia
TATSUYA KAWAJIRI VS. SEAN SORIANO
Many of the legends of PRIDE Fighting Championships have already made the UFC a home, including notable names like Mauricio "Shogun" Rua, Antonio Rodrigo Nogueira and
Wanderlei Silva
, but one of the last fighters to finally make his debut in the Octagon is Tatsuya Kawajiri.
Kawajiri was a mainstay during PRIDE's heyday and he's remained a top level fighter for the better part of the last decade. Now fighting at featherweight instead of at 155 pounds, where he spent the majority of his career, Kawajiri has looked almost unstoppable. He's currently 4-0 at featherweight with wins over names such as Joachim Hansen and
Michihiro Omigawa
.
Kawajiri is a supreme grappler with wrestling that could give any top 145-pound fighter trouble. In his last 15 bouts, Kawajiri has landed 37 total takedowns with 68.5 percent accuracy, which is over 27 percent better than the average in the UFC. Hoping to stifle Kawajiri's debut is undefeated 8-0 prospect Sean Soriano.
Soriano trains out of the Blackzilians camp in Florida, where he routinely works with top UFC names such as
Rashad Evans
,
Abel Trujillo
and
Alistair Overeem
. Soriano is a former state wrestling champion from high school, so he's no stranger to the mat and he likes to use submissions as a big part of his game. He's won three fights on the ground with a variation of finishes, and with a great team behind him, Soriano is confident.
None of it may matter against a fighter like Kawajiri, who has the championship pedigree, veteran experience and home field advantage in this fight. Training out of Japan, Kawajiri will have a much shorter trip to Singapore, plus he's fought around the area before, so fans will be very familiar with his name on fight night. All of those factors, combined with Kawajiri's unrelenting attacks to get this match to the ground while putting Soriano in uncharted waters, will be a reality check for the young UFC newcomer.
Kawajiri picking up his first UFC win via submission would be the best bet to make on this fight, and it might be enough to earn him a bonus in his first UFC fight as well.
> Watch: Soriano Prepares for UFC Debut
KIICHI KUNIMOTO VS. LUIZ DUTRA
Two fighters debuting at UFC Fight Night in Singapore will be Japanese submission specialist Kiichi Kunimoto and former
Ultimate
Fighter Brazil season 2 competitor Luiz Dutra.
Dutra makes his first appearance in the UFC after being forced off the reality show due to injury after winning his first two bouts in the competition. Dutra is a Brazilian fighter with a varied arsenal of weapons at his disposal. He is a quick striker but also has solid Brazilian Jiu-Jitsu as well. Kunimoto is primarily known as a grappler, so if Dutra can take him away from his comfort zone early he could be in for a long night.
Dutra is a well-rounded fighter with experience against some excellent competition, and if not for the injury, he could very well be standing as the TUF Brazil 2 champion. While Kunimoto is a tough, rugged fighter, Dutra should be able to exude his dominance on the feet and keep this fight standing, where he will have the advantage to eventually pull off a unanimous decision win. Kunimoto is super tough, so he'll keep this competitive, but Dutra is the pick to come away victorious.

KYUNG HO KANG VS. SHUNICHI SHIMIZU
In a battle of grapplers, Kyung Ho Kang will look to bounce back from a recent loss in the UFC to
Chico Camus
when he takes on newcomer Shunichi Shimizu. While both fighters love to get a fight to the ground, Shimizu on paper has an advantage in that department if the bout does indeed hit the mat.
Shimizu is a catch wrestler similar to heavyweight contender
Josh Barnett
. He will constantly work to get inside on a fighter until he gets them to the ground, where he starts to employ his offense. Shimizu works well from the top or bottom so he's not afraid to take chances to get the submission, even if it means giving up a perceived dominant position.
Kang has the experience edge when it comes to time in the UFC, but Shimuzu just needs to stay patient and stave off the early butterflies before plying his craft. With 19 wins by submission, Shimizu's aggressive ground game should give Kang sufficient trouble, and if he can't hang, by the third round he might find himself on the wrong end of a choke, which the Japanese bantamweight uses with great expertise. When this one is over, Shimizu should have his first UFC win.
This event will air on UFC Fight Pass on Saturday, January 4. Start your free trial now at ufc.tv/fightpass