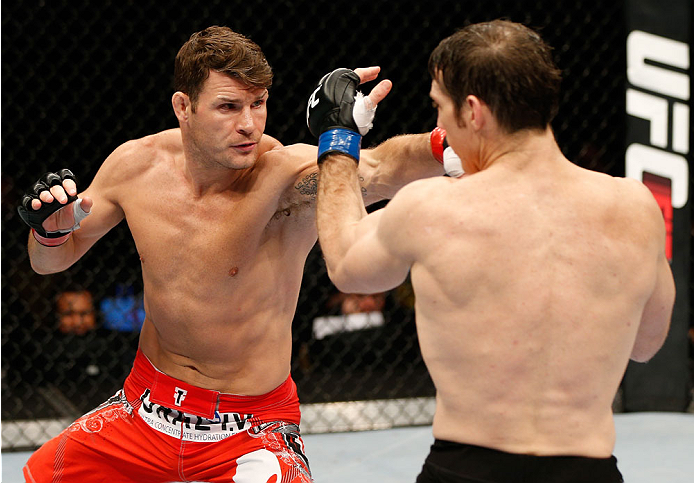 It's a fight Michael Bisping has craved for years, and on February 27, he will finally get his chance to throw hands with Brazilian icon Anderson Silva in the main event of the UFC FIGHT PASS show in London, England. For "The Count," a win will certainly land the bout on his list of the longtime contender's 12 most memorable moments...
Cage Rage 7 – Mark Epstein I July 10, 2004Result:
Bisping TKO2
Unbeaten, yet untested, a young Michael Bisping was just 2-0 as a pro when he got the call to take on then 6-3 Mark "The Beast" Epstein, and almost immediately, Bisping got a rude welcome to the next level as he was dropped to a knee by a punch and later sent to the canvas, where he spent the majority of the first round fighting from his back. And though Bisping was obviously still raw as far as technique was concerned, his resilience was already evident, and he came out strong in the second round, eventually stopping Epstein at the 1:27 mark. He would notch a KO win over Epstein in their rematch four months later, and the 24-year old from Manchester was on his way to the top.
TUF 3 Finale – Josh Haynes (Watch this fight on UFC FIGHT PASS)June 24, 2006 Result:
Bisping TKO2
With British fighters Mark Weir, Ian Freeman, Lee Murray and Leigh Remedios only having spotty success in the UFC, you wouldn't have been criticized too much for suggesting that Bisping, along with Ross Pointon, weren't going to make much noise on the third season of The Ultimate Fighter. And while Pointon made more fans for his personality than his fighting, Bisping quickly soared to the finals of TUF3, with his two round thrashing of Josh Haynes in the finale a mere formality. The UFC had a new Ultimate Fighter, and England finally had someone in the organization who looked like he would be staying around for a while.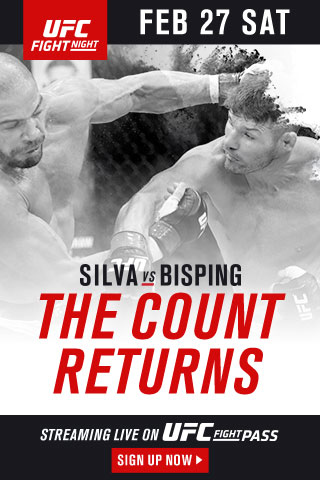 UFC 70 – Elvis Sinosic (Watch this fight on UFC FIGHT PASS)April 21, 2007 Result:
Bisping TKO2
After getting his first post-TUF win over Eric Schafer at UFC 66, Bisping was the natural choice to lead the UFC back into the UK for UFC 70 in Manchester. It was the type of pressure cooker environment that could very well break a fighter, but Bisping took it all in stride, and from the moment he entered the M.E.N. Arena to Blur's "Song 2", he owned the hometown crowd. Sinosic took a little more convincing, but after scoring a knockdown and almost locking in a kimura, the Australian was stopped by Bisping in the second round, and a British star was born.
UFC 75 – Matt Hamill (Watch this fight on UFC FIGHT PASS)September 8, 2007 Result:
Bisping W3
Having done no wrong thus far in his UFC career, it was inevitable that somewhere along the line, Bisping would hit a bump in the road. That bump was his TUF3 housemate and rival Matt Hamill, a fighter Bisping figured he would have his way with given his superior striking. But it was Hamill who showed up with improved stand-up that night in London, and after three closely contested rounds, many thought the fighter ending up with a "1" on a previously unbeaten record would be Bisping. But it was Hamill on the short end of the split decision, sending fans into a frenzy on internet message boards for weeks. As for Bisping, he got the win, and wasn't shy about letting people know about it. "Of course, don't insult me like that," Bisping said when asked at the post-fight press conference if he believed he deserved the decision. "I'll give him the first round, I won the second, and I won the third."
UFC 78 – Rashad Evans (Watch this fight on UFC FIGHT PASS)November 17, 2007 Result:
Evans W3
Two months after the Hamill bout, Bisping was back in action, and this time he was being asked to headline a Pay-Per-View event against fellow unbeaten Rashad Evans. This would be the true barometer of both fighters' popularity, and after an entertaining war of words leading up to the bout, he and Evans delivered on all fronts, as the match garnered a considerable buzz by the time the opening bell rang. In the Octagon though, it would be Bisping falling short of victory for the first time, as Evans held off a late charge from the Brit to take a three-round split decision.
UFC 83 – Charles McCarthy (Watch this fight on UFC FIGHT PASS)April 19, 2008 Result:
Bisping TKO1
After the loss to Evans, Bisping decided that it was time to test the waters at middleweight, where he wouldn't be forced into the role of 'small guy' every time he fought. Of course, TUF4's Charles McCarthy took exception to being Bisping's "break-in" fight at 185 pounds and he let Bisping know it at every opportunity. Such talk between the two made the fight perhaps the second most anticipated to Georges St-Pierre's triumphant Montreal homecoming against Matt Serra, but Bisping wasn't about to get into a prolonged war with "Chainsaw Charles." Instead, Bisping stalked his foe, avoided a mid-round submission attempt and then proceeded to unleash a barrage of knees that broke McCarthy's arm and forced a halt to the fight at the end of the first round. Middleweight? No problem.
UFC 89 – Chris Leben (Watch this fight on UFC FIGHT PASS)October 18, 2008 Result:
Bisping W3
After the win over McCarthy, Bisping made short work of Jason Day at UFC 85 and was then given another headlining gig against Chris Leben in Birmingham, England. Now matched up with a striker for the first time since his TUF3 win over Haynes, Bisping was expected to engage in a toe-to-toe brawl with Leben. But showing maturity and restraint, Bisping used a disciplined stick and move strategy that kept the wild-swinging Leben at bay and allowed him to sail to a three-round unanimous decision victory. It wasn't going to win any Fight of the Year awards, but in victory, Bisping showed that he wasn't the same fighter that beat Mark Epstein four years earlier. He was a versatile and dangerous contender now.
UFC 100 – Dan Henderson (Watch this fight on UFC FIGHT PASS)July 11, 2009 Result:
Henderson KO2
Following the win over Leben, Bisping locked horns with MMA superstar Dan Henderson as a coach on season nine of The Ultimate Fighter and led two members of his team, Ross Pearson and James Wilks, to victory on the show. Bisping wasn't going to be so fortunate against "Hendo" when they met in the Octagon at UFC 100, and in a night when nothing went right, "The Count" was knocked out in spectacular fashion by the former two division PRIDE champion. It was a devastating defeat for Bisping, one that would take some time to recover from.
UFC 105 – Denis Kang (Watch this fight on UFC FIGHT PASS)November 14, 2009Result:
Bisping TKO2
When Bisping returned to action after the KO loss to Henderson, the entire MMA world was watching to see if the Brit was going to be able to recover – not just physically, but mentally – from the defeat. And he didn't get any gimme in his return, as he was pitted against another international star in Denis Kang, a fighter who wasted no time in testing Bisping's chin in the first round. Yet after some shaky early moments, Bisping – his back pinned to the wall careerwise – roared out of his corner for the second round and halted Kang at the 4:24 mark. "The Count" was back, proving that fighters aren't defined by how they get knocked down, but how they get back up.
UFC 127 – Jorge Rivera (Watch this fight on UFC FIGHT PASS)February 27, 2011 Result:
Bisping TKO2
The lead-up to this bout between the veteran middleweights was beyond heated, yet on fight night, it was Bisping who got his revenge on "El Conquistador," as he stopped Jorge Rivera in the second round. It wasn't a win that was going to move "The Count" closer to a title shot, but it was a solid victory, one that he followed up with another dominant performance, a third-round TKO win over his TUF 14 coaching rival Jason "Mayhem" Miller.
UFC Fight Night – Cung Le (Watch this fight on UFC FIGHT PASS)August 23, 2014 Result:
Bisping TKO4
From 2012 to April of 2014, Bisping only managed a 2-3 record, defeating Brian Stann and Alan Belcher while losing to Chael Sonnen, Vitor Belfort and Tim Kennedy. It was a rough spell for the Brit, who also had to undergo a pair of eye surgeries for a detached retina. But Bisping was not to be denied his place among the elite, and a punishing fourth-round TKO of striking specialist Cung Le was just what "The Count" needed to show that he was far from done as a top middleweight contender and 185-pound title threat.
UFC Fight Night – Thales Leites (Watch this fight on UFC FIGHT PASS)July 18, 2015Result:
Bisping W5
A submission loss to Luke Rockhold less than three months after the Le bout slowed Bisping's charge for the title. But he got right back to business with a hard-fought win over CB Dollaway at UFC 186 in April of 2015, and he followed that up with a gritty decision victory over Thales Leites in Scotland in July of last year. That win made it three out of four since the defeat to Kennedy, and if Bisping can vanquish "The Spider" in his first fight in England since 2010, he will have to be mentioned as a serious contender for the middleweight crown. And no one would deserve it more.