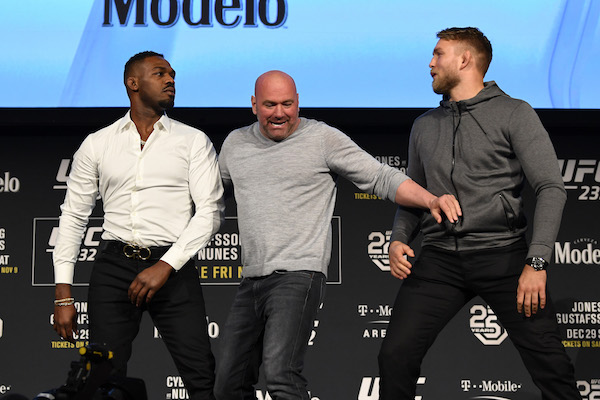 Prior to Friday's ceremonial weigh-ins in New York City, the four combatants set to headline this year's final Pay-Per-View took to the stage at Madison Square Garden to set the table for their twin title clashes at UFC 232.
Seated on one side of the dais were women's bantamweight champion Amanda Nunes and Alexander Gustafsson, with featherweight titleholder Cris Cyborg and the returning Jon Jones taking up residency on the other side of the stage.
Separated by UFC President Dana White, the heated rivals who are set to resolve their differences inside the Octagon on Saturday, December 29 at T-Mobile Arena in Las Vegas, Nevada exchanged verbal jabs in the build-up to what should be an explosive night of fights to end the year.
For Jones and Gustafsson, who will battle to determine the new UFC light heavyweight champion, this is a rematch numerous years in the making.
The duo first met at UFC 165 in Toronto, Ontario, Canada, with "The Mauler" pushing Jones unlike anyone had pushed him to that point in his career and perhaps since.
"I beat you once. I can beat you again."

@AlexTheMauler #UFC232 pic.twitter.com/OaKwUEzuUo

— UFC (@ufc) November 2, 2018
"The last time I fought Alexander Gustafsson, a lot of people in the media were saying, 'He's a lot like Jon Jones — he's tall, he's lanky, he can move' and in my head, I was hot, I was on a roll and I just figured, 'Maybe he fights a lot like me, but he's not me,'" said Jones, recounting his thoughts in advance of his first meeting with the Swedish standout.
"I didn't train as hard as I should have. I was winning so many fights, I was being a wild dude and I was still winning and it caught up to me," he continued before being interrupted by Gustafsson.
"Excuses. Only excuses. That's all I hear. Nothing else," said the two-time title challenger from Stockholm. "I beat you once and I can beat you again."
That difference of opinion on the outcome of their first encounter remained a sticking point throughout Friday's festivities, as Gustafsson repeatedly suggested that he defeated Jones in their previous meeting, prompting the returning former champion to get his upcoming opponent's thoughts on some of his other results for clarification.
"What's your excuse for losing?"

The LHWs are going BACK and FORTH! #UFC232 pic.twitter.com/Q4le4licbA

— UFC (@ufc) November 2, 2018
"Did you beat DC as well?" Jones asked Gustafsson, referencing his split decision loss to the current "Double Champ" at UFC 192. "We had a close fight. Did you get ripped off in the DC fight as well? You beat me, but you lost to DC?
"What about Anthony Johnson, did you beat him?" continued Jones, needling Gustafsson over his previous setbacks. "What about Phil Davis?"
"It was a split decision, but I will beat you, Jon," responded Gustafsson, who took the provocation in stride. "It's all about our fight. That's the only thing that counts."
While Jones and Gustafsson have already gone five rounds together inside the Octagon, Cyborg and Nunes have been battling for months on social media as they've each shared their thoughts on this historic meeting between female UFC champions.
Looking to take home some extra gold

@Amanda_Leoa #UFC232 pic.twitter.com/r1qKfUuPaM

— UFC (@ufc) November 2, 2018
Cyborg, who retained her featherweight title with a first-round stoppage win over
Yana Kunitskaya
in March, took umbrage with Nunes angling for the opportunity to face her, but not being ready to compete in September, when Cyborg had wanted to return. The former
Strikeforce
and Invicta FC titleholder has also repeatedly taken aim at Nunes for having pulled out of her scheduled bout with
Valentina Shevchenko
at UFC 213 on the day of the fight and did so again on Friday.
"I accepted to fight her when I fought Holly Holm," said Cyborg, who earned a unanimous decision win over the former bantamweight champion last December at UFC 219. "She asked for nine months to train for this fight. I think when you call somebody out, you have to be ready; you shouldn't need nine months to get ready.
"Keep working hard and make sure that you're there because I know you pull out before fights," added Cyborg later in the press conference. "I'll believe you when you're in the cage. When you're in the cage and they close the door, that's when I know you'll be there."
CHAMPION VS CHAMPION!

@CrisCyborg vs @Amanda_Leoa at #UFC232! pic.twitter.com/JUgoWTP9Nv

— UFC (@ufc) November 2, 2018
Every time Cyborg has chided her, both Friday afternoon in New York and the myriad times prior on social media, the undisputed bantamweight champion has stuck to her guns, explaining her reason for wanting to fight in December and how important this opportunity is to her.
"I gave my timing to the UFC," countered Nunes, who has always maintained she would be ready to fight on this card. "I have to be ready for her. She's strong and she's powerful and I have to be ready. I gave my timing, my date and now we are here, ready to go.
"I'm here for that; that's why I asked for this fight," she said when asked if a victory over Cyborg would make her the greatest female fighter of all-time. "I want to be remembered as the best female ever. Champion-Champion; I want these two belts. I want my name in the Hall of Fame."
Although there are tremendous fights on tap this weekend at Madison Square Garden and a slew of outstanding events on the calendar before these bitter rivals finally collide in the Octagon at the end of the year, Friday's press conference lit the fuse on these explosive contests and now it's just a matter of time before the fireworks go off at UFC 232 in Las Vegas.
T-minus 57 days and counting until these two championship blockbusters blow the roof off T-Mobile Arena.