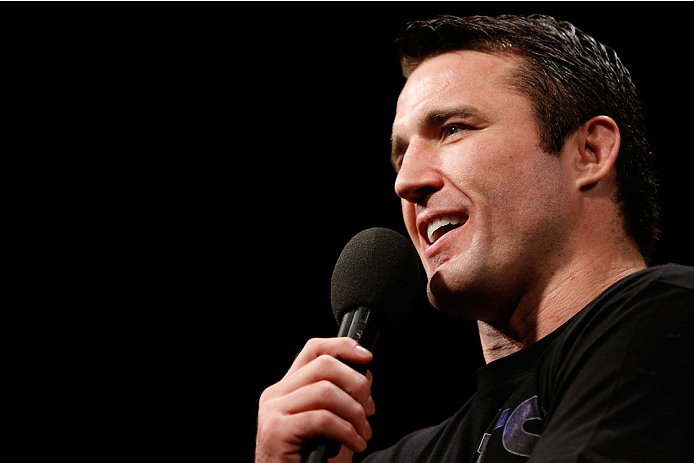 We may not always admit it, but those of us who cover mixed martial arts are pretty damn lucky. Not just because we get to follow the sport, but because the athletes involved are some of the most accessible and interesting in sports today. But there are those who do go above and beyond the call of duty when it comes to interviews, and in honor of the
UFC'
s 20th anniversary celebration, here are 20 of my favorites (in alphabetical order of course)…
1. Phil Baroni
Emotional, honest, filterless, brash. Those are the attributes former middleweight / welterweight Phil Baroni always brings to an interview, sometimes in the same sentence. And while "The New York Bad Ass" can definitely bring out that persona, his interviews are among the most revealing about the sport and his place in it when that skin gets shed.
QUOTABLE: "When I was a little kid in my yard, other kids were winning the World Series by hitting an imaginary a home run with a count of three balls and two strikes, and some kids were sinking the three pointer with two seconds left to win the championship basketball game. I was shadowboxing Mike Tyson or I was fighting in the Kumite in Bloodsport. That's what I always wanted to be – I always wanted to be a fighter and a world champion. I never wanted to be Don Mattingly, I never wanted to be Patrick Ewing or Mike Bossy; I wanted to be Mike Tyson and Sugar Ray Leonard and Roberto Duran."
2. Pat Barry
I loved interviewing heavyweight Pat Barry from the moment he told me that getting kicked in the leg by him is like stepping on a land mine. From most, a comment like that could be dubbed cocky, but when "HD" tells it, it's a matter of fact thing, like 'oh yeah, it's like stepping on a landmine.' Add in his deadpan humor and self-effacing assessment of his fight game, and Barry is always a winner.
QUOTABLE: "Deep down inside, something can tell you when someone is lying or acting. You can tell that you're watching a movie, versus in real life, when someone is pouring their heart out to you, you can feel that and sense that. Like going to an opera, there are women and men who stand on stage and they sing and they can command tears from the crowd watching. I never understood that growing up as a kid. How can people go to an opera and watch someone singing and start crying – that just doesn't make sense. Or you can listen to someone who plays the trumpet or plays the saxophone in a way that can actually pull tears out of your head. I think that it's definitely my honesty and my realism that connects to people because I'm not a superhuman. I'm just like everybody else. I think people can relate to me and it makes them feel special because if that guy over there can do this, then I can do it too because he goes what we go through every day and he sounds very familiar to me. I'm your average, everyday guy. I just happen to have an odd job."
3. Shonie Carter
One of the most memorable fighters I've ever covered, Shonie Carter was always a captivating character to talk to, and the great thing about "Mr. International" was that he always had some off the wall story to tell, and most of them weren't even about the fight game. Despite competing into 2012 and even appearing on the comeback season of
The Ultimate Fighter,
I still don't think fans (and the media) got to see Carter in his prime and at his best, in the Octagon and out.
QUOTABLE: "Like I told everybody before, when you see a sharp knife in the drawer, you reach in real carefully so you don't cut yourself. You don't go around playing with guns, you don't juggle hand grenades with the pins pulled out. You don't put your hand in the fire just because you think you can deal with it. A lot of people think just because I dress funny and I talk s**t that I can't back it up. I may sound like a broken record, but that's because I break records. I don't mind people underestimating my abilities. Most people think wearing suits is my only accolade. They don't know that I own 12 different belts from State level up to international. I've had five world titles and six national titles."
4. Michael Chiesa
One of the newest members of this talkative fraternity, Michael Chiesa has a great story, no hesitation when it comes to telling it, and he's got a fresh approach to the sport that makes every quote compelling.
QUOTABLE: "This whole thing is something that me and my dad discussed. He made me promise that no matter what happened to him before or while I was gone that I needed to stay focused and pursue this because you only get so long in your life to pursue your dreams, and if your dream is fighting, your years are somewhat limited. He knew that this is what I wanted for the majority of my life, so it was his will for me to keep going on with this thing, and I wasn't about to break that. It was an easy choice for me to stay in this competition, but it wasn't the easiest task to stay focused, stay training, and stay mentally tough. It's been quite a journey, but I feel like I've made the most of it thus far."
5. Brian Ebersole
One of MMA's true veterans, Brian Ebersole has been fighting for a long time, and subsequently, he's got a lot of stories about the lean years on the regional circuit. I love these stories, but that doesn't mean Ebersole is stuck in "remember when" mode. This guy is full of adventures, whether in Australia, Thailand, or at home in the States, and all I can say is that I can't wait for him to put these adventures in a book someday.
QUOTABLE: "Especially when I haven't shaved, people definitely think I'm a bit older than I am. I assume people think I'm nearing 40, but the truth is, my first three years of fighting, I had 36 fights. I averaged a fight a month, so the Midwest scene definitely allowed me to jump in and have a play a lot, and that came with both good and bad. The bad is that I saw the worst side of a lot of promotions, and the things that could go wrong with a promotion definitely did, and I took losses where I shouldn't have even took the fight. Not that I physically couldn't compete, but I probably wasn't training right. When I first started I was just wrestling. I wasn't fighting, so it really was my style versus whatever style they brought, and I didn't have much violence in me and I didn't have very many submissions."
6. Rashad Evans
I've often referred to former UFC light heavyweight champion Rashad Evans as one of the sport's most cerebral fighters, and that aspect of his personality always translates into a great interview. Looking deep into the mental side of the sport, Evans has a way of articulating that like few do.
QUOTABLE: "My mindset is, I'm gonna try to go where my opponent doesn't want to go – we'll see who can suffer the longest. That's basically it, and if he can outlast me in suffering, then he wins the fight. But it's a mindset to drive yourself to suffer. My wrestling coaches used to call it mental toughness. They would dog us out in practice and make us do things that we possibly couldn't do, but they made us feel like we had to do it. They'd say 'mental toughness, mental toughness' and you learn to like the suffering - you learn to welcome that feeling when it comes. A lot of people run from it because they want to start feeling okay again, but when you embrace the suffering, you just ride it out, and pretty soon, you've outlasted your opponent."
7. Kenny Florian
Always accessible and generous with his time (which is sometimes is half the battle in this end of the game) Kenny Florian has transitioned from fighting to broadcasting with seamless ease, something that doesn't come as a surprise to anyone who has ever interviewed "KenFlo" over the years. He's not only a student of the game, but he knows how to explain it as well, and his candor is always welcome.
QUOTABLE: "It's the pressure that starts getting to you. When I got there, I didn't feel anything; I was fine, it was just another fight. Then it hit me all at once. Having such a huge event, you start realizing, okay, you have these medical exams you need to go through right before your fight, you have people asking for your autograph, you have interviews, you have people taking your photo, and it just goes on and on and on. You see how many people are out there waiting to see you fight in the arena, there are cameras everywhere, and in your mind, you start realizing how big an event it really is. And then the pressure starts getting to you. Not only are you worried about the fight itself and what you need to do technically, physically, and mentally to win the fight - but now you have these external things - like pressure, your family's there, you have a six figure contract on the line, the actual purse itself, and these are things that you can't worry about."
8. Rich Franklin
Former UFC middleweight champion Rich Franklin makes it on this list because he's not one to speak in clichés, and never has been. If you ask him a question, he's going to give you a thoughtful, honest answer, not something he pulled out of a book of sports phrases. Of course, make sure you ask a good question first.
QUOTABLE: "You're standing in the cage and you've got two options – you can quit or you can continue going, and I'm not a quitter. At the end of the day, if I had turned around and looked at the ref and said my 'arm is broken, I can't continue', I think I really would have been kicking myself for something like that in the long run. So basically, you keep going and keep going until you can't go anymore. In every human there's the fight or flight syndrome, and you come to a crossroads often in life where you have to make a choice as to whether or not you're going to continue pushing through something or if you're going to fold the cards. Some people fold more easily than others, and that's a situation where I know that even though my arm was in some pain, I had the adrenaline going and all that stuff, so it's a manageable pain. And when you're in the moment, all you're thinking about is that I need to win this fight. And you say well, my arm's already broken, so what more can possibly be done."

9. Renzo Gracie
One of my favorite people in the game, something anyone who has run into him will probably say as well, Renzo Gracie is the most accessible MMA legend you'll ever find. And what makes him a great interview is not just his honesty, but the stories about his career, his family, and his life. If you're not fascinated by hearing Renzo tell his tale, you're in the wrong business.
QUOTABLE: "When you win, it's easy to forget all the hardship that you went through to get the win. You get so excited with the victory and the people around you congratulating you and hugging you, you completely forget all the mistakes you made in that fight. But when you lose, you know them, and you will never forget them. So I made sure I put that picture (of his loss to
Kazushi Sakuraba
) here, and actually that's the only picture I have here, hanging on the wall. It's to remind me constantly that a fight is only finished when the bell rings and the ref pulls you guys apart. Every time I walk in, I see that picture, and remember that I'm not perfect. I need to improve, I need to get better, and I need to make the people under me better, so they don't go through that."
10. Forrest Griffin
Including Forrest Griffin may come as a surprise to some of my colleagues, but despite the fact that the UFC Hall of Famer can pop off one word answers to questions and go completely off-topic at times, I like that with a Griffin interview, I have to be on top of my game. And if you take the time to prepare for the interview and come up with good questions, more often than not, he will give you a great interview in return.
QUOTABLE: "It's one of those things where when you're training and fighting, you can't worry about your bills, your mortgage, did you get your girlfriend pregnant, your pet's cancer, or anything. Nothing else matters but that dude trying to kick you in the face or throw you on your head or trying to rip your arm out of the socket. It becomes a singularity of purpose, which an ADD kid like me rarely gets. I like that moment of clarity in fights, and I truly have that. I lose myself in the details of those 15 minutes and you don't worry about what people think of you."
11. Johny Hendricks
Nobody, and I mean nobody, tells a story like Johny Hendricks. I firmly believe that the number one welterweight contender can take the daily weather report and make it compelling. That's a gift, and I can listen to Hendricks tell stories about everything from his wrestling career to going bow fishing all day.
QUOTABLE: "My senior year, I couldn't win a match. My senior year I would leave practice mad every day because I just couldn't win. I could beat the lower level guys, but my backup, I couldn't beat him. But that's what keeps that drive. If you constantly win, what do you when you go home? Do I need to run? I keep winning, it's not a big deal. But if you go home and you get beat every day, you're gonna do a little bit extra because you're getting your butt kicked. And you want that to stop."
12. Jon Jones
As big as Jon Jones has gotten over the last couple years, the current pound-for-pound king has remained a compelling figure to talk to mainly because he still remains the same honest interviewee he's always been. Of course, that has gotten him in trouble a couple times over the years, but he has yet to put a filter on his thoughts and opinions. Try finding another elite athlete at the top of his game doing that. So you won't hear me complaining.
QUOTABLE:
"I literally get my butt kicked every single day, which is new for me. I come from a school where I wouldn't even get hit. I would never get a black eye, a bruise, a bump, or a nick, and now, I'm icing every night because these guys are kicking the snot out of me. I'm getting tapped out, taken down, punched in the face, and it's just a reality check. There's so much work to be done. In a sport like mixed martial arts, a real black belt doesn't think he knows everything; he pays attention to how much he doesn't know. I'm really not anything. I'm a young guy who's had some impressive fights, and when it comes to proving myself, I really haven't done anything. There's a lot more talent out there besides me, a lot of other guys that are looking great, way more well-rounded, and until I get to that level where you can find no holes or weaknesses in my game, I'm gonna continue to be a grinder and continue to work hard, improve, and keep my head on straight. I'm not resting until I'm officially
Anderson Silva
status."
13. Joe Lauzon
The great thing about Joe Lauzon is that while he came into the UFC as the IT guy who fought on the weekends, his personality hasn't changed a bit despite his status as a top lightweight and the UFC's bonus king (alongside Anderson Silva). Talking to Lauzon is like talking to a buddy, and that always makes the interviewing process a ton easier. Definitely one of the good guys in the game.
QUOTABLE: "Back and forth fights are good, but the way that I impress the people the most is when I put on a fight like the Ruediger fight," he said. "I show what I'm gonna do, and it doesn't really matter who's out there with me. If I go out there and blast through people, people are gonna remember and enjoy the fight. As a competitor, that's how I'm picturing the fight – I go out there, dominate the fight, push through, and do what I want to do. I don't want people to see that he's good. I don't want the fight to go his way whatsoever the entire time. The people who didn't know him before, I don't want them to know him after the fight either, because Fight of the Night may be nice, but that means it's back and forth and it's a super tough fight. I don't want that. I want to control and dominate."
14. Frank Mir
Frank Mir has always been seen as the thinking man's fighter, and that carries over to his interviews. Always analytical and thoughtful with his answers, Mir is a writer's dream, because he never leaves the notebook empty.
QUOTABLE: "Guys line up, they want to feel each other out. They get their range, they get their distance. I don't really understand that. It's still fighting. How are we gonna feel each other out? You'd better be doing that when you're looking me in the eyes and we're walking towards each other. As the battle engages you have to think and move on your feet. As an example, in boxing, guys go out there and they start throwing the jab and move around, and in the first two minutes, nothing's really happening. I think that's ridiculous. And the minute I engage and we're within hand distance, I'm thinking about finishing you because the only way I can secure my own safety is if you're unconscious on the ground. That's just my mentality about it. The reason I think that I end up thrashing a lot of guys so soon is that most guys, when they start a fight off, they're still getting over their fear. They want to almost feel you to feel that it's okay that they're in the fight. Once they get past that, now they can fight and they get rid of their jitters. I don't have those jitters when I first start out. I go in there and boom, I'm trying to rip your head off. It's not an anger thing, I'm just more of a surgeon. I'm not going to sit here and tap at the cancer, look around at it and feel it, talk to the nurse and get a cup of coffee. I'm here to do something, so let's get it done. They haven't conquered their fear. They're physical fighters and not mental fighters, so they have to get in there and you have to put them in a fight before they react. You have to almost fight them to get them into a fight zone. But if you let me get the first move off on you, action beats reaction. If you let me start on you, and you're waiting to get into that zone, that killer freak mode, the fight's over with and they've raised my hand before you've realized it."
15. BJ Penn
BJ Penn is not the easiest guy in the world to track down. But when you do, he's so good in an interview that you forgot all the trouble it took to get him. That's a gift, and anyone who has cornered him for a Q&A over the years will admit that they were never disappointed.
QUOTABLE: Everybody knows a true fighter when they see one. There's just something about BJ Penn that gets people amped up. You don't know what's gonna happen, but something's gonna happen. He might disappoint you, he might make you happy, he might make you cry, he might make you jump out of your chair, but he'll do something to you.
16. Jens Pulver
Pound-for-pound, Jens Pulver may be my favorite interviewee ever. And if you've ever read anything I've written about him, you'll know why. Pulver is an open book to the world, and even when the topics are tough, he will dig in with both heels and let you know exactly how he feels. Add in a dose of humor, and if you talk to "Lil' Evil" you will never forget it.
QUOTABLE: "Anybody can get knocked out. You can't train for that. You can't say, 'oh, I'm going to try and toughen up my chin.' If it happens, it happens. But my thing is, I've got the confidence. I get blasted day in and day out. I can fight dizzy, I can fight in a tunnel, it doesn't matter. The question is, can he? Are they taking it easy on him? Is he so good that he doesn't have any practice partners that are beating on him? The bottom line is that I'm getting beat on every single day. I'm not walking into a gym and dominating everyone. I don't overpower everybody. I 'm the littlest, I'm the lightest, and I have to fight my ass off to survive in that gym. So when I get in there with him, what am I worried about? This is actually a guy that's my weight and my size. Is he getting the same kind of beatings that I'm getting? All the belts and all the medals in the world don't mean s**t when it comes to your heart. And I've got the biggest heart of all of them."
17. Kevin Randleman
Kevin Randleman was my first MMA interview back in 2000, before his
UFC 28
fight against
Randy Couture
, and when it was over, I said that I will be covering MMA for the rest of my career. If you've talked to "The Monster," you'll know why. If not, just realize that it will be an experience you'll never forget.
QUOTABLE: "With the things that have happened in my life, I don't sweat the small stuff. To get hit in the face in a fight does not scare me one bit. Randy Couture had me down and you don't understand what was going through my mind. 'Wow, I've never been punched like this before, and it doesn't hurt.' That's all I kept thinking. I looked at the clock and I was like, 'Okay, I've got 20-30 seconds,' but it was stopped."
18. Matt Serra
How could I forget my fellow New Yorker on this list? From the first time we spoke in 2001, when he told me that if anyone called him one-dimensional that he would "punch him right in the chin," to our most recent chat last week, Matt Serra has always been someone who doesn't do the bare minimum in interviews. He will give you more than what you need, leaving you to chop it up and make it work. And though some say less is more, not when it comes to Serra.
QUOTABLE: "I'm sure everybody would say that they want to be a champion and have a belt, and I'm really no different in that case, but that's not my only drive. I really do just love to compete, and I love to fight. Every one of my fights, even if it's a loss, it's been a unique experience and it's a very emotional experience. I cherish every fight that I had in there and I really enjoy my fights in the UFC. I'm in a few video games, I'm in some books, and for a kid from Long Island to get all this and earn it the right way, I just enjoy it."

19. Wanderlei Silva
The legendary "Axe Murderer" isn't here because of 800 spectacular interviews. For me, it's because of one. Back when he first signed with the UFC in 2007, Wanderlei Silva was brought to Anaheim for the
UFC 76
bout between future opponent
Chuck Liddell
and
Keith Jardine
. On fight day, I was told I had 30 minutes to chat with Silva, and for a longtime PRIDE fan, to talk about those days with the Brazilian star was priceless. Add in the fact that he would slap your leg or shoulder every time he wanted to emphasize a point, and it was most definitely a moment I won't forget. And as nice as he is outside the Octagon, he retains that intensity that travels with him on fight night.
QUOTABLE: "Many people say that I'm two different people. I trained hard for three or four months for this moment. I want to give my best, I want to win, I want to give a show for my fans, and in my mind, I don't know, but I change. I want to kill the guy. At times, I fight with my heart a lot and not with my head. Now I have more experience in these situations, but it's still my style."
20. Chael Sonnen
Well, you knew "The Gangster from West Linn" was going to make an appearance here. But the great thing about Chael P. Sonnen is that while most have only realized how great he is in the interview process over the last three, four years, he's been doing this ever since his first stint in the UFC. I recall dubbing him "MMA's last honest man" one time, and he corrected me by saying he was MMA's "only" honest man. That's Chael.
QUOTABLE: "I will take on whoever, and a lot of guys say that because it's got a nice ring to it, and then behind the scenes, when Joe Silva calls, all of a sudden their arm hurts, their knee hurts, or their shoulder's sore. They need to get their tonsils removed or they need to play in a movie when they really don't know how to act. Guys come up with a lot of reasons not to get in there, and I have a lot of reasons too. I've never felt good when it comes to fight. Not one time have I walked in the ring feeling good. But when that music comes on, I will make that walk every single time, regardless of the opponent. I never think about who's across from me."