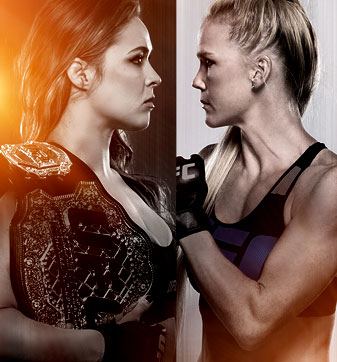 Ronda Rousey will return for her third title defense of 2015 when she faces Holly Holm this weekend at UFC 193 in a card from Melbourne, Australia that is expected to break the all-time attendance record for the promotion with 70,000 fans packing the stadium.
Rousey has reached an entirely new stratosphere this year, with her star rising higher than that of any fighter in UFC history, and she'll look to add on another huge win as she defends her title just three months after knocking out Bethe Correia in Brazil.
Also on the card, strawweight champion Joanna Jedrzejczyk will go for her second straight title defense victory as she faces American Top Team fighter Valerie Letourneau, who most recently dispatched Maryna Moroz in her second fight at 115 pounds.
In addition to the two title fights, Mark Hunt faces Antonio "Bigfoot" Silva in a rematch of a bout that's been lauded as one of the greatest heavyweight showcases of all-time.
In today's fantasy preview, we are going to examine some of the key fights at UFC 193 to see who's a lock, what are the toughest fights to pick a winner in, and if there's an upset brewing on this mega show headed to Australia.
KNOCKOUT PICKS
These are the fights that appear to be a little more one-sided, but remember that this is MMA, where anything can - and usually does - happen.
Ronda Rousey (-1900 favorite) vs. Holly Holm (+1100 underdog)
Ronda Rousey has certainly earned the right to enjoy huge favorite status with the run she's been on since arriving in the UFC, and that's no different in this fight against Holm, who is only 2-0 since joining the promotion with a pair of decisions against fighters outside the top 10 rankings.
Facing Rousey is like walking head first into oncoming traffic - you dodge three cars and get hit by a semi-truck. There's nowhere Rousey hasn't been superior during her career and the added benefit of punching power that's developed in the last couple of years is just one more weapon she can use to dismantle her opposition. Rousey lands punches with over 63-percent accuracy and lands takedowns with 80-percent accuracy, so whether she's landing shots on the feet or tossing an opponent to the ground, chances are she's going to hit whatever she's aiming at.
So what can Holm do to deal with Rousey in this fight?
Well it's been talked about ever since the fight was made, but Holm has to use her reach and distance to hopefully keep Rousey at the end of her punches while circling away in a constant motion. The best example of this strategy came during Carlos Condit's win over Nick Diaz, where he hit and moved non-stop for five rounds and never gave his opponent any openings to put together combinations in a flurry. Now the difference in this fight is that Rousey isn't just going to try to jab and put together punches like Diaz because she sets up her prolific judo throws by wading inside with her striking before dumping someone on their back.
Holm has the pedigree to give Rousey trouble if she's able to keep her on the outside, but no one has accomplished that yet and it probably won't happen here either. Holm could probably pick apart most bantamweights with her range and diversity of strikes, but each second of each round that ticks away is more time that Rousey will find an opening to either land a knockout shot or take home another submission win. Either way it's hard to imagine Rousey leaving Australia without her title intact.
Prediction: Ronda Rousey by submission, Round 1
Joanna Jedrzejczyk (-2000 favorite) vs. Valerie Letourneau (+1000 underdog)
It's hard to imagine a card where Ronda Rousey isn't the biggest favorite, but that's what happens at UFC 193, as strawweight champ Joanna Jedrzejczyk will enjoy that honor as she walks in as a massive 20-to-1 favorite over Valerie Letourneau.
Jedrzejczyk has earned the right to be one of the most feared champions in the UFC because she's got the best kickboxing in the division and also possesses one-shot knockout power, which can be a rare commodity at 115 pounds. Jedrzejczyk lands nearly five significant strikes per minute at nearly 44-percent accuracy, which means her output is incredible and is hard to keep up with by even the savviest of fighters.
Letourneau's best chance in this fight will come early, when she can hope to overwhelm Jedrzejczyk with her size and power. Letourneau is a former bantamweight, so obviously she's familiar with facing much bigger, stronger opponents, and her ability to eat a shot from Jedrzejczyk and walk through it could be a big bonus assuming she's able to do that. Letourneau hits with power and technique, but she has to find an opening on Jedrzejczyk early or she could be in serious trouble by the time the championship rounds arrive.
As much as Letourneau can use her size early, that weight cut could come back to haunt her by the fourth and fifth rounds, and that's when Jedrzejczyk will likely take over in a big way. The longer Letourneau gives Jedrzejczyk to pick her spots, the less chance she has of winning. Look for Jedrzejczyk to hit and move early to make Letourneau chase her, and once the challenger's movement slows down even in the slightest, the champion will take full advantage.
Prediction: Joanna Jedrzejczyk by TKO, Round 4
Gian Villante (-365 favorite) vs. Anthony Perosh (+305)
It's said quite often that styles make fights, and that seems to be the case for Gian Villante to get a huge knockout win this weekend against submission specialist Anthony Perosh.
Villante is a power striker who does maximum damage with every shot he lands, and while he's suffered a couple losses in his UFC career, there's never been a time where he hasn't at least cracked his opponents with bombs that left them wobbly and unsure which way was up. That bodes well for Villante in this matchup because Perosh has unfortunately endured some serious punishment during his career, including a three-round bludgeoning courtesy of Ryan Bader as well as knockouts to Sean O'Connell and Ryan Jimmo in his last five fights.
Obviously, Perosh always has a shot if he can drag this to the ground, so it's not automatic that he'll get hit and go down, but for him to have a chance, he needs to dive for Villante's legs from the moment the referee says go.
Villante may never be an upper echelon light heavyweight, but facing a slower, aging opponent like this one is tailor made for a knockout and he should find an opening early to put Perosh away and maybe earn himself some bonus money to take back home.
Prediction: Gian Villante by KO, Round 1
SPLIT DECISION
These are the fights that are just too close to call, but a few minor differences between favorite and underdog could lead one fighter to victory and the other to defeat.
Mark Hunt (-255 favorite) vs. Antonio Silva (+215 underdog)
The first fight between these two heavyweights was one of the greatest displays of heart and violence the sport has ever seen, and while you can never duplicate that kind of greatness, Mark Hunt and Antonio Silva will certainly try this weekend.
Unfortunately, both fighters have endured far more failures than successes since they last met, with Hunt going a paltry 1-2 while Silva has etched an identical mark although he did get a win over Soa Palelei in his last trip to the Octagon.
So what's different about this rematch?
Well, instead of five rounds there will be only three, so neither Hunt nor "Bigfoot" will have to conserve much energy and that can't seemingly hurt either one of these guys, who routinely cut weight to get down to 265 pounds. Hunt's recent losses, while certainly discouraging, have come against current heavyweight champion Fabricio Werdum (in a fight he was arguably winning to that point) and to Stipe Miocic. Silva's losses came against equally tough competition, but he was not competitive in either one, as he got floored by both Andrei Arlovski and Frank Mir in back-to-back fights.
Hunt seems to have a little more to give in this fight and he's been training with the American Kickboxing Academy team in Thailand, so while he's dealing with two losses in a row, he hasn't been laid out like Silva was in his recent defeats.
Hunt still has a jaw built out of concrete and he only needs to land one or two punches to put anyone in the heavyweight division on the floor, and Silva's recent troubles while standing can't be ignored. Still, Silva faced off with Hunt previously, so he knows what to expect, and if he possibly mixes in a takedown or two, he could take the New Zealand native completely off his game.
That said, Hunt just needs to find the button one time and press it before Silva crumbles to the ground. Hunt may not ever defeat the top five heavyweights in the world, but he's still a serviceable power puncher, and as long as his chin holds up, he's not going to be an easy out for anyone in the division.
Prediction: Mark Hunt by TKO, Round 2
Uriah Hall (-125 favorite) vs. Robert Whittaker (+105 underdog)
Another impossibly tough fight to pick is this middleweight matchup between Uriah Hall and Robert Whittaker, where both men will undoubtedly be gunning for the knockout from the opening bell.
Whittaker is fighting close to home and has turned into a world-beater since moving up to middleweight late last year. He starched both Brad Tavares and Clint Hester in back-to-back fights, but he'll face a very tough test in Hall, who finally had a breakout performance just recently with his TKO finish over Gegard Mousasi.
Whittaker is a very active striker, landing more than four significant strikes per minute, but his accuracy isn't great and that could hurt him against someone like Hall, who misses far less often than he hits. Currently, Hall is landing with nearly 55-percent accuracy and his output isn't that much lower than Whittaker.
Hall's biggest problem has been getting out of his own head and just going out to fight. He seemed to drop a chip on his shoulder after losing a close decision to Rafael Natal in another baffling, lackluster performance where he just couldn't pull the trigger to put any kind of real offense together. That hasn't been the case in his last two fights and if Hall has really found a way to get past his mental blockade, he could evolve into the competitor most expected him to be after several flashy finishes on The Ultimate Fighter.
Whittaker is aggressive and hits hard so Hall can't sleep, even for a minute, but if the New Yorker can uncork a big knee or kick with his opponent coming in hard, he could send him off to sleep with a highlight reel finish.
Prediction: Uriah Hall by TKO, Round 2
Stefan Struve (-135 favorite) vs. Jared Rosholt (+115 underdog)
Stefan Struve will look for another win this weekend as he takes on prospect Jared Rosholt. Rosholt is currently riding a two-fight win streak, although his performances haven't exactly set the world on fire, so if he wants to climb the ranks at heavyweight, he'll need to do a little better and this weekend will be his chance.
Rosholt is a powerful heavyweight wrestler who can grapple with the best of them on the ground, but he's also worked a ton on his striking and he certainly possesses the kind of power that's put Struve out in the past. Struve has blocked 68-percent of takedowns attempted against him, which is a solid rate, but he hasn't faced a wrestler like Rosholt during his entire UFC career.
So the key for Struve is fairly simple - don't get taken down and controlled on the mat and don't allow Rosholt to get too close with his punches to uncork a haymaker. Technically, Struve is the better overall fighter with a solid group of weapons, including long, hard punches and some nasty kicks with legs attached to a nearly seven-foot frame. Struve has also been training full-time with the Blackzilians in Florida, so he's been working with several top-flight fighters, including multi-time kickboxing champion Tyrone Spong.
If Struve can stick to his game plan and keep Rosholt from putting him on the mat, he should eventually find a home for a hard kick to the body or even one to the head to put the former college wrestler down and out for good.
Prediction: Stefan Struve by TKO, Round 2
UPSET SPECIAL
Ryan Benoit (+125 underdog) vs. Ben Nguyen (-150 favorite)
The odds separating these two fighters isn't exactly a Grand Canyon, but then again there are a ton of close fights at UFC 193. This particular matchup between Ryan Benoit and Ben Nguyen has barnburner written all over it, so don't be shocked no matter who wins, but there are a few factors at work for the American underdog.
Benoit has proven to be a very durable and hard-nosed fighter through his first two bouts in the UFC. In his last fight, Benoit took some punishment early and then came back with a vicious knockout over Sergio Pettis, proving that this flyweight has some serious power. His only other losses recently came to Anthony Birchak in a five-round decision before they both made it to the UFC and in his debut fight against Josh Sampo, one that he took on short notice while still earning Fight of the Night honors.
Now, there's no doubt that Benoit is facing a fellow hard hitter in Nguyen, who surprised a lot of people with his first fight in the Octagon, where he put away Alptekin Ozkilic back in May. Nguyen is equally explosive with a lot of pop in his punches, which accounts for eight finishes during his career.
Unfortunately, Nguyen has also faced the other end of a knockout on four separate occasions in the past and that shows two things - he has been susceptible to it in the past and his chin might not be as durable after getting finished numerous times, especially during a streak in 2009 and 2010 where it happened three times in a row.
If Benoit lands a hard shot on Nguyen's chin, he could go down and that could put a stamp on this performance for the Texan.
Prediction: Ryan Benoit by TKO, Round 3