Following an injury to featherweight champion Jose Aldo, No. 1 ranked featherweight Chad Mendes will step into the UFC 189 main event to face Conor McGregor with the interim title up for grabs.
Mendes just recently tore through former title contender Ricardo Lamas to help punch his ticket to the short notice fight against McGregor. The veteran fighter from Sacramento's Team Alpha Male is no stranger to big fights and he's certainly going to give the outspoken Irishman everything he can handle and more.
But will it be enough to go home with the title?
Also on the card, welterweight champion Robbie Lawler faces off with Rory MacDonald in a rematch after the two fought in November 2013. On that night, Lawler bested MacDonald by split decision, but with five rounds to get the job done this time, which welterweight will walk out on top?
As we look ahead at one of the most highly anticipated cards in recent memory, today's fantasy preview will break down some of the key matchups from UFC 189, including the two title fights and a massive undercard featuring several top 15 fighters from around the world.
SPLIT DECISION
These are the fights that are just too close to call, but a few minor differences between favorite and underdog could lead one fighter to victory and the other to defeat.
Chad Mendes (-127 favorite) vs. Conor McGregor (+115 underdog)
Chad Mendes will have another opportunity to wrap UFC gold around his waist at UFC 189 when he faces Irish superstar Conor McGregor in a featherweight bout between two guys who don't like each other very much. It's safe to say McGregor doesn't like anyone standing in his way to what he believes will be a long and dominant title reign, but Mendes has been champing at the bit for the past year to get his hands on the man from the Emerald Isle and now he'll get his chance.
What makes this matchup so intriguing beyond the typical attraction is the fact that Mendes and McGregor are both taking this fight on short notice. While Mendes is actually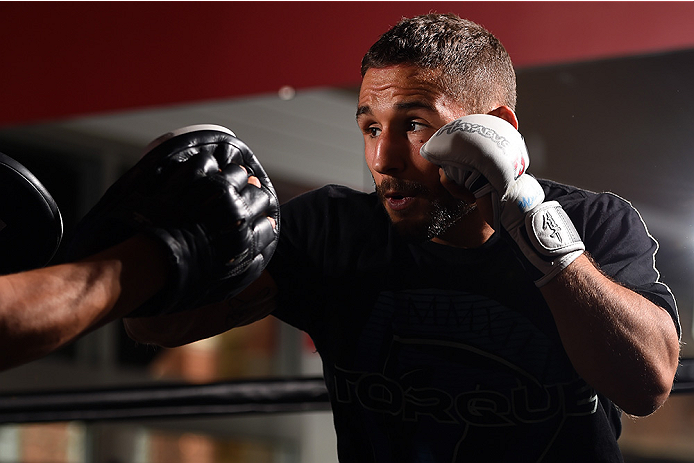 fighting on just two weeks notice, McGregor has to change his game plan from fighting a tall, Muay Thai kickboxer to a shorter, more compact wrestler with knockout power.
McGregor's weapons are plenty. He has the highest knockdown rate of any fighter in the UFC currently, putting his opponents on the mat more than two times per 15 minutes in the Octagon. He lands 5.72 significant strikes per minute, which accounts for the biggest output of any featherweight in history. He's also showcased perfect takedown defense, but McGregor has also never faced a wrestler with Mendes' credentials.
Mendes is a former All-American wrestler and NCAA tournament runner-up. He's landed 38 takedowns, which is the highest in UFC history, while showcasing 54-percent accuracy, which is over 15 points higher than the UFC average. Mendes will have to deal with McGregor's long reach, but the Team Alpha Male fighter has been facing taller opponents his whole life, so it's hard to believe this matchup will somehow take him out of his game.
For McGregor to win he just has to do what he always does - maintain the distance and pour on the offense until he lands a shot to knock down or knock out Mendes on the feet. Mendes has more ways to win, and as long as his conditioning holds up, the longer this fight goes the better it will be for him. Mendes is a phenomenal wrestler who has the capability to grind McGregor out on the ground or punish him on the feet. He's a bruising striker who loves to trap his opponents against the cage wall and just batter them with punches. As good as McGregor has been thus far, he's still avoiding taking any real damage during a fight and this might be the time he finally feels it.
Mendes will be unrelenting with his attacks and this change of opponents might be what finally topples the Irishman.
Prediction: Chad Mendes by TKO, Round 4
Dennis Bermudez (-185 favorite) vs. Jeremy Stephens (+160 underdog)
Two of the most exciting featherweights face off at UFC 189 as Dennis Bermudez meets Jeremy Stephens with both fighters coming off recent losses.
Bermudez was on a great winning streak until he ran afoul of former title contender Ricardo Lamas, but he remains one of the toughest matchups in the division. Bermudez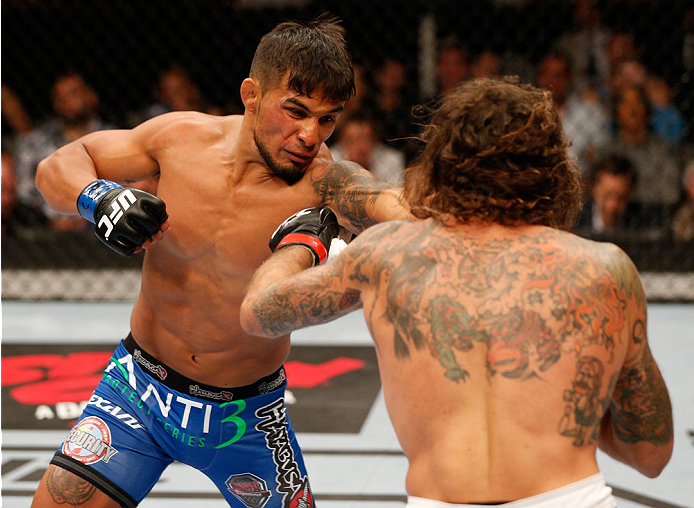 is a very active puncher, landing 4.58 significant strikes per minute with nearly 43-percent accuracy. Add in takedowns, of which Bermudez averages over four per 15 minutes in the cage and he's a non-stop tornado of offense.
Stephens, on the other hand, is a well-known knockout striker with solid takedown defense and the ability to finish the fight with one shot at any time, during any round. Stephens doesn't land as many punches per minute as Bermudez, but the ones he lands do maximum damage. The former lightweight hasn't lost an ounce of his power since dropping down to 145 pounds, but the real key for him here will be whether or not he can counter the wrestler.
Bermudez is no stranger to getting caught up in slugfests with opponents, but he has to know that's the last place in the world he wants to be with Stephens. If he avoids those huge exchanges, which give Stephens the best chance to win, then Bermudez can counter with takedowns and constant ground-and-pound on the mat. If he fights smart, Bermudez has a definitive path to victory.
Prediction: Dennis Bermudez by unanimous decision
Brandon Thatch (-165 favorite) vs. Gunnar Nelson (+145 underdog)
Another late change that was made to UFC 189 was the shuffling of opponents at welterweight after British fighter John Hathaway was forced off the card due to injury. Now Brandon Thatch will step in to face Gunnar Nelson in what may be a much tougher matchup for the Icelandic grappler.
Nelson is a prodigy when it comes to his Brazilian Jiu-Jitsu, but he's worked tirelessly with fighters like Conor McGregor over the last few years to improve upon his striking.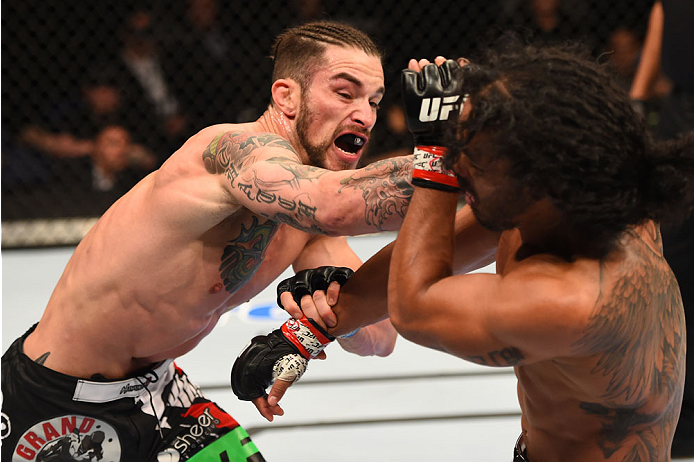 Nelson is only averaging 1.55 takedowns per 15 minutes and that's the one place he has the best shot against a tall, powerful striker like Thatch. If Nelson can get this fight to the ground, he's a wizard and can absolutely tap Thatch whether it's in round one or round three. The question becomes can he get him to the mat?
Thatch showcased strong takedown defense early in his last fight against Benson Henderson, and while it eventually backfired late, the Colorado native has showcased solid wrestling in his brief UFC career. Where Thatch excels is with his powerful striking, as he lands 3.24 strikes per minute and he'll have a massive size and reach advantage in this bout.
As long as Thatch doesn't get stuck in a ground war with Nelson, which is the one place he will be in the most trouble for this fight, he should be able to keep his opponent at distance before jumping in to land his biggest combinations over the course of three rounds. If Thatch is able to land early, he could put Nelson away as well, but he might be slightly tentative given his opponent's ability to end the fight if it lands on the ground for even a few seconds.
Prediction: Brandon Thatch by unanimous decision
KNOCKOUT PICKS
These are the fights that appear to be a little more one-sided, but remember that this is MMA, where anything can - and usually does - happen.
Matt Brown (-200 favorite over Tim Means)
In a welterweight crowd pleaser, Matt Brown will face Tim Means, with both fighters eyeing a potential Fight of the Night award when this matchup is over.
Brown is a nasty Muay Thai striker with constant output and incredible accuracy, where he lands nearly 54-percent of his strikes. Brown loves to work inside with elbows and knees and he's a punishing fighter who can hurt his opponents to the head and to the body with constant movement and a never say die attitude.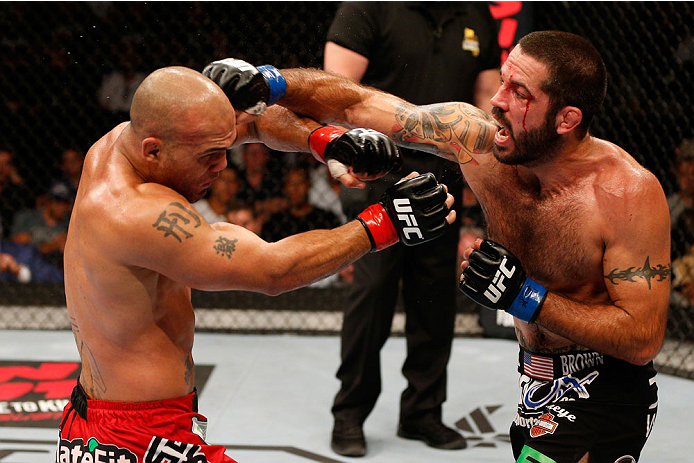 Means is a very similar fighter with his tall frame and kickboxing roots. Means comes up under the same coach who developed former interim welterweight champion Carlos Condit, and just like "The Natural Born Killer," he's rangy and explosive with his strikes. Means has looked great since moving up to 170 pounds, with recent finishes over George Sullivan and former Ultimate Fighter finalist Dhiego Lima.
Unfortunately, as good as Means has been lately, he's never faced a fighter with the kind of offense Brown will display on Saturday night in Las Vegas. Brown is one of the best strikers at 170 pounds and he has crushed a long list of veteran opponents throughout his UFC career with far better credentials than Means. Brown will likely battle Means with his striking game, but the Ohio native has underrated offensive wrestling that he can use any time he might get into trouble. Means will certainly give him everything he can handle, but what the New Mexico based fighter does well, Brown does better.
Prediction: Matt Brown by TKO, Round 3
Thomas Almeida (-700 favorite over Brad Pickett)
Thomas Almeida will walk into UFC 189 as the biggest favorite on the entire card and he's got every reason to feel confident ahead of his bout with Brad Pickett at UFC 189.
Almeida is undefeated and one of the top prospects in the world at 135 pounds, and as he showed in his last fight against Yves Jabouin, this young Brazilian is ready to throw down with the best veterans the bantamweight division can throw at him. Almeida's output is incredible, where he's currently averaging more than seven significant strikes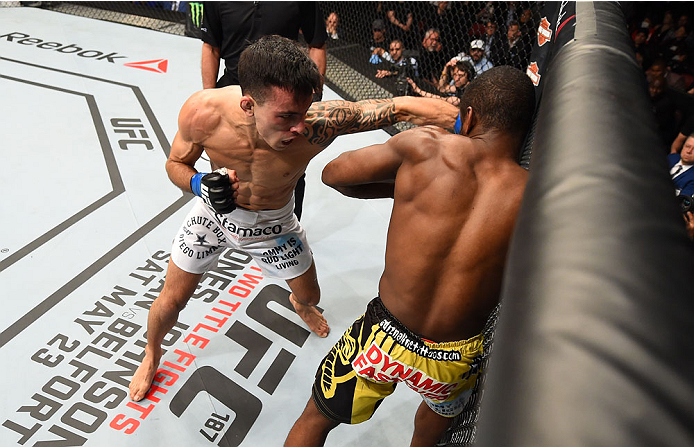 landed per minute with nearly 52-percent accuracy. He hasn't had to showcase his ground game much in the UFC, although Pickett is an underrated wrestler who can take this fight to the mat in dire moments.
Pickett is moving back up to bantamweight after a failed experiment at flyweight that just didn't work in his favor. Pickett is well-known for his wars inside the Octagon, but with 35 fights on his record and a lifetime of getting into wars, it's unclear if this British fighter can withstand the barrage that Almeida will throw at him.
Pickett will certainly stand in the pocket and exchange with anybody and Almeida is probably no different, but the Brazilian is much more technical and dangerous on his feet. Almeida could become a title contender one day, so his performance should be something special and this might be a passing of the torch as Pickett anoints the Brazilian prospect as the next big thing at 135 pounds after their fight is finished at UFC 189.
Prediction: Thomas Almeida by TKO, Round 2
Cody Garbrandt (-350 favorite over Henry Briones)
Bantamweight prospect Cody Garbrandt might just be the next big thing to come out of Team Alpha Male and UFC 189 should be another showcase for the Ohio native to strut his stuff. Garbrandt is a versatile mix of wrestling and knockout boxing with an aggressive style that often overwhelms his opponents before they ever have a chance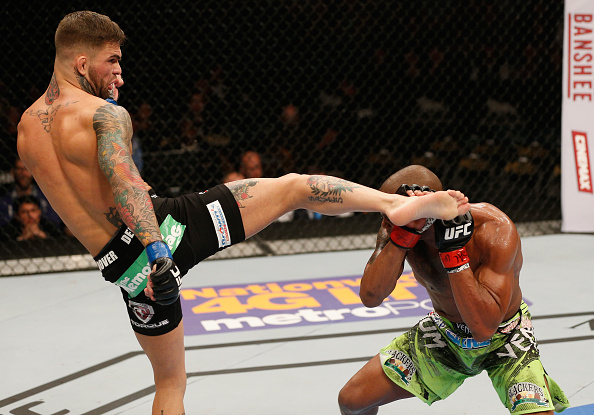 to get warmed up during a fight.
While Garbrandt is best known for his constant offense, he doesn't give up much in return defensively, where he's avoided his opponents' strikes throughout his six-fight career. Garbrandt backs up his knockout power with wrestling honed throughout high school and his professional career and considering he works with fighters like Chad Mendes, Urijah Faber and bantamweight champion TJ Dillashaw on a daily basis, he's well versed at the art of the takedown.
Briones is a tough customer and proved that he could be one of the better fighters to graduate from the first season of The Ultimate Fighter Latin America. With more than 20 fights on his record, Briones is a veteran and tough to put away, but he's walking into a lion's den with Garbrandt, especially if this fight stays standing. Briones would be much better served trying to drag this one to the mat, but considering Garbrandt will also have wrestling in his back pocket, that might be a tougher prospect than the Mexican bantamweight realizes.
Prediction: Cody Garbrandt by TKO, Round 2
UPSET SPECIAL
Robbie Lawler (+158 underdog against Rory MacDonald)
Welterweight champion Robbie Lawler will walk into UFC 189 to make the first defense of his title while facing an opponent he's already beaten once before, but somehow he's going into the event as the underdog. It's unclear why Lawler just doesn't seem to get the respect he deserves, but this is his chance to prove it while beating another top flight welterweight with the title on the line.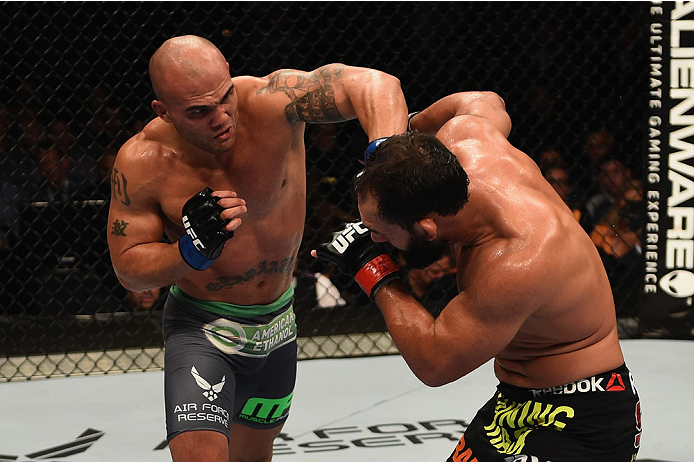 Lawler is a nasty striker with huge knockout power in both hands and as he's shown since returning to the UFC, he's more than capable of going five hard rounds and never slowing down. Lawler lands just over 3.5 significant strikes per minute with 44-percent accuracy, and he shouldn't have to deal with wrestling nearly as much against MacDonald as he did in two separate pairings with former champ Johny Hendricks.
MacDonald will certainly give Lawler everything he can handle as the Canadian contender possesses one of the best jabs in MMA that he uses to perfection with his long reach and constant movement. MacDonald can be a defensive nightmare for opponents as he ducks and weaves his way out of trouble and often forces fighters to get over aggressive so that he can counter with his slick, powerful combinations.
If MacDonald can't lure Lawler into his game plan, however, it becomes a much tougher fight for him to win. Lawler has shown in his two title fights in the UFC as well as his other wins that he's patient and calculating with his striking and never impetuous. Lawler won't make stupid mistakes to give MacDonald openings and that's where he can really take advantage in this fight. Lawler just needs one crack in MacDonald's defense and he can land the shot that will keep that title wrapped around his waist when UFC 189 is over.
He nearly finished MacDonald the last time they met and with two extra rounds to get the work done, Lawler should be able to put an exclamation point on his performance this time around.
Prediction: Robbie Lawler by TKO, Round 4