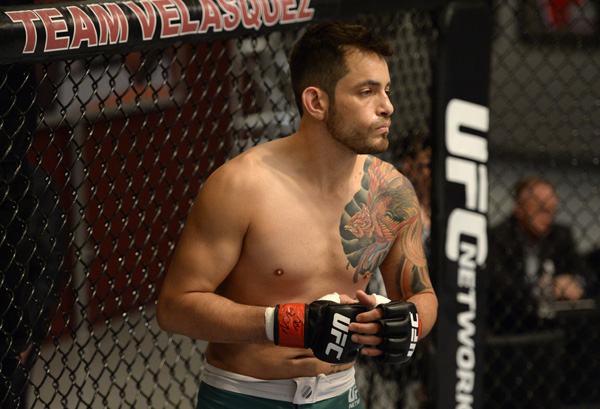 UFC 180 arrives in Mexico this weekend with an intriguing card that includes the finals for the first-ever season of
The Ultimate Fighter:
Latin America, as well as a pivotal matchup in the women's bantamweight division.
The fighters from Team Velasquez and Team Werdum battled it out for the last 12 weeks on television, and now the finalists will square off in the featherweight and bantamweight divisions to see who will be crowned the first ever TUF: Latin America champions.
Also on the card, Ohio native
Jessica Eye
looks to bounce back from a recent loss to
Alexis Davis
when she takes on fellow striker
Leslie Smith
in a fight with fireworks written all over it.
In today's fantasy preview, we're going to examine the preliminary card, which features not only the TUF Latin America finals but as well as some other big matchups between the fighters featured on the show.
JESSICA EYE VS. LESLIE SMITH
Two of the top strikers in the women's bantamweight division meet at UFC 180 when Jessica Eye faces Leslie Smith.
Smith might be the best 7-5-1 fighter on the planet because her record doesn't really reflect just how good she's been in her career. Smith has faced nothing but top-level talent during her time as a professional fighter, with multiple bouts against former
Strikeforce
champion
Sarah Kaufman
,
Raquel Pennington
, Invicta FC champion Barb Honchak and more. Most recently, Smith blitzed and finished former Ultimate Fighter competitor
Jessamyn Duke
to prove that she's one of the most feared strikers in the division.
Eye will present an interesting challenge to Smith with her quick footwork and fast punches. Eye doesn't have the power that Smith possesses, but on the feet she might have the more technically sound boxing game. Eye showcased lightning quick reflexes while beating Sarah Kaufman to the punch for the biggest chunk of two rounds in her UFC debut, which was a tough mountain to climb for a first fight in the Octagon. Eye lost a very close decision to Alexis Davis in her second fight, but it would be easy to argue that she won based on striking and Octagon control.
To win this fight, Eye will have to rely on racking up the points round after round and never getting caught in any big exchanges with Smith. The last place Eye wants to be is trapped against the cage with Smith unloading shots on her. Ask Duke how well that game plan works. But Eye has shown good defense in her past fights, doesn't get hit a lot and will have a speed advantage over Smith. If she can mix up her strikes, get in and out before Smith has a chance to load up on a punch or kick, she should do enough to get the job done in Mexico.
Prediction: Jessica Eye by unanimous decision
YAIR RODRIGUEZ (-185 FAVORITE) VS. LEONARDO MORALES (+145 UNDERDOG)
The featherweight finals of TUF: Latin America sees the last man standing from Team Werdum to make it to UFC 180 as Leonardo Morales represents his home country of Nicaragua against Team Velasquez's Yair Rodriguez.
This might be an early pick for Fight of the Night, given the tendencies of these two competitors. Rodriguez showed great, well-rounded skills on the reality show, winning one fight by submission and the other by TKO. Rodriguez is a "go for broke" kind of fighter, meaning he rarely does things with the thought in mind of the judges ever getting involved in his bouts. He throws flying knees, Superman punches and any other variety of strikes to hurt and finish his opponents.
Morales, on the other hand, is a more technical and proficient striker, but just as deadly. Morales was pegged as the quiet assassin on the reality show because he kept to himself almost all season long and just went into the Octagon and dominated his opponents. Morales got a head kick knockout in his first fight before toppling a very game
Gabriel Benitez
in his semifinal bout to get to UFC 180. Morales is crisp and accurate with his attacks and rarely leaves an opening for his opponents to take advantage.
It's defensively where Morales might be able to get a win over Rodriguez here. He's not as wild as his Mexican opponent, keeps his chin tucked, and rarely throws a combination without having his hands back quickly to defend his head. He'll have to watch out for Rodriguez when he springs forward with a big strike, but if Morales does that for three rounds, he might go back to Nicaragua as the first ever Ultimate Fighter champion from the country.
Prediction: Leonardo Morales by unanimous decision
JOSE QUINONEZ (-265 FAVORITE) VS. ALEJANDRO PEREZ (+185 UNDERDOG)
The finals of The Ultimate Fighter: Latin America in the bantamweight division is actually a rematch between Jose Quinonez and Alejandro Perez, who fought prior to coming on the reality show. In that fight, Quinonez earned a unanimous decision victory and, based on their performances on the show, the result will likely be the same a second time.
Quinonez might be the brightest prospect on this season of The Ultimate Fighter with his long range, technical boxing and great conditioning. Quinonez definitely prefers the stand-up, so while his ground game still needs to be tested more, this probably won't be the fight to put him there. Quinonez uses his superior reach to tag opponents with shots long before they can get inside on him, and he's surgical with his kick/punch combinations.
Perez is a little harder to figure out based on what he did on the show, although with 20 professional fights on his record there's plenty to see about this young man from Mexico. Perez won his first fight on the show by stopping former Olympic wrestler
Fredy Serrano
from taking him down for the better part of three rounds and then used good counters to knockout an overly aggressive
Guido Cannetti
in his fight to get to the finals.
The problem is that at least based on video evidence, the gap between Quinonez and Perez didn't get much closer from what they accomplished on the reality show, and so the only real difference in the second fight would be what they've done in the last few months since taping ended. Quinonez should still be the faster, more technical fighter, and if this one stays on the feet, he will likely pick Perez apart from the outside, forcing his opponent to get aggressive, which then leads to mistakes. Quinonez has a huge upside in his future with the UFC, but the first real step takes place on Saturday night.
Prediction: Jose Quinonez by unanimous decision
HENRY BRIONES VS. GUIDO CANNETTI
Another fight taking place between competitors from The Ultimate Fighter: Latin America pits Mexico-born Henry Briones against Argentinean fighter Guido Cannetti.
Briones is best remembered from the show after he was knocked out by the upkick from hell in one of the biggest highlights of the season. What some may not remember, unfortunately, is that he was winning the fight in a shutout up to that point. Briones was not only one of the most well-rounded fighters on the show, but possibly coach
Cain Velasquez
's best chance of crowning a champion if only he could have gotten out of the quarterfinal round.
Briones is a modern mix of wrestling and striking with a slick submission game, especially when he lands on top. Briones trains out of Alliance MMA in San Diego so he's definitely getting the best possible coaching as he heads into UFC 180 this weekend.
Cannetti was probably one of
Fabricio Werdum
's favorites as well, but he suffered a very controversial decision in his first fight before being brought back as an alternate when one of his teammates was pulled out due to a medical condition. Things really didn't go his way in the second fight as Cannetti was knocked out in the first round. But despite those two losses, Cannetti really is a tough customer in the cage with good power punches and solid takedown defense.
While Cannetti is good, Briones is just better. He's faced much higher level opponents throughout his career and Briones trains with some of the best fighters in the world every day to get him ready for his UFC debut. Cannetti might have fared better against another member of the Mexican team, but chances are things are not going to end well for him on Saturday night against somebody the caliber of Briones.
Prediction: Henry Briones by TKO, Round 2