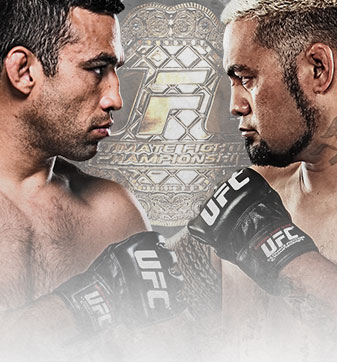 A new interim heavyweight champion will be crowned this Saturday when the UFC finally lands in Mexico for a card headlined by
Fabricio Werdum
and
Mark Hunt
battling it out with the gold on the line.
With
Cain Velasquez
on the shelf until sometime in 2015, the UFC has opted to crown an interim champion in his absence, and either Werdum or Hunt will leave Mexico City with the heavyweight strap.
Also on the card, top prospect and former
Ultimate
Fighter winner
Kelvin Gastelum
looks to keep his undefeated record intact against the toughest opponent he's faced thus far, perennial top 10 fighter
Jake Ellenberger
.
To help with picks and predictions for this weekend's UFC Pick Em game, here's the fantasy preview for some of the key fights on the UFC 180 main card.
FABRICIO WERDUM (-495 FAVORITE) VS. MARK HUNT (+360 UNDERDOG)
The odds makers have a lot of faith in Fabricio Werdum heading into the main event, and with good reason. The veteran UFC and PRIDE heavyweight has been near the top of the division for almost a decade and his recent surge to No. 1 contender status proves he is one of the best this weight class has to offer. While he comes from a Brazilian Jiu-Jitsu background, Werdum has dramatically improved his striking over the last few years, as he now has the fifth highest striking rate amongst active heavyweights, landing 4.52 significant strikes per minute. Don't discount his ground game just because he's gotten better at striking either. He has 28 takedowns in his last 22 fights and he's 12-4 when he's landed at least one takedown in a fight during his career.
Undoubtedly, Mark Hunt has a tall mountain to climb, but this is one fighter everyone should learn to stop doubting. When he made his UFC debut no one expected Hunt to stick around for more than a couple of fights. He was closing in on 40, had never been a serious threat in the heavyweight division and had a mediocre record, barely staying above .500 at the time.
Now fast forward a few years later and Hunt is the No. 4 ranked heavyweight in the world with some of the most feared hands in the division and he's fighting for a UFC title. Hunt is well-known for his kickboxing, where he possesses what is likely the biggest threat of one-punch knockout power in the entire division, not to mention a granite chin that's nearly impossible to crack. Hunt has also shown great takedown defense, blocking almost 84 percent of the attempts against him.
Where this fight starts to slide to Werdum's favor is with a five-round bout potentially going as long as 25 minutes. Hunt is one of a few fighters at heavyweight who actually has to shed significant pounds to hit the 265-pound weight limit, so conditioning has always been a concern. Add to that the fact that Hunt will be fighting at over 7000 feet above sea level, which means oxygen is thin and his breathing is going to get heavy in a hurry. For Hunt to win this fight he needs a first or potentially second-round knockout. After that, chances are things are going to get ugly.
Werdum just has to be careful early and make Hunt chase him a bit in the opening round. Once he sees the New Zealander breathing hard he can jump in for the kill. Werdum definitely has the ability to finish this fight late and that's likely where he can take over and win his first ever UFC heavyweight title.
Prediction: Fabricio Werdum by TKO, Round 4
KELVIN GASTELUM (-190 FAVORITE) VS. JAKE ELLENBERGER (+150 UNDERDOG)
One of the more shocking reveals for the odds of the UFC 180 fight card was seeing former Ultimate Fighter winner Kelvin Gastelum instilled as a solid favorite over veteran top 10 welterweight Jake Ellenberger.
There's a ton of hype around Gastelum ever since he left the reality show and continued to pick up win after win in the UFC. He's already scored a victory over
Rick Story
, which is no small feat, and now he'll get his first crack at the top 10 by facing Ellenberger. Gastelum has lived up to expectations so far in his UFC career while rapidly evolving his game from a wrestling-based strategy to a more striking-heavy attack. He's landing 4.32 strikes per minute, which is almost double the average rate for welterweights in the UFC. He's a headhunter as well with 95.3 percent of his strikes happening on the feet. Gastelum is a serious prospect, but can he keep the momentum going against one of the toughest fighters in the world at 170 pounds?
Jake Ellenberger will walk into the arena in Mexico City off two straight losses that both need to be put into context. He lost to
Rory MacDonald
in one of the most abysmal fights of the last year when the two welterweights barely engaged over the course of three rounds. He then fell to top-ranked contender
Robbie Lawler
after a back and forth battle for the first 10 minutes. Ellenberger lost, but he also nailed Lawler with some big shots and rattled the veteran UFC fighter on more than one occasion. Ellenberger hits like a runaway truck and his wrestling is always on point as well. He has the highest takedown accuracy in the UFC welterweight division, coupled with stifling takedown defense where he blocks 93.3 percent of those attempted against him.
Ellenberger knows three losses in a row will not only drop him out of the top 10 but also bring up questions about his long-term future with the UFC. He can erase those bad thoughts with a win and he has a great chance of doing it on Saturday night. Ellenberger and Gastelum are very evenly matched, but much like the main event, this one also has a conditioning factor that has to be mentioned. Gastelum has struggled with his weight cut to 170 pounds a number of times and if that happens again this week, watch for Ellenberger to take advantage early and often.
Prediction: Jake Ellenberger by unanimous decision
DENNIS BERMUDEZ (-170 FAVORITE) VS. RICARDO LAMAS (+130 UNDERDOG)
Another potential upset to keep an eye on this weekend is the featherweight battle between top 10 fighters Dennis Bermudez and Ricardo Lamas.
Bermudez has been on a tear of late, winning seven fights in a row, including his last victory when he put away UFC veteran
Clay Guida
in the second round of their fight in July. Bermudez presents a dizzying pace where he lands over four takedowns per fight, and he hits his opponents with over four and a half significant strikes per minute. He's gotten better and better on this current run, where he started out with a few very close fights to the point where he's now winning by much wider margins.
Lamas will be a tall order for Bermudez to tackle, however, because the former featherweight title contender has been in the Octagon with the best fighters in the world at 145 pounds and he's made a few of them look quite bad. Lamas is a powerful wrestler, and while his takedown percentage sits at 46.43 percent overall, that number doesn't speak to the way he's able to power his opponents around the cage and move them wherever he wants to put them. Much like Bermudez, Lamas never slows down much and he loves to push during a fight until his opponent breaks. He's finished names like
Cub Swanson
and
Erik Koch
during his career, and this might be another signature win on his record.
Lamas appears to be the perfect foil to Bermudez's tenacious attacks because he can counter the wrestling and he's just as strong if not stronger than his opponent. This fight ultimately may be a coin toss depending on who gets the upper hand early, but Lamas knows how to find an opponent's weakness and exploit it until the fight is over. Bermudez is no pushover, but this is Lamas' chance to shine.
Prediction: Ricardo Lamas by unanimous decision
EDGAR GARCIA VS. HECTOR URBINA
It's a second chance for both Edgar Garcia and Hector Urbina in this welterweight matchup at UFC 180. Garcia fought twice in the UFC previously and lost on both occasions before leaving the promotion, while Urbina was a cast member of
The Ultimate Fighter
season 19, losing in his quarterfinal round matchup against
Cathal Pendred
to get eliminated from the show.
Garcia is a good, well-rounded fighter who has picked up wins by both submission and knockout during his career. He's struggled against the top fighters he's faced, however, and being back in the spotlight of the UFC could be a make or break moment for this Mexican veteran. Urbina has fared better against the higher level competition he's faced and he fights at a breakneck speed, which should help him against a potentially nervous Garcia.
There's no blueprint on how a fighter is supposed to feel after getting called to come back to the UFC after five years away, but Garcia will feel that pressure this weekend. Meanwhile, Urbina has to know that if not for a close decision loss to Pendred on the reality show, he might be standing tall as The Ultimate Fighter champion right now. Urbina is a gritty fighter with heavy hands and a tiresome style. If he can put it on Garcia early, it's hard to tell how much the veteran will have left in the tank late in the fight.
Prediction: Hector Urbina by TKO, Round 3