UFC 175 / Dublin Update
Updates to the UFC 175 and UFC Fight Night Dublin cards...
Despite a reported change to the bout yesterday, the middleweight fight between Bruno Santos and Chris Camozzi will remain on the UFC 175 card on July 5 in Las Vegas. Trevor Smith, who had agreed to fight in Santos' place, will now fight Tor Troeng in Dublin on July 19.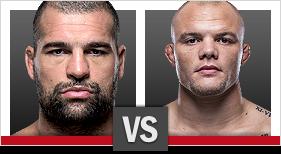 Sunday, July 22