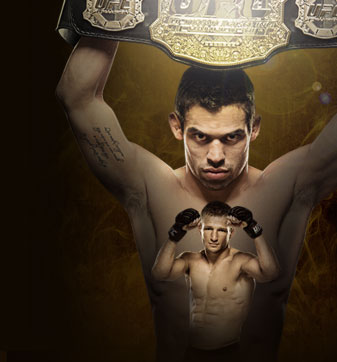 The UFC returns to its home base this weekend for UFC 173 in Las Vegas with a card featuring a title fight in the bantamweight division as well as two featured bouts with some of the best fighters in the world in the light heavyweight and welterweight divisions, respectively.
Renan Barao
- who UFC president Dana White regards as the best pound-for-pound fighter in the sport - will look to defend his bantamweight belt yet again when he takes on another member of Team Alpha Male in
TJ Dillashaw
, who looks to make a huge impact in his first crack at a UFC title. Also on the card, two-time Olympian
Daniel Cormier
battles the legend,
Dan Henderson
, with the winner getting the next shot at the light heavyweight crown.
All told, UFC 173 is incredibly stacked from top to bottom, and today we're going to look at the main card to see who has the advantage to come out victorious on Saturday night in Las Vegas.
RENAN BARAO (-800 FAVORITE) VS. TJ DILLASHAW (+575 UNDERDOG)
Since coming to the UFC, Renan Barao has quickly become one of the best and most vicious finishers inside the Octagon. Currently riding a ridiculous 35-fight undefeated streak, Barao has been like a buzzsaw running through the top fighters at 135 pounds in the UFC. He's dusted off
Urijah Faber
,
Eddie Wineland
and
Michael McDonald
in consecutive fights and he looks to add another top-ranked bantamweight to his resume this weekend.
TJ Dillashaw has made a quick rise since coming up short of winning
the Ultimate Fighter
season 14 a few years ago. The Team Alpha Male fighter has been stringing together some impressive performances of late, mixing a high striking rate (4.84 significant strikes per minute) along with his wrestling game (3.04 takedowns per 15 minutes). Dillashaw's confidence has only grown with the addition of striking coach Duane 'Bang' Ludwig, which helped account for two knockouts in a row when he finished
Issei Tamura
and
Hugo Viana
in consecutive fights.
On paper, Barao and Dillashaw are only identical when looking at their statistics. Both land strikes a rapid pace with solid accuracy and display good defense when their opponents come back at them. Barao doesn't wrestle as much as Dillashaw but actually lands his takedowns with a higher accuracy (55 percent to 48 percent). The Brazilian is incredible with his takedown defense, however, as he's stuffed 22 of 23 takedowns attempted against him in his UFC/WEC career for a rate of 95.65 percent overall.
It's here that these two fighters separate and why Barao should add another victory to his already impressive record. Dillashaw can definitely handle himself on the feet, but he's never faced a prolific striker the likes of Barao. The bantamweight champ not only lands a lot, but he lands with power. Just ask Faber and Wineland about that - both are known for having solid standup and Barao snuffed them on the feet before finishing the fight on the ground.
Look for Barao to keep Dillashaw guessing early before destroying his confidence at some point in the opening round or two before going in for the kill. Barao is a machine right now and it's hard to imagine anyone short of a healthy and fully-prepared
Dominick Cruz
giving him a real battle. Expect the bantamweight champ to hold on to his belt and finish this fight within the first three rounds.
DANIEL CORMIER (-950 FAVORITE) VS. DAN HENDERSON (+650 UNDERDOG)
Daniel Cormier makes his second appearance in the light heavyweight division against a fighter he regards as one of the greatest of all-time in Dan Henderson. The winner of this fight gets a crack at the UFC light heavyweight title, so there's plenty on the line for both men.
Cormier has been an absolute beast since coming to MMA when his wrestling career was over and the former two-time Olympian boasts an undefeated record. He's taken out several top 10 heavyweights and now he looks to make Henderson his first major win in his new division. Cormier's strength comes not only from his wrestling, but his explosive striking, where he's out landed opponents 456 to 156 during his time in the UFC and
Strikeforce.
So not only does he land at volume, but he's not taking much damage at all in return.
Henderson's biggest advantage in this fight comes from two places - his incredible durability (he's only been knocked out once in his nearly 20-year career) and the ultimate equalizer known as the H-bomb aka Henderson's right hand. Just like in his last fight when Henderson was down two rounds to Mauricio "Shogun" Rua, all it took was one right hand that landed directly on the Brazilian's nose and that's all she wrote. Two rounds of winning did nothing for Rua in the end once Henderson finally connected with his right.
The problem is in this fight, everything Henderson does well, Cormier seems to do better. Cormier is a quicker, more powerful wrestler who shoots from the outside and has power in the clinch as well. Henderson's dirty boxing and clinch work is outstanding, as he comes from a Greco-Roman background, but he might be running into a younger version of himself when he faces Cormier on Saturday.
Cormier will set the tone early by either blitzing Henderson with punches or putting him on his back to show who the better wrestler really is. From there, it's only going to get worse for Henderson because Cormier has cardio for days, and with this only being a three-round fight, he just has to showcase dominance like he's done for all of his past fights. Cormier can't toy with Henderson, knowing that right hand is always cocked and ready to launch, but as long as he avoids that, he should cruise to a three-round decision, if not a stoppage win before the final bell sounds.
ROBBIE LAWLER (-240 FAVORITE) VS. JAKE ELLENBERGER (+200 UNDERDOG)
Two of the UFC's best welterweights square off in possibly the most exciting and anticipated bout on the entire UFC 173 fight card. Robbie Lawler, who was one round away from being the UFC welterweight champion, takes on Jake Ellenberger, returning from nearly a year away after injuries sidelined him from any fights until now.
Lawler's resurrection since coming back to the UFC has been nothing short of awe inspiring. Lawler is still one of the most dangerous stand-up fighters the sport has ever seen, with an 86.4 percent finishing rate with 18 of his 19 career stoppages coming by way of strikes. Lawler lands 3.88 significant strikes per minute and currently ranks fourth overall in the welterweight division with his striking rate. The main reason it's not higher? Because when Lawler hits somebody, they usually go down and stay down.
Now his opponent, Jake Ellenberger, might be one of the rare fighters who could probably match him in a power striking matchup. Ellenberger hits like a truck when he connects with his punches and he currently stands with the second most knockdowns in UFC welterweight history. He's also shown tremendous wrestling in the past with the second highest takedown accuracy in the division with nearly 60 percent of his attempts landing. Lately, however, Ellenberger has relied much more on his striking, and that game plan could backfire against a fighter like Lawler.
The other problem working against Ellenberger is his last fight against
Rory MacDonald
from July 2013. In that bout, Ellenberger hyped the bout with a ton of trash talk and predictions about finishing MacDonald in a rather violent way, but when the time actually came for the fight, nothing lived up to expectations. Ellenberger was tentative and barely engaged at all, waiting instead for MacDonald to make a mistake, which never came. The pressure to come back with a better performance could force Ellenberger to get aggressive, and against a counter striker with power like Lawler, that's like tossing gasoline on a raging fire.
If Lawler connects early, he'll finish this one in the first round, but he's been a slow starter for much of his career so this could go deep into the second or maybe even third before he puts the right combination together to finish Ellenberger. Now there is a reverse side to this argument where Ellenberger decides to use his wrestling to throw Lawler off. If he does that early in the first round, don't doubt for a second that Ellenberger couldn't do the same thing for the next 10 minutes and pick up a decision win.
TAKEYA MIZUGAKI (-175 FAVORITE) VS. FRANCISCO RIVERA (+150 UNDERDOG)
If there is an upset to pick on the main card, this is probably the one to look at when Takeya Mizugaki takes on Francisco Rivera.
Mizugaki is a perennial top 10 fighter whose only losses have come to the best fighters in the division, so don't be surprised if he comes away victorious here as well. He's fast and elusive with his hands and has underrated wrestling where he lands almost two takedowns per 15 minutes with 65.71 percent accuracy. Mizugaki isn't going to surprise an opponent with his power, but it's the volume of strikes where he typically pulls away and gets a decision win.
Rivera is a different beast, however, with serious knockout power coming from every angle to do one thing to an opponent - take their head off. In his last two fights, Rivera has knocked out both
George Roop
and
Edwin Figueroa
, and this could be his third in a row if he plays his cards right. Rivera lands nearly 4.5 significant strikes per minute with almost 45 percent accuracy and he's got boxing and kicks at his disposal.
If Rivera can connect with one good punch or one solid kick, he could end this fight in a hurry. The key for Rivera is to not spend his entire 15 minutes chasing Mizugaki around the cage and getting popped repeatedly for his trouble. Rivera just needs to show patience and wait for Mizugaki to start stepping forward so he can counter and attack with his powerful offense. If that happens, Rivera could record another knockout win and pick up an upset over a higher ranked opponent at UFC 173