It was an arrival fit for a champion, and while Galesburg, Illinois' Eric Shelton hasn't wrapped UFC gold around his waist yet, he was treated like a king at the airport when he returned home from a stint on The Ultimate Fighter 24 earlier this month.
"It was awesome," Shelton said of the rousing reception he got at Quad City International Airport. "It felt good. It's something I worked for, and it's paying off, finally."
The fight game is full of sacrifices, and the 25-year-old is no different from his peers in that regard. But Shelton and 15 of his fellow flyweights had to take that to a new level when brought in to the TUF 24 competition, where they were sequestered from the outside world for six weeks.
"It's hard because I'm so family-oriented and we're all really close," he said. "They've been behind me through my whole journey, so it was hard for me to tell them and leave them, but they knew what I was going for and I knew what I was going for – a better life for me and my family. So we all knew what I was getting myself into, and they supported me and made sure everything was good back home while I was gone."
That absence is tough, but the reward was worth it for Shelton and the rest of the cast, as all were fighting for a shot at UFC's 125-
-
pound champion
Demetrious Johnson
. To go from the regional scene to a place where they might be fighting for a world title is a once in a lifetime opportunity, and when Shelton, the Caged Aggression flyweight titlist, got the call…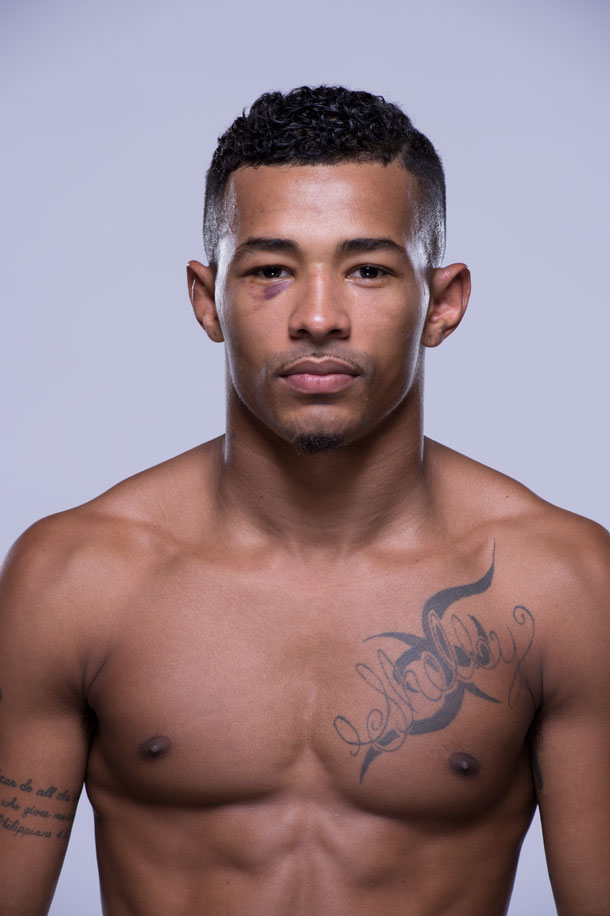 "It was an immediate yes, no questions asked," he laughed, and that confidence is not surprising, as he's been hearing that he was on the verge of a shot in the UFC for a while now.
"That's what I was hearing from everybody," he said. "'This is gonna be the next fight, this is gonna be the fight that's gonna do it.' And I was hearing it for a long time and I just expected it to come. With a 10-2 record, I figured it would be happening soon, especially for my division. There are not too many fighters in there at 125, so I was expecting the call to come pretty soon."
Shelton's opinion of the current UFC flyweight division is in line with that of his castmates. The way they see it, it's their turn to come in, take over, and establish their class as the best in the business.
"That's big for me," Shelton said. "Going into the house, that was my ultimate goal. I wanted to be exciting for the division. This division is super exciting and stacked. We haven't had the chance to show what all of us are capable of because Demetrious has been cleaning the division out. So it means everything to me to make the division something, and I think we have a good opportunity here and I'm going to make the best of it, for sure. I think I can do something for the division."
He's got the talent, and he's had the right guidance in not only UFC Hall of Famer
Pat Miletich
, but Octagon vet
Pete Spratt
. Head coach Spratt's advice has been particularly useful, as "The Secret Weapon" competed on season four of TUF.
"We talked a lot," Shelton said. "He (Spratt) did his time on the show and it isn't too much different. You're away from your family with no contact with anybody, so he has a good idea of how it is, and he broke it down for me."
Meet The Ultimate Fighter season 24 cast: Kai Kara-France | Yoni Sherbatov | Jaime Alvarez | Matt Schnell | Alex Pantoja | Ronaldo Candido | Brandon Moreno | Eric Shelton | Matt Rizzo


Even with that advice, Shelton admits that with all the excitement surrounding this new adventure, he forgot how hard it was going to be. But there's that confidence again, as he makes it clear that fighting against the best unsigned flyweights in the game wasn't an issue.

And it won't become one.

"I always had high expectations for myself, so I always felt like I could stack up well with anybody," he said. "I was more excited for the opportunity more than worrying about who I was fighting. I felt like I had a good chance to win the show and I just have good confidence in myself."

So should we be excited for Wednesday's premiere and the next 12 weeks of TUF?

"They can expect good fights and great fighters," he said. "Every guy in the house is a veteran of the sport and has established himself as a champion, so this show it going to be great. There's a lot of exciting stuff going on. People won't want to miss it."