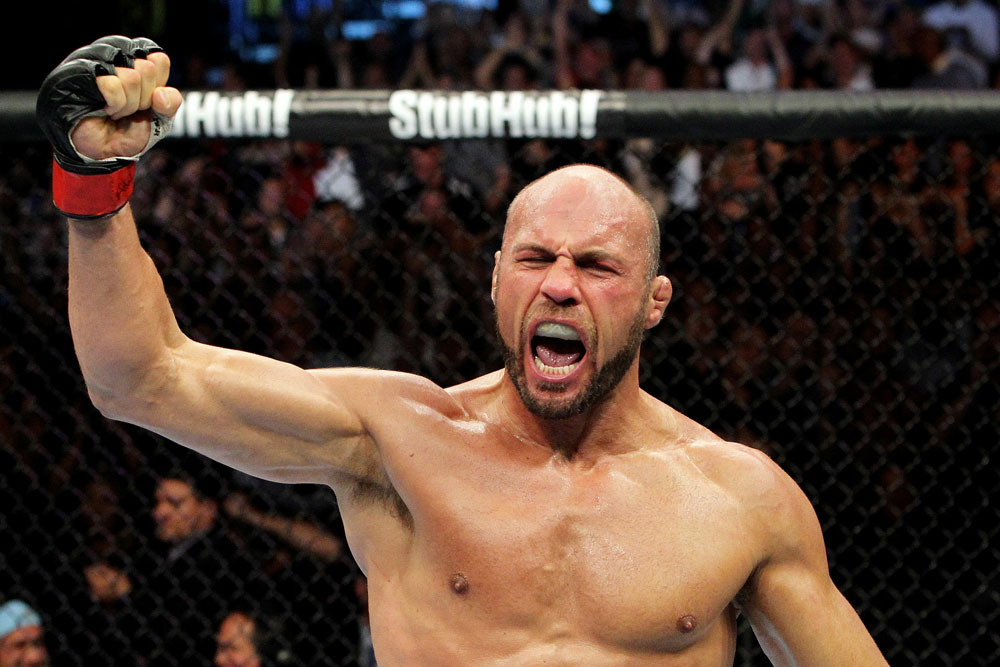 One of the greatest mixed martial artists to ever put on the gloves, five-time UFC champion 47 year old Randy Couture continues his amazing run on April 30th with an intriguing matchup against former 205-pound boss Lyoto Machida in a featured bout on Toronto's UFC 129 card.
It's been a career to remember thus far, and while Couture has given fight fans more than enough to talk about in the Octagon, outside of competition "The Natural" has had plenty to say in his own right. Here's a sampling...
On being the underdog (2001 – Pre Pedro Rizzo I)
"I don't have anything to prove. I don't mind being the underdog. I operate well in that situation, and I like being in that situation. That makes it tougher on the other guy."
On competition (2001)
"I don't find a need to get all jacked up and to get into any particular mindset. I'm a very competitive person, and this is purely a sport, purely a competition. It's pretty easy for me to prepare and come up with a game plan."
Experience (2001)
"I think it's like a lot of combative sports, in that maturity and experience play a key role. With advances in the science of sports, people are competing at older and older ages. We're fine-tuning our bodies to the point now where you can compete successfully at an older age."
Family and Fighting (2001)
"My family is real supportive. They thought it was pretty much crazy when it started, and as they watched it, they started to see it as a sport, and now they're excited about it."
On competition II (2003)
"I just enjoy the competition. I don't think I've found a sport that is as much fun as wrestling or this sport. They're similar in nature, they're one on one, very tactical sports, and I love the training and I love to compete. That's what keeps me going. It's just another challenge, another chance to compete."
On being "too old" (2003 – Pre Chuck Liddell I)
"I guess I've gotten used to those questions and that speculation. At some point you do slow down and you get too old to compete in a combative sport like this one. I don't think I'm there yet, but I have no illusions that I'm gonna go another five years or anything like that. I'm certainly getting closer to the end of my career, but I don't think I'm there yet."
Momma's Boy and proud of it (2003)
"But if I think if anybody made me what I am today, it would certainly have to be my mother. She taught me work ethic, sportsmanship, and that never give up attitude at a very young age. As a single mother raising three kids, I learned a lot from her, and I try to thank her for it on a regular basis. And she doesn't miss a fight. She used to watch them on TV, and then I finally talked her into coming to one live and now she won't watch them on TV. She has to be there in person. She really enjoys it. She gets real nervous but she supports me 100%."
Coming back from a knockout (2006 – Pre Chuck Liddell III)
"I didn't feel gun-shy at all. I watched the tape (of the second Liddell fight), I analyzed my mistake, and realized that I had over-committed and was over-aggressive and put myself in a bad position. And it only takes one a lot of times. I don't remember getting hit, especially the shots on the ground after the initial stroke and I didn't even have a black eye for crying out loud. It was crazy. So I was right back at it and hungry to get back in there."
Calm, cool, and collected (2006)
"If I'm relaxed and feeling good, then I enjoy what I do. I have a passion for the sport and if I'm smiling and telling jokes in the dressing room, then I'm usually thinking the right thing and I'm in the zone and I'm ready to compete. I have my workout partners and friends around me to keep things light and relaxed and I enjoy the moment. This is supposed to be fun – that's why we're here and that's why we're doing it. Otherwise, why would you do it? The training is much more difficult than the fights. It takes much more discipline and it's more grueling than the fights will ever be, and as long as it stays that way, the fights go well. That's the fun part."
Staying humble (2006)
"I kinda have a face where this is what I was put here to do and I'm using the gifts that I've been given and I'm getting the most out of myself. I just see myself as me, and nothing more than that. I think when you start buying some of the crap, you end up thinking the wrong thing and end up thinking you're more than just a regular person."
Learning from mistakes (2006)
"I think the challenge for every fighter is to pick yourself up, evaluate, dust yourself off, and get back in there. Learn from your mistakes, make adjustments, and go out and compete again. That's the mark of that championship spirit. I've certainly been in that position before and I find myself there again, so I look forward to the opportunity to go back out there and getting after it."
For the love of the game (2010)
"I'm having a blast fighting and competing, I feel blessed and fortunate each and every time I get to go out there again and I realize, rationally, that at some point this is all gonna come to an end, and probably sooner rather than later. But I still feel like I'm getting better, I'm holding up well, I'm not slowing down and so I'll go where the opportunities present themselves."
The juggling act (2010)
"I learned it at an early age, when I had two kids by the time I was 20 years old, and trying to juggle all the balls of being in the service, competing in the service, and then going into college, and having a wife and two kids there while competing at a high level in the NCAAs. You become a juggler; you're keeping a whole bunch of things in the air, and you learn to compartmentalize things so that one area doesn't get in the way of the other area, and you kinda get the most out of yourself. And that training and those experiences early on gave me the dynamics to be able to do that, and that's paid dividends down the road when things came up. I'm doing a lot of different things – I've got businesses and all kinds of other stuff that I'm running, and fortunately I've attracted some great staff and people that help me juggle it all, and it would be much, much harder and maybe impossible without those people, but I've managed to put things in boxes, set them aside and focus on what I need to focus on right now, and figuring out those priorities and getting them straight is something I've managed to do."
The transition from wrestling to fighting (2010)
"When I transitioned from wrestling to fighting, I had been wrestling for so long that the little teeny things that I was learning and tweaking to improve my wrestling style and refine my technique seemed so minuscule in the grand scheme of things that it was almost frustrating. Then I started fighting and there was this whole new world where every time I worked out I learned some new technique or some new thing that seemed immense; it was exciting and fun and here, 12 years later, just about every week I'm refining or learning something new that doesn't seem miniscule. That's one of the things I really enjoy and that makes it fun because there's so many facets to the sport of MMA and each and every one of them has their merit and applicability to the fight game."
On the classic with Nogueira (2009)
I knew it was gonna be a brawl. He (Nogueira) is a tough guy, very durable, he poses some interesting problems and he's a big threat in a lot of situations. I had done my homework, I had prepared, and I knew it was gonna be a battle and it wasn't gonna be easy. I didn't care what anybody else was saying, or any other questions that anybody else was asking of him because of previous performances. I knew it was gonna be a battle, and I've come to expect that. It seems like every single time I'm in there with somebody, they're bringing their 'A' game and it's an opportunity for them to put a notch up. I know that going in."
Training (2010)
"It just becomes part of you. You don't feel right and don't feel comfortable unless you're training and in that environment. I've kinda gotten used to grinding it out and banging it out. It's become a part of my life."
On avoiding the temptation to stand with James Toney (2010)
"I learned to put that devil in a box a long, long time ago and keep him locked up. (Laughs) He does not get out. I think there are a lot of people who would like to see me stand with James and punch him in his mouth, but I'm a lot more comfortable putting him on his back and punching him in his mouth there."
Striking and wrestling (2010)
"Strikers are capable of learning the wrestling – it just takes time. There's a muscle memory that comes from years and years of wrestling and it isn't easy to pick up. It's one thing to learn the technique by the numbers, and another thing to be able to execute it in real time against a resisting opponent. It seems, at least from my experience, that wrestlers have a particular mindset that they've had ingrained in them from the time they were young and learning wrestling technique, and they've applied that same mindset to the striking. And it's still different, even for a wrestler, to learn the striking, but it seems to come easier going that way than going the other way for some reason."
Life begins at 40 (2009)
"I get asked about my age all the time and I've kinda gotten used to that, and because of that, people are kinda waiting for that other shoe to drop. 'When's he gonna slow down, when's Father Time gonna catch up to him', and all those things have become the norm for me. I don't really compare myself to anybody else. I'm sure there will be guys who compete well into their 40's as well and do very, very well. We've seen it in a lot of other sports, and again, I try not to think of it too much. I just kinda enjoy what I do and just go out and do it."