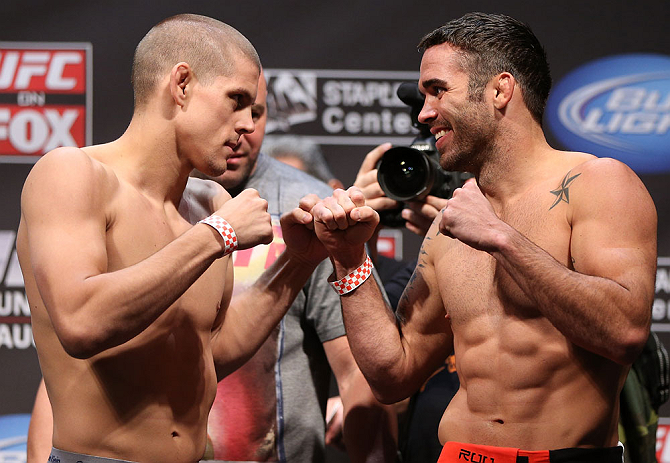 This month, the UFC returns to FOX with a 13-fight lineup at the Amway Center in Orlando, Florida, headlined by a No. 1 contender bout in the heavyweight division pitting
Fabricio Werdum
against
Travis Browne
.
The April 19 event will be the 11th UFC on FOX event to date.
From the night
Junior dos Santos
claimed the UFC heavyweight title in November 2011 to
Benson Henderson
's split decision victory over
Josh Thomson
at the United Center in January, there have been 37 bouts delivered to network television so far.
With 10 events in the books and the next one on the horizon, there's no time like the present to run back the Top 10 fights from the UFC on FOX series.
10. Mike Swick defeats DaMarques Johnson (KO, Round 2) — UFC on FOX: Shogun vs. Vera (August 4, 2012)
While there are a handful of other fights that carried greater significance that could have made this list, this contest kicks off the list because of the complete story involved with this bout.
A cast member on the first season of
The Ultimate Fighter,
this was Swick's first bout in two and a half years, as a mysterious ailment - later determined to be an esophageal spasm -limited his ability to train and compete. Many questioned whether the American Kickboxing Academy product would ever be able to return to competition, yet alone post his first victory since defeating
Ben Saunders
at
UFC 99.
Not only did Swick return to the win column, but he did it in resounding fashion, collecting Knockout of the Night honors for his second-round finish of Johnson.
9. Nate Diaz defeats Jim Miller (Submission, Round 2) — UFC on FOX: Diaz vs. Miller (May 5, 2012)
This headlining bout was expected to produce the next top contender in the competitive lightweight divisoin, with the winner expected to go on and challenge Benson Henderson for the title later in the year.
With Diaz coming off consecutive dominant performances since returning to the 155-pound ranks and Miller's only loss in his previous nine outings coming against the then-reigning champion, everyone knew this one had the potential to be special.
It certainly was for Diaz, who turned in arguably the best performance of his career, controlling the action from start-to-finish against the perennial contender from New Jersey. The former Ultimate Fighter winner turned in a complete outing, showcasing that patented Diaz Brothers boxing before sinking in a nasty guillotine choke on Miller late in the second round to secure his opportunity to fight for the lightweight title.
8. Robbie Lawler defeats Bobby Voelker (KO, Round 2) — UFC on FOX: Johnson vs. Moraga (July 27, 2013)
Lawler became one of the feel-good stories of 2013 for his surprise resurgence in the UFC, and this was the middle bout in an impressive three-fight run that led to him facing off with
Johny Hendricks
for the vacant welterweight title at UFC 171.
Coming off a first-round knockout win over
Josh Koscheck
, Lawler put on a ferocious display against Voelker, who stepped up as a late fill-in for the injured
Tarec Saffiedine
. While his eventual win over
Rory MacDonald
was the victory that propelled Lawler into the title conversation, this was the contest that made it clear the rejuvenated effort he turned in against Koscheck was no fluke.
Lawler was on point from the outset, picking apart the durable veteran Voelker with his striking and ending the bout with a blistering head kick just 24 seconds into the second round.
7. Demetrious Johnson defeats Joseph Benavidez (KO, Round 1) — UFC on FOX: Johnson vs. Benavidez II (December 14, 2013)
All three of Johnson's flyweight title defenses to date have come on FOX, and - spoiler alert - this is the first of two appearances for "Mighty Mouse" on this list.
Expected to be a back-and-forth affair, this rematch of the inaugural UFC flyweight title bout from UFC 152 turned into an emphatic performance for the reigning champion, as Johnson blasted Benavidez with a perfect counter right hand just 2:08 into the opening round to earn the victory.
Lightning quick and constantly improving, this performance established the 27-year-old from Kirkland, Washington as a dominant champion and one of the top pound-for-pound talents in the sport.
6. Anthony Pettis defeats Donald Cerrone (TKO, Round 1) — UFC on FOX: Johnson vs. Dodson (January 26, 2013)
Pettis is a "Made for TV" fighter—a combination of flair and phenomenal skill with a healthy dose of swagger mixed in for good measure - and this performance perfectly encapsulated everything that makes "Showtime" special.
From his "bounce off the fence" knee to the body to the massive kick to the midsection that brought this fight to a halt halfway through the first round, this was a blowout against a guy in Cerrone that very seldom gets blown out inside the Octagon.
This victory launched Pettis into a lightweight title bout (by way of a scuttled featherweight title fight with
Jose Aldo
) against Benson Henderson in his hometown of Milwaukee, which he ultimately won.
5. Matt Brown defeats Jordan Mein (TKO, Round 2) — UFC on FOX: Henderson vs. Melendez (April 20, 2013)
When a fight only last six minutes and still takes home Fight of the Night honors, you know it was awesome. And this one was all kinds of awesome.
Brown entered riding a four-fight winning streak, while Mein jumped into the bout roughly a month after stopping
Dan Miller
in his UFC debut. Everyone expected it to be a beautifully violent affair, and that's exactly what it was.
These two threw caution to the wind - digging in their heels and trading leather from the word "Go!" While both landed some serious blows, Brown started getting the better of things late in the opening round, staggering Mein and leaving him battered and bloodied heading in to the second, where "The Immortal" quickly put away the talented young Canadian.
4. Benson Henderson defeats Gilbert Melendez (Split Decision) — UFC on FOX: Henderson vs. Melendez (April 20, 2013)
One of the closest and most controversial fights of last year, this lightweight championship headliner was also one of the best fights to hit the network television airwaves to date.
Each round of this 25-minute affair was close, with neither fighter ever taking a commanding lead and opinions on who won the fight being split. The judges' scorecards were as well, with Henderson retaining the title, edging Melendez 2-1 in 48-47 scores.
This was what UFC President Dana White has come to call a typical "Benson Henderson fight" - a closely contested battle that made for great television, with "Smooth" emerging with the victory and fans to this day ready to take up the case for their charge when the question of who won is raised.
3. Junior dos Santos defeats Cain Velasquez (TKO, Round 1) — UFC on FOX: Velasquez vs. dos Santos (November 12, 2011)
This was the one that started it all - a stand-alone bout on a "bonus" one-hour FOX broadcast from the Honda Center in Anaheim, California that saw the UFC heavyweight title change hands.
Early in the first round, dos Santos caught Velasquez with an overhand right behind the ear, dropping the champion. A flurry of punches followed, and just 64 seconds into the opening round, the bout was over and "Cigano" was the new ruler of the heavyweight ranks.
This event stands as the most-watched live MMA event in the United States, with an average of 5.5 million viewers and a ratings peak of 8.8 million viewers during the fight itself.
2. Demetrious Johnson defeats John Dodson (Unanimous Decision) — UFC on FOX: Johnson vs. Dodson (January 26, 2013)
Johnson headlined three of the four UFC on FOX events in 2013, with this being the first and best fight of the bunch.
Dodson, who won the bantamweight competition on Season 14 of The Ultimate Fighter, entered off solid wins over
Tim Elliott
and
Jussier Formiga
, and was expected to give "Mighty Mouse" a run for his money.
Early in the bout, that's just what happened, as Dodson caught Johnson with a stiff left hand, and raced out to win the first two rounds on a number of scorecards, both official and otherwise. As the bout wore on, however, the champion started picking up steam, evening the contest heading into the final frame, where he outworked a tired Dodson to retain the flyweight title.
If his win over Benavidez is where Johnson solidified his status as one of the pound-for-pound best in the sport, this was the contest where Johnson proved his championship mettle.
1. Joe Lauzon defeats Jamie Varner (Submission, Round 3) — UFC on FOX: Shogun vs. Vera (August 4, 2012)
Could there really be any other choice?
Lauzon is one of the most consistently entertaining fighters in the UFC and Varner was fresh off his shocking upset win over
Edson Barboza
at UFC 146 just 10 weeks earlier, and when the Octagon door closed, these two lightweights delivered one of the best fights of 2012.
This was a back-and-forth battle from the outset, with Varner winning the opening round and Lauzon evening things up heading into the final frame. Through the first 10 minutes, it was already a great fight and the third round still managed to take it up a notch.
When Varner would push forward and bring the fight to the ground, Lauzon would counter with a sweep and get back to his feet. When the former WEC champ took him down for the second time in the last round, Lauzon used a butterfly hook to elevate Varner, landing in top position, where he would cinch up the fight-ending triangle choke.