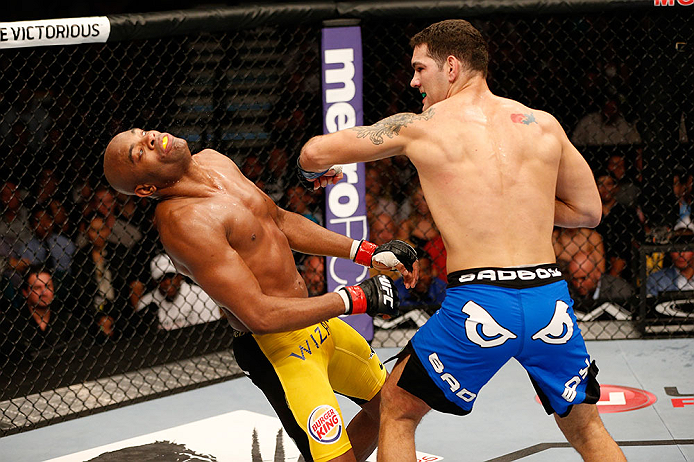 Boxing has long been called the Theater of the Unexpected, but mixed martial arts can lay claim to that title as well, because with so many ways to win, there are also so many ways for big favorites to lose. If you have any doubts, read on for the biggest upsets of 2013.
10 - Renee Forte-Terry Etim - UFC on FUEL TV 7
A couple years back, Terry Etim was all set to be the next British UFC star, the next in a line that started with
Michael Bisping
and
Dan Hardy
. He didn't have the brash, media-friendly personality of The Count and The Outlaw, but he did have four Submission of the Night awards that showed he could fight. And whether it was the aftermath of his head kick knockout at the hands of
Edson Barboza
in 2012, ring rust following a year long layoff, or just a heckuva night for TUF Brazil 1's Renee Forte, when the two collided in February, Etim just couldn't find his rhythm, allowing Forte to sail to a unanimous decision victory that also prompted the Liverpool native's release from the promotion.
9 - Reza Madadi-Michael Johnson – UFC on FUEL TV 9
After a three fight winning streak in 2012, Michael Johnson ended the year with a decision loss to
Myles Jury
that many assumed was just an aberration. So what better way to get back on track than to kick off 2013 with a win over Reza Madadi, who was coming off a loss of his own to
Cristiano Marcello
. Well, it started out well enough for "The Menace," who rocked Madadi and almost finished him in the first round. But by the third, it was Madadi in control, and he finished the fight in style with a D'Arce choke that earned him Submission of the Night honors.
Watch on UFC Fight Pass (Where available)

8 - Rogerio Nogueira-Rashad Evans – UFC 156
Coming off his UFC 145 loss to
Jon Jones
, former light heavyweight boss Rashad Evans wanted to get back in the title mix at 205 pounds, and a win over a top name like Rogerio Nogueira would probably do the trick, something that seemed to be a lock given the style matchup and the year-plus injury-induced layoff "Lil' Nog" was coming off. But the resilient and crafty Nogueira took advantage of a listless Evans in the bout, putting together a clear three round unanimous decision victory.
Watch on UFC Fight Pass
7 - Kelvin Gastelum-Uriah Hall - TUF 17 Finale
Uriah Hall was scary during season 17 of
The Ultimate Fighter.
So scary that many believed all the New Yorker needed to do was show up for his final bout against unheralded Kelvin Gastelum and pick up his UFC contract and trophy. Gastelum, a 21-year-old who fought against the odds from the time he made it on the show, wasn't concerned with what everyone else thought. He knew he had the goods to win the fight and he did just that, toughing out a split decision win to become the TUF 17 winner and pick up his very own UFC contract.
Watch on UFC Fight Pass
6 - Michael Johnson-Joe Lauzon – UFC Fight Night
While Michael Johnson was the favorite in his two losses to Myles Jury and Reza Madadi, those defeats made him an underdog against hometown favorite Joe Lauzon when the two lightweights met in Boston in August. But with his back against the wall, Johnson gave the performance of his career, dominating from bell to bell en route to a career-invigorating three round unanimous decision win.
Watch on UFC Fight Pass
5 - Robbie Lawler-Rory MacDonald – UFC 167
After two spectacular knockout wins in his 2013 return to the Octagon, Robbie Lawler was the feel good story of the year, but Rory MacDonald was seen as the heir apparent to the welterweight crown, a young man who was perhaps one win away from a shot at the 170-pound title. Lawler wasn't going to give him that win though, and "Ruthless" was just that, growing stronger and stronger as the fight went on, and when it was over, he had upset MacDonald and earned a title shot of his own.
Watch on UFC Fight Pass
4 - Stipe Miocic-Roy Nelson - UFC 161
Stipe Miocic is one of the top rising stars in the heavyweight division. But with a mix of a knockout loss to
Stefan Struve
in his previous fight and Roy Nelson's three first round knockout rampage through the weight class (
Dave Herman
,
Matt Mitrione
,
Cheick Kongo
), it was assumed that "Big Country" would keep his streak going against the Ohio native. Miocic had other ideas, showing off the boxing that won him a local Golden Gloves title to score a dominant three round unanimous decision win that made him a player at heavyweight once again.
Watch on UFC Fight Pass

3 - TJ Grant-Gray Maynard - UFC 160
After dropping to 155 pounds, TJ Grant was unstoppable, turning back
Shane Roller
,
Carlo Prater
,
Evan Dunham
, and
Matt Wiman
in succession, with the January knockout of Wiman particularly notable. But this was Gray Maynard he was facing at UFC 160 in May, a longtime contender whose only pro loss up to that point came in the third bout of his series with then-lightweight champ
Frankie Edgar
. So with a shot at current champ
Benson Henderson
on the line, it was expected that it was "The Bully" who would get it. He didn't. Instead, Canada's Grant delivered a career-best performance, stopping Maynard at 2:07 of the first round, a win boxing legend Mike Tyson declared Knockout of the Night for UFC 160. And who knows knockouts better than Iron Mike?
Watch on UFC Fight Pass
2 - Antonio Silva-Alistair Overeem - UFC 156
Coming off a one-sided loss to
Cain Velasquez
and a knockout win over
Travis Browne
that many believed was made easier by the leg injury suffered by Browne moments into their fight, Antonio "Bigfoot" Silva wasn't exactly an oddsmakers' favorite heading into his February meeting with Alistair Overeem. Overeem's 12 fight, five + year winning streak had a little to do with the Brazilian's underdog status as well. And while things went according to plan for "The Reem" in the first two rounds, in the third, Silva blitzed him, hurt him, and finished him. It took just 25 seconds of the final frame for Silva to pick up a Knockout of the Night bonus, a title shot, and a career resurrection.
Watch on UFC Fight Pass

1 - Chris Weidman-Anderson Silva I – UFC 162
Anytime the greatest MMA fighter of all-time loses, it's got to be an upset, right? And by knockout no less. That was precisely the case when Chris Weidman shocked the world with his second round finish of Anderson Silva for the middleweight title in July, and despite the New Yorker's unbeaten record, skill set, and confidence, seeing Silva lose for the first time in his UFC career was still a stunner and the biggest upset of 2013.
Watch on UFC Fight Pass
HONORABLE MENTION - Cat Zingano-Miesha Tate, Rafael Dos Anjos-Donald Cerrone, Piotr Hallman-Francisco Trinaldo, Phil Davis-Lyoto Machida, Chael Sonnen-Mauricio Rua