To say Skylar Astin is a UFC fan would be doing a disservice to his level of fandom.

The 28-year-old actor, best known for his role as Jesse Swanson in "Pitch Perfect" and its sequel, isn't just one of those celebrities that is shouting out the headliner and plugging that week's hashtag on Twitter. Over the last several years, not only has Astin been in attendance at numerous live events, but he's also fostered some relationships within the MMA community that have allowed him to begin his own adventure into the sport.

"It'd be like getting to take batting practice with the Yankees if you were a fan," he says of being welcomed into different gyms to roll, hit pads or just hang out for a training session. "I feel not worthy when I'm there, but everyone in the community has embraced me with open arms. I got a stripe on my white belt from Matt Serra. I've had several striking sessions with "Six Gun" Gibson, who has become a good friend. It's surreal to be in the cage watching Jon Jones hit mitts right after you."

Like many people, Astin's entry into UFC fandom is owed to someone knowing his previous ties to professional wrestling.

"My younger brother Milan got me into it. He educated me the way I have now so many people over the last eight years of being a fan of the sport," says Astin, who stars alongside Nick Nolte in a new original series on Epix called "Graves," which premieres in October.

"He knew back in the day that I was a huge WWF, now WWE, fan and he was like, 'Dude, it's like that, but it's real and they really settle the score. The storylines aren't pre-determined and there are entertainment aspects, but then there is a gladiator competitive side that will hit all of those notes that watching the NFL and boxing hit for you.'"

Before getting into how his list came together, here's a look at Skylar Astin's Top 10 Fights.

Note: it was supposed to be Top 5, but as anyone that has ever tried to make one of these lists knows, narrowing it down to just five is almost impossible and rather than having to axe some really great fights, we decided to expand from five fights to 10.

10. Anderson Silva vs. Chael Sonnen I (UFC 117 – August 7, 2010)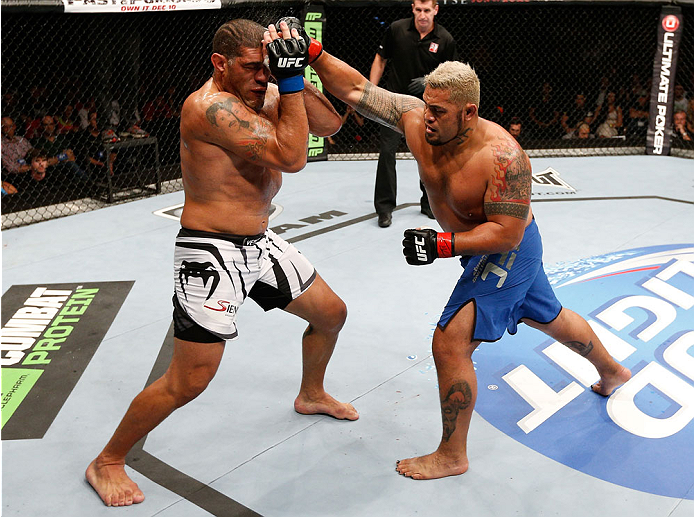 9. Mark Hunt vs. Antonio "Bigfoot" Silva I (UFC Fight Night: Hunt vs. Silva – December 7, 2013)
"Even though it was marred by some drug testing issues afterward, it has to make the list because that was just an insane, bonkers fight."
8. Jon Jones vs. Alexander Gustafsson (UFC 165 – September 21, 2013)
"I think that was kind of where we saw Jones tested the most and it's well known that he wasn't in the best shape for that fight, but he still pulled it out."
7. Gilbert Melendez vs. Diego Sanchez (UFC 166 – October 19, 2013)
"This was just crazy - two Mexican guys biting down on their mouthpieces and swinging."
6. Robbie Lawler vs. Rory MacDonald (UFC 189 – July 11, 2015)
"That was just a crazy, crazy fight where Rory ended up looking like a zombie."
5. Frankie Edgar vs. Gray Maynard II (UFC 125 – January 1, 2011)4. Dan Henderson vs. Mauricio "Shogun" Rua (UFC 139 – November 19, 2011)
"I don't remember where it was, but I remember I was in New Orleans with my brother and I literally bought the Pay-Per-View for a big house of people and we all just had regular expectations; we had no idea we'd be seeing one of the best fights ever."
3. Robbie Lawler vs. Carlos Condit (UFC 195 – January 2, 2016)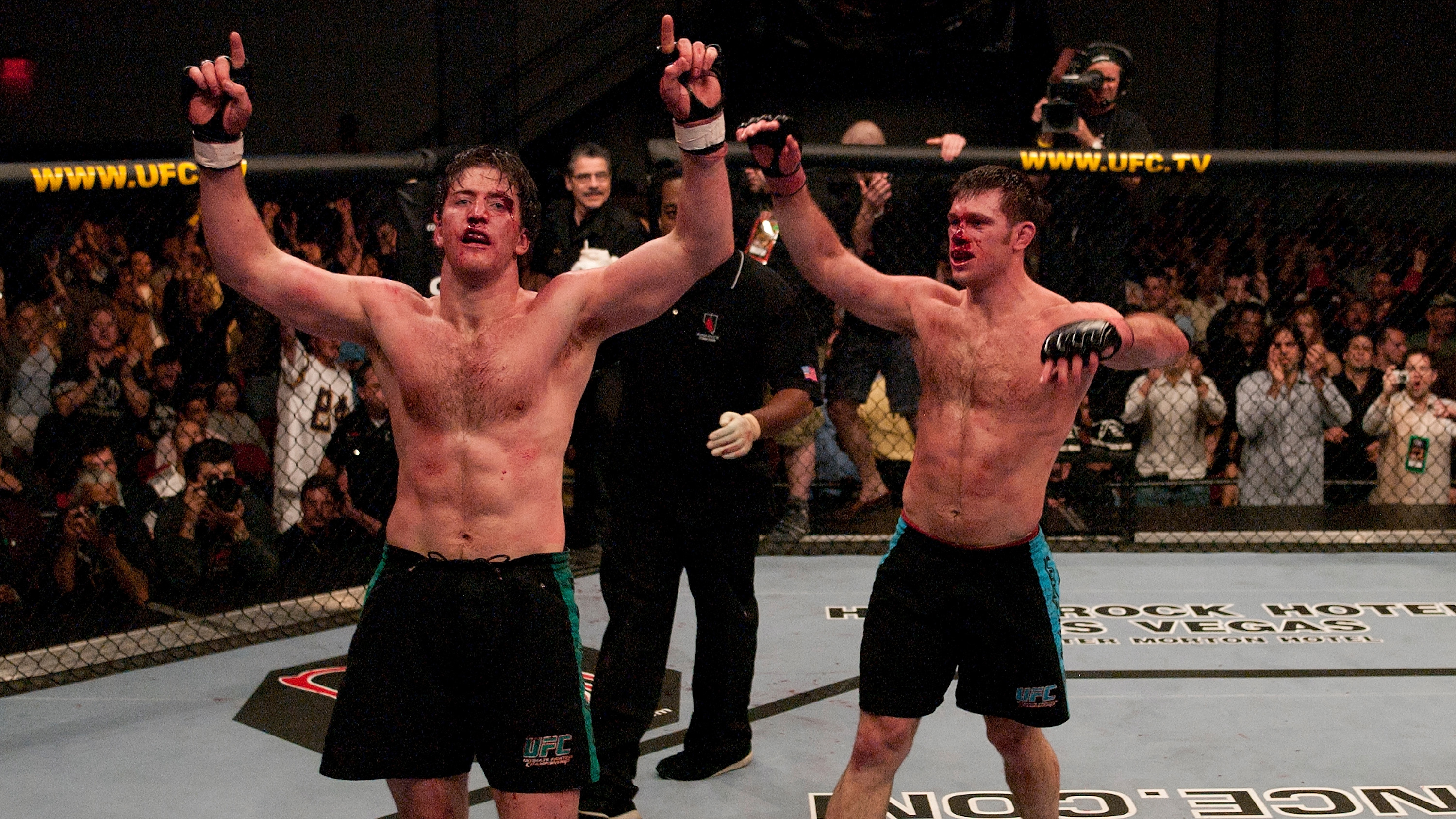 2. Forrest Griffin vs. Stephan Bonnar (The Ultimate Fighter 1 Finale – April 9, 2005)
"You have to include this fight: it's one of the best fights in history and obviously it put the UFC on the map."
1. Chris Weidman vs. Anderson Silva I (UFC 162 – July 6, 2013)
So what goes into making a great Top 10 list?
"It's like any favorites – it varies on the mood you're in or where you were at the time and things that might not be in the Top 5 (for everyone else), they just tug at your heartstrings," Astin, who is engaged to his Pitch Perfect co-star Anna Camp, begins.
"I was just at UFC 199 and that (Dan) Henderson fight, the place went absolutely bonkers insane, so there are incredible stories like that or Holly Holm shocking the world. When you can use the words 'Shocking the world,' I think that is pretty powerful," he laughs. "Then there are the personal attachments and the fandom aspect that come with some biases.
"I don't know if Weidman-Silva I would be on a lot of people's list," he continues, getting into the explanation for his personal favorite fight, not that it's necessary. "For me, I remember watching that and having such a close relationship to Chris and knowing the year he had in 2012 with Hurricane Sandy and everything he persevered through, him in the Octagon with the American flag, hugging his wife, it felt like a Rocky moment."
Makes sense to us.
Be sure to follow Skylar Astin on Twitter (@SkylarAstin) and keep an eye out for his new show, Graves, on Epix this fall.