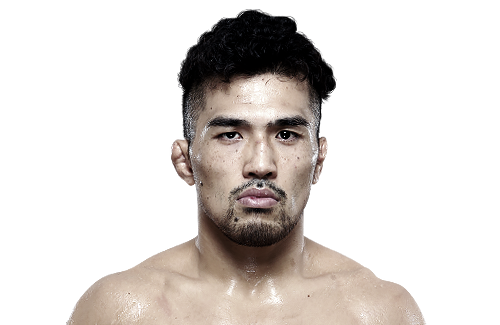 It was the moment Takenori Sato had been waiting for. After 32 professional bouts, a ten fight winning streak stretching back to 2010, and the realization that he was ready for the big show, the Tokyo welterweight got the call to compete in the UFC and face
Erick Silva
this Saturday in Jaragua do Sul.
It should have been the most joyful time of the 28-year-old's career, but when his mother took ill and was rushed to the hospital, nothing – not even fighting in the UFC – mattered more than seeing his mom get healthy again. But after consulting with his twin brother and other relatives, the decision was made: he would fight.
"It was not only mine, but also my mother's dream for me to be successful in my career and fight in the world's best promotion," said Sato through manager / translator Fumihiko Ishii.
"It does not affect anything for my training camp since I already made a commitment to myself and to the UFC."
These days, Sato's mother remains in the hospital but her condition is improving, and there's no question who will be cheering the loudest when the Akita native faces off with Silva this weekend.
"She was so happy and proud of me when I became a King of Pancrase, and I want to continue to be successful in my career to keep her happy," he said.
She's had plenty to smile about. In addition to that King of Pancrase crown, which he won in 2011 and successfully defended six times, Sato has shown that he has the resilience to bounce back from adversity, rebounding from a three fight sequence in 2009-10 when he lost consecutive bouts to
Joe Doerksen
,
Yuki Kondo
, and Keiichiro Yamamiya.
"I was so disappointed," he said. "But at same time, I was able to manage myself while I tried to believe in my future success."
A drop to welterweight got him back on track, and he hasn't lost since the Yamamiya fight in April of 2010. As for the secrets to his recent success, there are none.
"There are no secrets in my game," he said. "I focus to maintain my game and control the fight."
It's something his mentor and first coach, Japanese legend
Kazushi Sakuraba
, would be proud of.
"I am the last disciple of Sakuraba, and I learned a lot from him; not only fighting style and technique but also his fighting philosophy and spirit," said Sato, who promises a glimpse of Saku's style in the Octagon if he gets the chance. "One of my favorite techniques is the arm lock, which most of fans will recall from Sakuraba."
Locking up Erick Silva won't be easy though, as the Brazilian standout has never been submitted before. He's also coming off a knockout loss to Kim Dong Hyun last October, and in his promising, yet erratic, UFC career thus far, a Silva defeat has always been followed by a spectacular win. But the 28-year-old judo black belt is ready for a fighter aggressively seeking the victory in his backyard of Brazil.
"Of course he might have an advantage because of his home country," admits Sato. "However, I do not care about it since it is the same question Brazilian fighters who fought in Japan have to deal with. The challenge for me is, how can I manage his aggressiveness to control the fight."
With his 17-8-7 record, you can probably assume that not only can he manage, but that he's probably seen it all while competing on the Japanese circuit. He's taking his show on the road now, and in a wide open welterweight division, his goals are clear.
"All of the fighters (at 170 pounds in the UFC) are well-rounded and complete MMA fighters," said Sato. "I am anxious to see how I can grow in the division, and my
ultimate
goal is to become a UFC champion, so I would like to make sure to win all of my fights in 2014 and become a title contender."