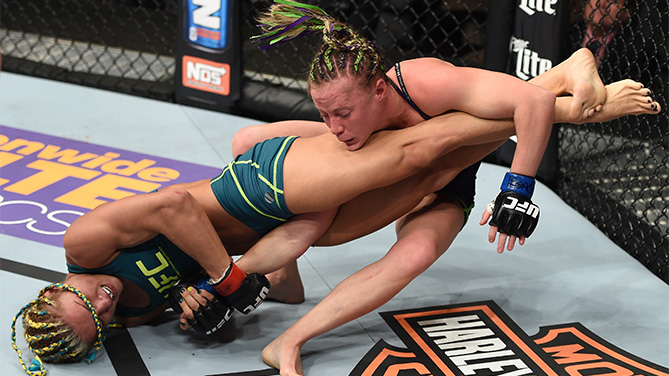 The Ultimate Fighter
20's
Felice Herrig
lived up her nickname "Lil' Bulldog" in her UFC debut at The Palms in Las Vegas, using a tenacious ground attack to submit her castmate from the reality show,
Lisa Ellis
, in the second round.
The veteran Ellis (15-9) got an immediate takedown, and while Herrig (10-5) scrambled to her feet, she did so with her opponent locking in a guillotine choke. After some tense moments, Herrig escaped and scored a takedown, Ellis eventually reversing position. Herrig responded with a triangle attempt but Ellis got loose. The two continued to trade submission attempts, keeping the pace high.
Moving back to the canvas seconds into round two, both fighters kept battling, but with each passing second, the inexhaustible Herrig pulled ahead, eventually locking in an armbar that ended the fight at the 3:05 mark.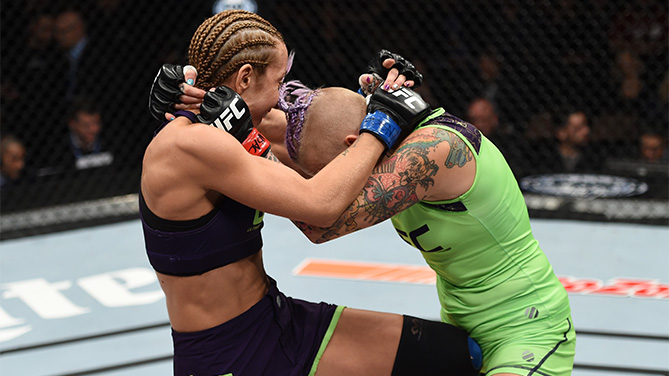 CLARK vs. RAWLINGS
Heated TUF 20 rivals
Heather Jo Clark
and
Bec Rawlings
settled their score in the Octagon, with "Hurricane" Heather holding off a late Rawlings surge to earn a unanimous decision victory.
All three judges saw it 29-28 for Clark, now 7-4; Rawlings falls to 5-4.
After some solid work to begin the bout, Rawlings got jarred by a Clark punch, then taken down. The Aussie got back to her feet, but she remained in the grasp of her opponent. Midway through the round, referee Yves Lavigne restarted the stalled action, but the two locked right back up, Clark staying in control until a takedown in the final minute by Rawlings.
Clark had the upper hand on the mat throughout the second round, nearly sinking in a choke in the process, but Rawlings' defense was solid, even if her offense was lacking.
Rawlings came out of the corner winging punches in an attempt to get the momentum back, and she scored well, swelling up Clark's left eye and pushing the pace whenever Clark wasn't trying to slow the action down against the fence. The late surge wasn't enough to put "Rowdy" Bec in the lead though, allowing Clark to take the close decision win.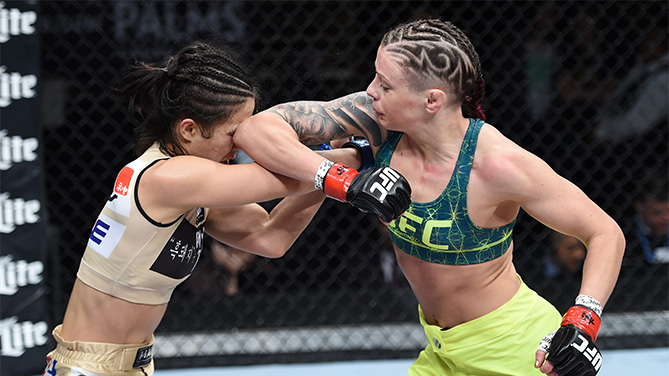 CALDERWOOD vs. HAM
TUF 20's
Joanne Calderwood
got a tough go from fellow debutant
Seohee Ham
in their strawweight bout, but "JoJo" got stronger as the fight progressed, locking up an exciting three-round unanimous decision win.
Scores were 30-27 twice and 30-26.
There was world-class stuff from both fighters in the first round when it came to the striking game, with Calderwood and Ham each getting in solid shots. Calderwood was the more dynamic striker though, allowing her to land more solidly.
Ham was able to bloody Calderwood's nose in round two, but the Scotland native continued to be the more accurate striker from long range, and even when they locked up against the fence, it was Calderwood controlling her foe and picking up a late takedown.
Calderwood broke open a close fight in the third, mauling Ham against the fence before landing with a flush front kick to the face and then taking the South Korean to the mat, where she fired away with ground strikes to the bell.
With the win, Calderwood improves to 9-0; Ham falls to 15-6.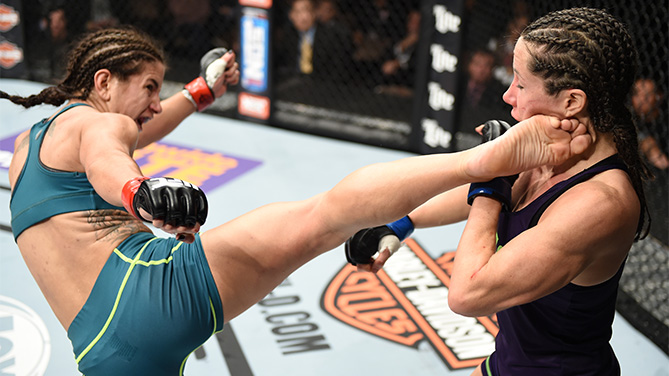 TORRES vs. MAGANA
Unbeaten
Tecia Torres
wasn't able to finish TUF 20 castmate
Angela Magana
, but she cruised to a shutout three-round unanimous decision win, showing off a solid striking game every step of the way.
Scores were 30-27 twice and 30-26.
There was little sustained action in the first, but what significant scoring there was came from the technically sound Torres, who dropped Magana in the fourth minute and bloodied her opponent.
The pace remained measured at best for much of round two, allowing Magana (11-7) to get a little busier, but down the stretch Torres imposed her will again, landing with several hard punches and kicks.
Torres (5-0) continued her dominance in the final stanza, with Magana showing heart but little more as the "Tiny Tornado" blitzed her for the entirety of the last round.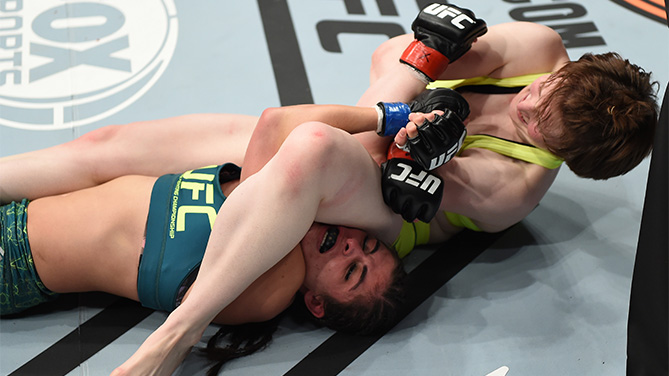 DALY vs. CHAMBERS
In a clash of Team Pettis members, Dublin's
Aisling Daly
picked up her first UFC victory in impressive fashion, submitting
Alex Chambers
in a single round.
Chambers got off to a good start with a takedown in the opening minute, but it was Daly nearly sinking in an armbar before the Australian pulled loose. In the process though, Daly was able to get into the mount position, and a barrage of strikes followed. Chambers battled her way loose and back to her feet with a minute to go, but Daly put her on her back again, with an armbar ending matters at the 4:53 mark.
With the win, Daly, who missed weight for the bout, improves to 15-5; Chambers falls to 4-2.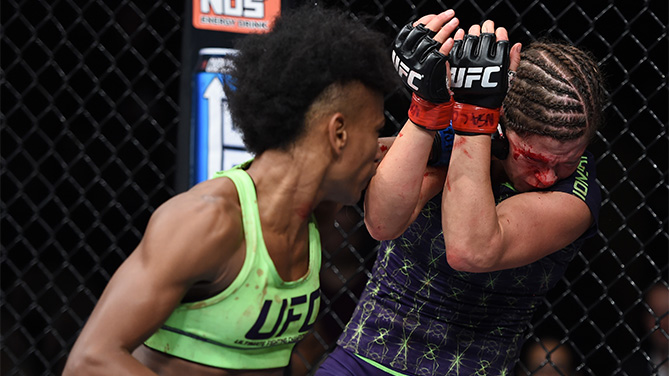 HILL vs. PETERS KAGAN
In the strawweight opener,
Angela Hill
impressed in only her second pro fight, scoring a dominant three-round unanimous decision over her Team Melendez squadmate Emily Peters Kagan.
Scores were 30-26 twice and 30-27.
After avoiding all of Peters Kagan's takedown attempts while also negating any effective clinch work against the fence, Hill went on the offensive with her striking and went on to dominate the round, knocking her foe down, cutting her over the right eye, and landing a series of hard knees.
In the second, the one-sided striking assault by Hill continued, and though the game Kagan hung in there and still tried to control matters in the clinch, the North Carolina native was piling up the punishing points.
With under two minutes left in the final round, Peters Kagan finally secured a takedown, but she wasn't able to hold it for long, with Hill getting back to her feet and finishing strong to wrap up the shutout win.
Hill improves to 2-0; Peters Kagan falls to 3-2.