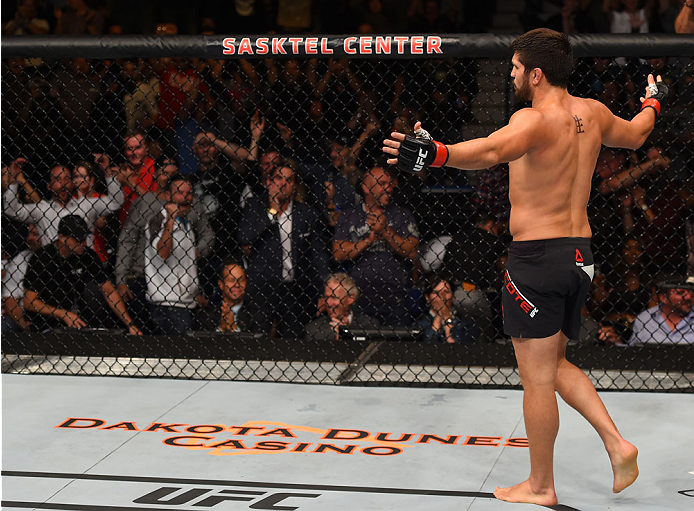 At 36 years old and with 33 professional fights under his belt, Patrick Cote has been where every fighter is. But he's not there anymore.

That doesn't mean he's not interested in world title shots, making big paydays or fighting the best 170-pounders in the UFC. He is. It's just not everything anymore. If this ends tomorrow, he has a personal life and business ventures to look forward to, so beating Donald Cerrone in Ottawa on Saturday night won't determine whether he's able to pay his bills.

"I'm fighting because I want to, not because I need to," he said. "So this is 10 times easier for me. I'm just enjoying the moment, and I'm still passionate about the sport. It's a fun time and I don't have any stress. I have the pressure off my shoulders that if I don't win I can't put bread on my table. It's a fun life. I stopped being worried about everything, and I'm just enjoying this."

Such freedom was not bestowed on the Quebec native at birth. He came up the hard way, served his time in the Canadian Army, and got no favors on his way up the MMA ladder. He lost his first four UFC fights before picking up a win, and was even cut by the organization. He knows what it's like to fight to pay the bills, but along the way he learned some valuable lessons and put them into action. Now he's an example, not a cautionary tale.
RELATED CONTENT: Inside the numbers of Cote vs Cerrone | Cote aims for title shot | Rogan previews Cerrone vs Cote
"This career can be over very quick," he said. "If you have a big injury or a losing streak, this is a very cruel job. We make a lot of money in a short period of time, so you have to be very smart with the money you make and put it in a good place. You're not going to fight forever, so you have to prepare if something bad happens. When you don't have anything else and you put all your eggs in the same basket and you don't have other options, the pressure is ten times worse."
Today, Cote has no pressure, and if you look at his record since move from middleweight to welterweight in 2013, he's never been better. Victorious in five out of six bouts at 170 pounds, with the only loss coming via decision to No. 2-contender Stephen Thompson in 2014, Cote is on a three-fight winning streak heading into Saturday's co-main event, with his last two over Joshua Burkman and Ben Saunders coming by way of knockout.
Surprisingly, that hot spell has not put him in the top 15, but that will likely change should he defeat Cerrone, someone he has studied extensively as an analyst on French-language UFC broadcasts.
"I'm very excited for this fight," he said. "The first day they told me that I was going to fight Cerrone, I was very happy, and from the start of training camp I was really into it. I put a lot of sacrifice and effort into this camp, and I'm going there one hundred percent. Everybody knows his style, I know he's going to bring it, and I know what I have to do to beat him."

He also knows that despite his absence from the rankings, he's got a case to make for a title shot, and he plans on letting the world know about it.

"You have to understand that this is an entertainment business, so it's always about how you win your fight," he said. "I'm going to go out there and finish Cerrone and it's going to be my third finish in a row, my fourth win in a row, with only one loss at 170, so, for me, the matchup, if (champion Robbie) Lawler wins against (Tyron) Woodley, is a barnburner. There's going to be fireworks and it's ten times more interesting. This is a business, it's about selling the card. When I finish Cerrone, I'm not going to be shy to call out the champ."

Call it the Bisping / Hendo factor.

"It's amazing that you can finally see that hard work pay off," he said of UFC 199 wins by new middleweight champion Michael Bisping and the seemingly ageless Dan Henderson. "There's no one that's more deserving of a title than Michael Bisping. In that division he did everything except get a title fight. And finally he got it. He took the chance on two weeks' notice and he got it. I'm very happy for him. And then Dan Henderson won another fight at 45 years old, so for old guys like me that are still in the business, every time one of those guys win a fight, it gives us more hope to have success in the future."

Old guys? Cote laughs, knowing that age ain't nothin' but a number, something he plans on showing Cerrone Saturday night.

"I'm not underestimating him," he said. "And with my style, my power and my size, I think it's going to be a nightmare for him."