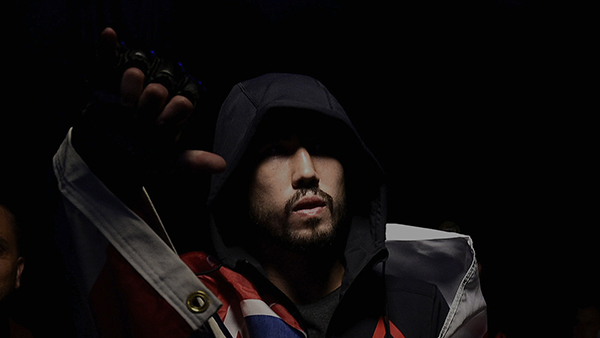 Louis Smolka wanted to shed a tear or two when he got the call that he was coming back to the UFC after a year-long absence. It was a short notice assignment against Su Mudaerji in Beijing, but it didn't matter. "Da Last Samurai" was just glad to be back.
"It was amazing," Smolka said. "I wanted to cry a little bit. I was just so happy that all the hard work was starting to pay off. It was hard to sit there and look at your bank account dwindling away and all your resources are getting put into this. You're starting to struggle financially and it's hard. You wonder if this second chance is coming."
A four-fight losing streak cost him his contract a year ago. Three wins on the regional circuit later and he was back. That's worth a good happy cry.
"I wanted to cry but I didn't have time," he laughs. "I had to go get my visa and do bloodwork and get all the paperwork done. I told myself, 'Keep going forward.'"
That's what Smolka has been doing since he lost a three-round decision to Matheus Nicolau. The defeat was his fourth in a row, putting his UFC record at 5-5. It was the most deceiving .500 record we've seen in a while, but despite his ability to hang with – and beat – some of the best in the flyweight division, it was no surprise when he was cut. That didn't stop the UFC fanbase from getting behind the Hawaiian.
"It was very reassuring," Smolka said. "It made me believe that I still had a future in this and still was a pretty good fighter and I deserve to have this as my job, to work hard at it and that maybe I really was just going through a rough patch and I'd be able to get over it."
But first, the 27-year-old had some changes to make, and they started with a move to Southern California to train with Colin Oyama and his gang of killers.
"I just needed a change," Smolka said. "Things weren't working back home. I've been losing so much and I was just doing so many things wrong that I needed to change something."
That was one change. The other was more important, not just for Smolka's career, but his life.
"A big part of it (the losing streak) was just the drinking," he admits. "I don't know exactly what had happened, but there was a point where my goal wasn't to be the best in the world anymore or to be as good as I can be to make money for my family. That wasn't my goal. My goal was to see how much drinking I could get away with and still make it to practice tomorrow. My goal wasn't to get the belt or get a bonus. It was can I drink and still do this?"
It was a realization that luckily came to Smolka after a losing streak and not after something even more serious, and when he found the root of his issues, he did something about it.
"I gave up drinking completely," he said. "I had to not do it anymore. And honestly, I've never felt better. I'm hoping that it shows in this fight."
This fight will see Smolka making his first UFC start at bantamweight, and while he was dangerous everywhere during his initial run in the Octagon, he may be more so the second time around.
"I'm a big guy for flyweight, and just cutting down to that 125 level, I was skin and bones," he said. "That was as low as I could physically go and I feel like I gave up a lot of muscle to do those cuts. I feel like it really affected my ability to explode and be quick. It's like my fast-twitch was messed up."
That's all in the past, and no words are sweeter to Smolka, who compiled three wins in 2018 to earn his return call to the UFC. And with each passing victory, he believed more and more that his only home was in the big show.
"The first two fights I was trying to get my confidence back and my bearings back, trying to get myself together," Smolka said. "And then my last fight, I was hungry to come back by that point. I had my confidence back, so I was like, 'All right, what else do I need to do to get back to the UFC? What else do you guys need? I'm ready to go.'"
That two-round stoppage of Kyle Estrada in October was his ticket back. Now all he has to do is win on Saturday.
"I'm expecting myself to work hard and take this serious and to try and win as many as I can," he said. "135 is a deep division and I'm just gonna try and do my best and win fights and prove that I belong here, competing with the best in the world."
But will those tears come this weekend?
"Maybe, I don't know," he laughs.