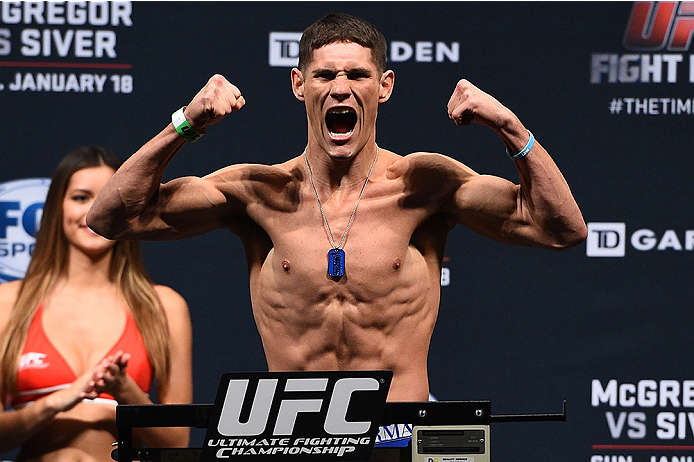 A record without context never tells the whole story.
Alexander Gustafsson is 1-3 in his last four fights, but just from those results, you wouldn't know that the talented Swedish light heavyweight lost to the top three fighters in the weight class, losing a pair of close decisions in championship fights that could very well be the two best fights in the history of the division.
On paper, Charles Rosa is 1-2 in the UFC, which is nothing to write home about, but the truth of the matter is that the 29-year-old American Top Team product remains one of the top emerging talents in the featherweight ranks, despite what his record might be trying to tell you.
"I definitely don't like losing, but it might be a little easier for me to deal with because both of my losses are really close, Fight of the Night fights," Rosa said of his setbacks in the Octagon, which stand as the only two losses of his professional career. "I don't feel defeated. I finished both fights in top position, so it doesn't really hurt my pride that much because I didn't get knocked out or tapped out. In both those fights, I felt like if it kept going, I would have beaten either one of them, but that's not the reality of it."
Go inside the numbers of the matchup between Rosa and Augusto Mendes

Rosa debuted in the Octagon on five days' notice against Dennis Siver, then a fixture in the Top 10. The Peabody, Massachusetts native had flown to Holland to do some training, got the call to face the kickboxer and jumped on a flight to Sweden. When he stepped into the cage, he showed he belonged, pushing the veteran to his limit in an entertaining bout that earned each man $50,000 for Fight of the Night.
After rebounding with a win over Sean Soriano on last year's January card in his hometown of Boston, Rosa traveled to Mexico City, where he dropped a split decision to emerging prospect Yair Rodriguez, the 23-year-old TUF Latin America winner many have tabbed as one of the best young talents in the sport.
"It only motivated me to work hard – learn from it, see what he did well, what I can do better myself, and I can't wait to get back into the cage and show what I can do because 1-2 (in the UFC) doesn't sound good to me," Rosa laughed. "I went into the UFC 9-0, all finishes, and I want to get back to those ways.
"I'm the type of guy that learns from everything and I don't let things like that bother me too much. I look at it as a learning experience. I saw what Yair did well, what I didn't do well and I went in the gym and worked on it. I took some of Yair's moves and made them my own too.
"I think things happen the way they happen for a reason and this is all part of my journey."
In addition to growing from his own experiences, Rosa can tap the ample resources collected between the walls at American Top Team. From fighters-turned-coaches like Mike Brown and Din Thomas to current contenders and world champions, between all the athletes on the mats in the South Florida fight factory, there is someone that has dealt with whatever Rosa encounters and that can help him continue improving.
"I know that if I can wrestle and grapple with Mike Brown and then strike with Dustin Poirier and then box with certain guys that when I get in the cage, it's nothing that I haven't seen before. I know where I stand and I know I belong there.
"I look at a guy like Robbie Lawler – he got cut from the UFC, but he was able to go back, reset and now he's the undisputed welterweight champion. Guys like that give me the motivation and make reaching the top a realistic goal for me."

More on Fight Night Boston: Reasons to watch Fight Night Boston | Cruz finally gets chance to shine after injuries | Watch UFC Boston Embedded: TJ Dillashaw vs. Dominick Cruz, Anthony Pettis vs. Eddie Alvarez | Old-school Alvarez ready for Pettis test| Marine Gomez looks forward to debut | Under-the-radar fights to watch | Fight Night Boston fight card | Get tickets for Fight Night Boston

The next step in that journey is a return home to Boston, though there has been a slight change in plans in regards to his homecoming.
Originally scheduled to face Jimy Hettes, Rosa will now face Augusto Mendes instead, as the Pennsylvania native suffered a knee injury that forced him from the bout at the 11th hour. Training out of The MMA Lab in Glendale, Arizona, "Tanquinho" is a multi-time Brazilian Jiu Jitsu world champion who carries a perfect 5-0 record into the Octagon for his promotional debut.
Despite his new opponent's credentials on the mat and the last-minute shift, there was nothing that was going to keep Rosa from walking to the cage on Sunday night in front of his friends and family in Boston.
"I've taken fights on a week's notice and I've taken UFC fights on days' notice and I've had changes of opponents, so it doesn't make much of a difference," Rosa said of the late shift in opposition. "There is nothing that would have stopped me (from competing this weekend); I'm prepared to fight anybody.
"It was definitely tough losing Jimy Hettes because I prepared for him as a southpaw, working some different things with my coaches, but I was preparing for Jimy, who is a grappler, so I've been doing a lot of jiu-jitsu and I'm in great shape."
As far as what Mendes brings to the table, Rosa is quick to give the decorated jiu-jitsu player respect for his accomplishments on the mat and to date in the cage, but with more UFC experience and a full training camp behind him, he fully expects to be the better man when they step into the Octagon on Sunday night.
"I'm definitely not underestimating this guy – there is a reason he's 5-0 with five finishes and there is a reason he's in the UFC. There are no tomato cans; if he's in the UFC cage, he's there for a reason, so I'm definitely expecting a tough guy when I get in there in Boston. In the end, it doesn't matter who they put in front of me – I've trained for five months, did everything I can do, so I'm ready to face the champion right now; this is the most ready I've ever been.
"It's the same game plan and I'm going to get the same result."