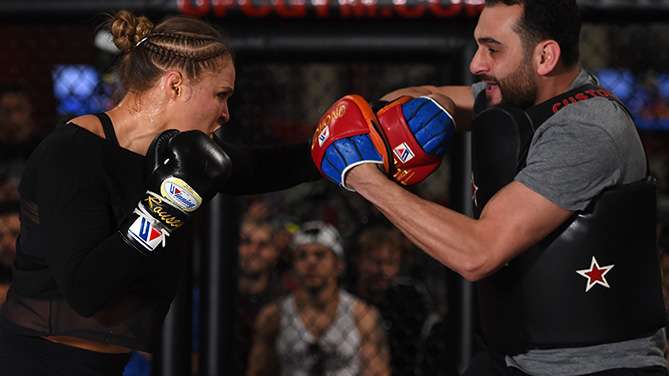 TORRANCE, Calif.

Ronda Rousey rocked the house at the UFC Gym in Torrance on Wednesday afternoon in front of a rowdy collection of fans who watched the UFC women's bantamweight champion hit mitts and toss her training partners around like mannequins.

The always high-intensity Rousey treated her session at the UFC 184 Open Workouts as if she was in her own gym back in Glendale, and she clearly enjoyed interacting with her fans and allowing them all be a part of the training.

"I know that a lot of the athletes go out there and they just go through the motions, barely, and try to get out as quick as possible," Rousey said of the fan-friendly workout. "This was my workout today; this is what I usually do. We're kind of tapering down, this is much easier than usual, but still I'm going to do my normal stuff for today."
> READ: Hollywood Beckons, But Ronda Rousey Only Has A Title Defense In Her Sights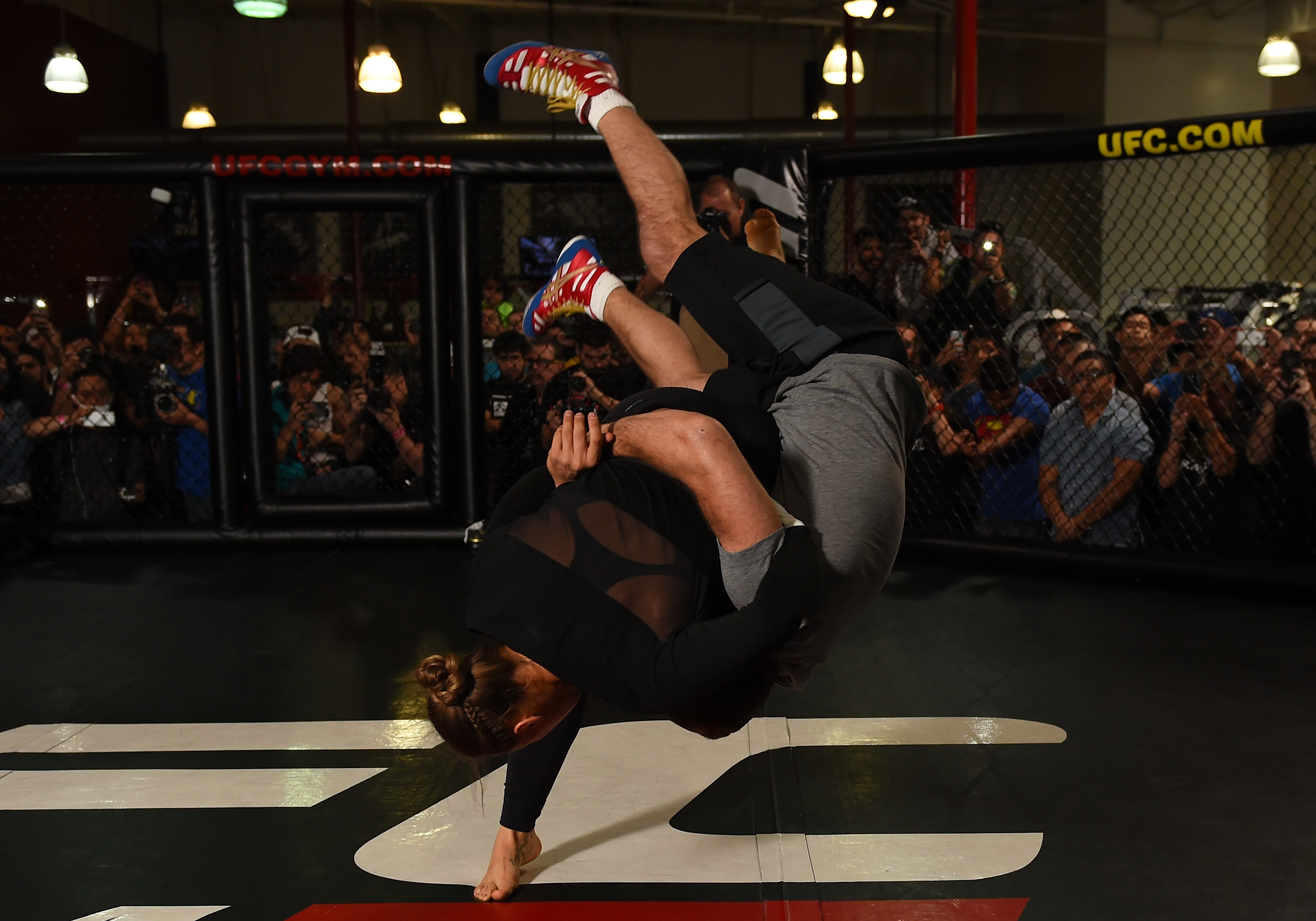 Rousey continues her preparations for a clash with No. 1 contender Cat Zingano in the main event of UFC 184 Saturday at Staples Center.
For the champion, it's just like any other fight.

"I think that the buildup for my UFC debut was a lot more stressful. I don't really think it's less, I just think we've become so much more fine-tuned and efficient at it," Rousey said of her training. "We learn every single time, and do it better every single time. They get easier and less complicated.

"It's become the way it is. I've had more title fights than non-title fights – this is what I'm used to. I feel like I'm much better at dealing with it than these other girls can be."

Rousey looked better than ever while going through her training routine inside the Octagon at the UFC Gym in Torrance. Fans and members of the media were buzzing throughout, commenting that almost no other fighter draws this type of attention at an open workout.
> READ: Cat Zingano, A Fighter In Every Sense, Embracing The Moment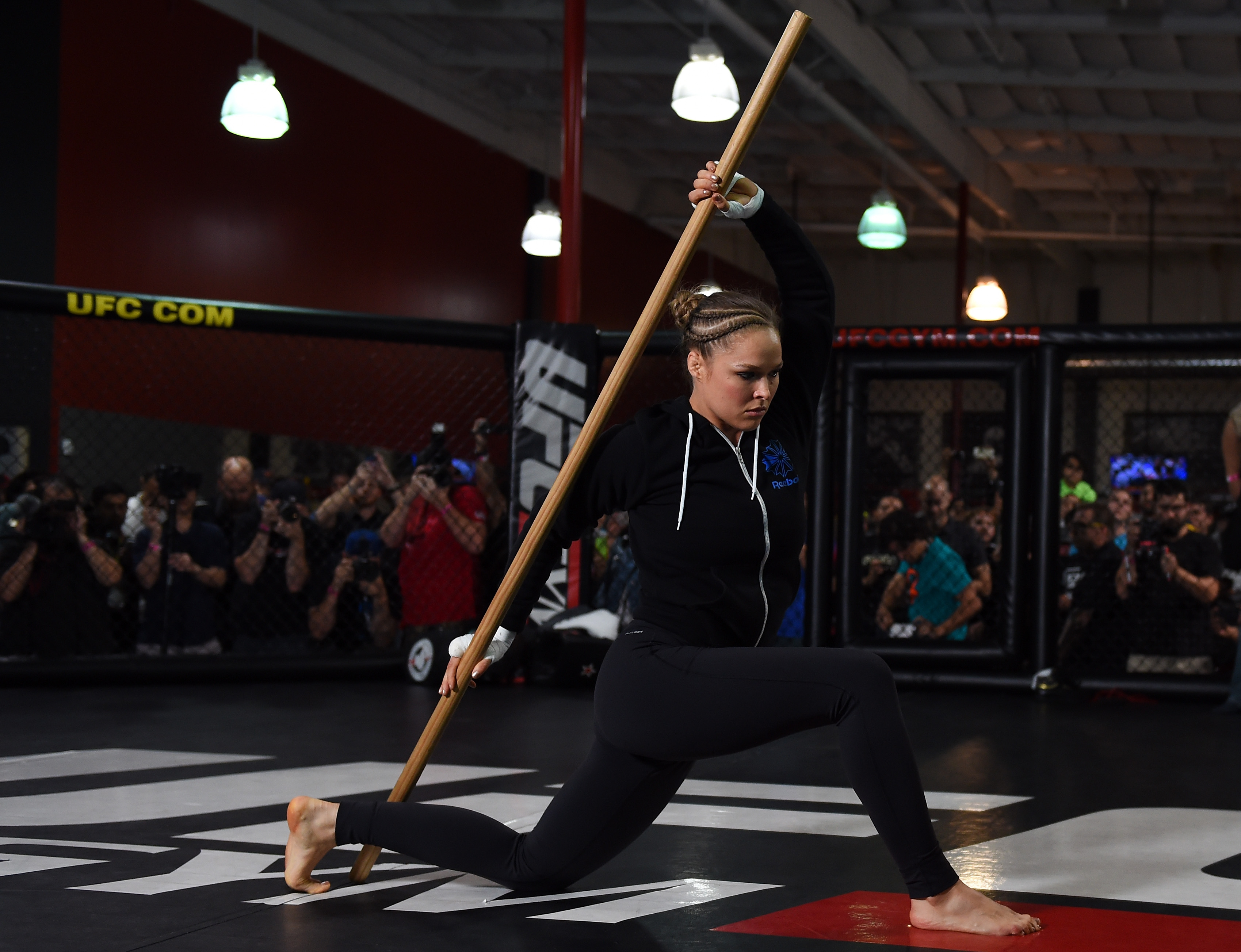 Rousey says she thinks the attention is great for women's MMA, but her goal is to become the greatest fighter in the world, regardless of gender.
"I think it's great that women being on the forefront of the MMA community is becoming normal," Rousey said. "People were surprised, like they didn't even notice that women were the main and co-main (event) because we've had so many women main events. I love that it's becoming so commonplace."
Next up is Thursday's UFC 184 Ultimate Media Day in Los Angeles, at Club Nokia at L.A. Live, where the fighters will talk about their matchups and what to expect Saturday night.