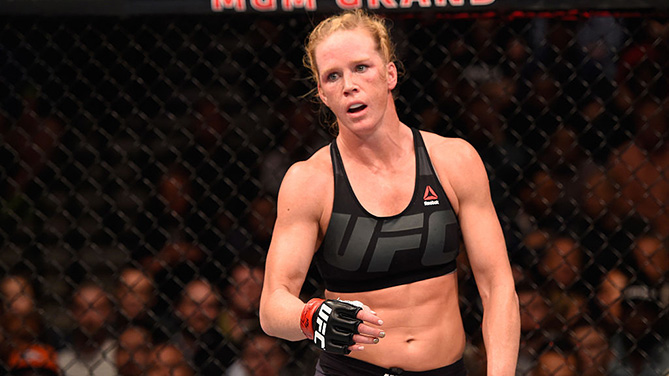 Holly Holm is the former women's bantamweight champion and one of the best women's boxers that have ever stepped into a ring.
That's all well and good. But what makes Holm the main event attraction she is today is the simple fact that she was the woman to end the undefeated reign of Ronda Rousey.
Rousey never even went to a decision before she faced Holm. She put together one of the greatest runs in the history of the sport, and "The Preacher's Daughter" brought that to a screeching halt with the iconic head kick finish at UFC 193.
Now Holm begins her own road back after getting submitted by the now-former champion Miesha Tate at UFC 196. She faces Valentina Shevckenko, a former 16-time Muay Thai world champion, in the main event of Fight Night Chicago.
RELATED CONTENT: Holly Holm's title return must go through Shevchenko | Holm fighter for her future in Chicago | The former champ's Warrior Code
Shevchenko dropped a decision to Amanda Nunes, who took the title from Tate at the historic UFC 200. Other than that, the transition to MMA has been a smooth one for "Bullet."
After two fights in the Octagon, Shevchenko is landing 54 percent of the significant strikes that she throws, which is 12 percentage points higher than the UFC average of 42 percent. She also lands 84 percent of her significant strikes in the clinch, which could be the game plan against Holm, who likes to strike at distance.
For the former champion, Holm is going to look to out-strike Shevchenko. Her striking rate is far above the UFC average as she lands 3.46 significant strikes per minute.
Holm vs. Shevchenko is the No. 1 reason to watch Fight Night Chicago.
Lightweight title contention on the line
If there was ever a time for Edson Barboza to have a signature win and performance to help catapult him to the next level, it will be on national TV against Gilbert Melendez in Chicago.
Barboza is coming off a win against former lightweight champion Anthony Pettis and he is considered to be one of the best and most dangerous strikers in the UFC. His toughness and durability have helped him put together an 11-4 record in the UFC and his wheel kick knockout against Terry Etim is one of the best finishes in the history of the sport.

Melendez is making his return after a year away because of a suspension due to a failed drug test. He has dropped two in a row to Pettis and current champion Eddie Alvarez.

"El Nino" isn't ranked, but he was among the top three in the division before the suspension. A win against Barboza puts him right back in the thick of contention at 155 pounds.

Heavy hitter looks to stay unbeaten in UFC

Francis Ngannou has been legitimately frightening in his first two UFC bouts. Both have been TKO wins for Cameroon-born striker fighting out of Paris, France.

In Chicago, Ngannou takes on UFC debutant Bojan Mihajlovic. Don't blink in this one as Ngannou puts his hand speed and power striking arsenal on display on the main card in Chicago.

Two strawweights with loads of potential

The Ultimate Fighter Season 20 favorite Felice Herrig is back in action against Kailin Curran. Both fighters have a common loss against Paige VanZant, but both also have one win the UFC.

Curran is a kickboxer who has shown she can bang on the feet. Herrig is a well-rounded MMA fighter who can hold her own wherever the fight goes.

On the ground, Herrig is a blue belt in Brazilian jiu-jitsu and has three submission wins to her credit. Curran spends her time in practice on the mat working on BJJ defense tactics, so look for her to try and keep in standing or get back to the feet should the fight go to the ground.

The UFC's other Cowboy is back

Alex Oliveira may have lost in the battle of the Cowboys, but he's back at 155 pounds and looking to make a statement on the featured bout on UFC FIGHT PASS.

Oliveira takes on James Moontasri , who is coming off a spectacular knockout against Anton Zafir. Oliveira likes to strike, so this one has to be circled as a potential Fight of the Night candidate.

Matt Parrino is a digital producer and writer for UFC.com. Follow him on Twitter at @MattParrinoUFC