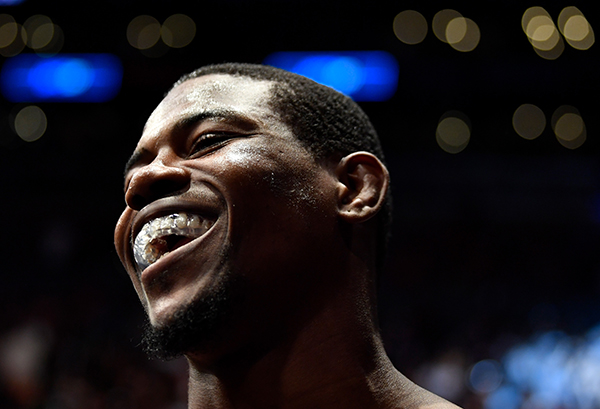 If there is one thing you should know about UFC middleweight Kevin Holland is that he is never at a loss for words – especially during a fight. Just look back at his UFC 227 showdown with Thiago Santos. He took the fight on short notice and despite losing the fight, never stopped jawing.
That's just the personality of the "Trailblazer." He is supremely confident in his abilities and he has good reason to be, winning nine of his last 11, eight of those wins by finish.
Holland's UFC debut didn't go as planned, but now that he has a full camp in his back pocket, he's certain things will go his way. UFC.com spent some time with Holland to discuss his opponent John Phillips, how he would like to finish the fight and much more.
UFC: We haven't seen you since UFC 226. What have you been up to? What's new?
KH: So I started doing strength and conditioning, never have done that before so that sucks. Camp was pretty good, it was about four weeks and that's long enough for me. So make it do, make it work and go in here and knock this boy's head off.
UFC: Did you learn anything from your fight with Thiago Santos?
KH: I learned this is mixed martial arts and just because a guy is a striker you can't count on them to come in and strike. If they get nervous they're gonna come in there and shoot for a takedown. Like Thiago said when I asked him 'why'd you shoot for a takedown', I move too much. I'll be expected John Phillips to be doing the same thing. Shoot for a takedown, the movement will be too much but I'll catch him slipping on the shot.
UFC: Santos is a tough guy, do you think John Phillips is the same caliber of opponent?
KH: They are both bums but Santos showed up that day. I don't think Phillips is the same caliber of opponent but at the same time I'm not going to take him lightly. I plan on going out there and smoking 'em out no matter who they are. I'll take it serious.
UFC: You love to have fun during your fights. Why do fans think it's fun to watch you fight?
KH: I never shut up. I take the big mouth thing all the way to the top. I talk in the middle of the fight, I talk after the fight and I talk before the fight. I'm an active fight I like to fight fight, I don't like to stand there and do nothing. Even when I'm on my back I'll throw a couple elbows shoot up some submissions, if neither one of those is working I'll probably try to ask you to get off me so we can stand up and do it all over again. I just love to fight and want the people to love me.
UFC: Why do you love to fight?
KH: There is nothing better man. What would you rather do for work? Mickey Donalds? Burger King? Or be out here knocking people's heads off? Knocking people's head off is by far the best thing you can do.
UFC: Do you feel that this is an opportunity for you to prove that you are a force to be reckoned with?
KH: I like the big mouth thing it's awesome but at the end of the day I'm still Trailblazer, so I have to go out there and blaze this trail. It's going to be a great opportunity to go out there and show everybody what I'm truly made of. The finish should be spectacular so as long as people don't blink because it could happen at any point time. I understand that John Phillips has a lot of knockouts on his record but so do I. If he runs in the wrong way thinking he has a big looping shot like the white Mike Tyson that he thinks he is I will one-two, one-two Muhammed Ali him straight down the pipe. He'll be holding a jock strap by the end of the night I guarantee that.
UFC: What can we expect from your performance on Saturday?
KH: You can expect to see one of two things. You can expect to get caught at the end of my punches or you can expect for him to shoot for a takedown and his neck can get caught in these long deadly arms. And I'll strangle him to death, pop off his head and keep his skull in my armpit like a little football trophy and I'll take that home. Just don't blink man, this guy makes one mistake he's out of there and I know that for a fact.
UFC: What type of finish would be the most fun for you?
KH: I started in Kung-Fu so a side kick knockout in China would be pretty fun.