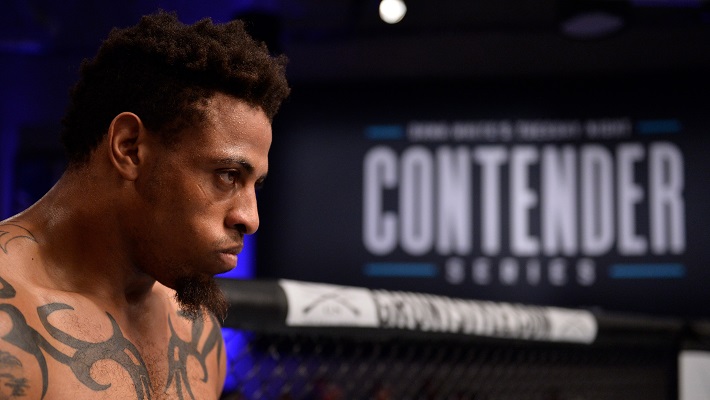 New Year, new network, same amazing action. Welcome to 2019!
As the UFC begins the ESPN era, the level of talent competing inside the Octagon is at an all-time high, and while there are many established contenders and familiar names populating the various weight classes, one of the most exciting things to watch this year will be the emergence of the next wave of talent rising through the ranks.
Every year, fresh names enter the fold, establishing themselves as future contenders or even title challengers from out of nowhere, and prior to every event, this series will shine a spotlight on three athletes set to step into the Octagon with designs on becoming one of those fighters.
It wasn't that long ago that competitors like
Francis Ngannou
,
Kamaru Usman
and
Aspen Ladd
made appearances in this space and now all three — and several others who joined them — are in the thick of the chase in their respective divisions.
Who will be the new names to make waves in 2019?
Here's a closer look at the first three hopefuls.
This is On the Rise: Brooklyn.
Greg Hardy
Hardy is always going to be an intriguing figure to discuss because of his very public past and rapid ascent to the biggest stage in the sport following the end of his professional football career.
I'm not here to rehash his past; my job here is to assess his potential as a mixed martial artist and there is no denying that Hardy is an elite heavyweight prospect.
The 30-year-old is unbeaten in six fights — three as an amateur and three more as a pro — and has yet to need more than 96 seconds to finish an opponent. He went 2-0 on the Contender Series this past summer, knocking out
Austen Lane
and Tebaris Gordon in a combined 74 seconds before picking up his third straight pro win in September.
Hardy has the raw skills to eventually develop into a contender in the heavyweight division — he's an elite athlete with incredible speed, power and fluidity for a man of his size. What is going to be interesting to watch and what will likely end up determining how far he advances in this sport is his development, specifically as he's forced to deal with takedowns and sharing the cage with far more seasoned fighters.
His opponent on Saturday night,
Allen Crowder
, is a step up from the competition he's faced thus far and he showed tremendous resolve in registering a win over Dontale Mayes on Season 1 of the Contender Series to earn his ticket to the UFC. Though he lost his promotional debut, the North Carolina native has four times as many fights as Hardy and should serve as an outstanding litmus test for the newcomer.
Alonzo Menifield
A member of the surging Fortis MMA crew from Dallas, Texas, Menifield earned a first-round stoppage win on Season 1 of the Contender Series when his bout with UFC veteran
Daniel Jolly
was halted after the opening five minutes after Jolly suffered an eye injury. Though he impressed, Menifield was sent back to the regional ranks, where he picked up two more stoppage victories before being called back for a second appearance on the summer series in June.
It took Menifield just 12 seconds to earn a contract in his trip into the TUF Gym, as he wiped out
Dashawn Boatwright
in the initial main event of Season 2. Now a perfect 7-0 with seven stoppage wins, the 31-year-old is set to make his debut this weekend in Brooklyn against fellow newcomer Vinicius Moreira.
Although he's a little older than most new arrivals and emerging talents, Menifield has only been a pro for three years and is not yet four years removed from his first amateur fight. The fact that he's already risen to this level should serve as an indication of his talent and upside, and he has the opportunity to reinforce that this weekend.
Menifield has good size for the division and has shown both a high level of athleticism and strong finishing instincts to date, and working with Sayif Saud and the emerging squad at Fortis MMA means there is great potential for him to improve by leaps and bounds between each fight.
The light heavyweight division is experiencing a bit of a renewal as 2019 gets underway and Menifield could prove to be one of the breakthrough fighters in the 205-pound ranks this year.
Cory Sandhagen
Sandhagen is a name to watch out for in the 135-pound weight class and while he's not getting the massive breakout opportunity he initially expected this weekend, the Elevation Fight Team member still has a chance to make a statement.
Originally scheduled to face perennial contender
John Lineker
, Sandhagen will instead face late replacement Mario Bautista this weekend in Brooklyn, as the unbeaten MMA Lab product steps in for the injured Brazilian.
Sporting a 9-1 record and boasting a pair of stoppage victories in his first two Octagon appearances, Sandhagen already showed that he's tough as nails, rallying from being stuck in a nasty armbar attempt early in his last outing against
Iuri Alcantara
to stop the 45-fight veteran just a minute into the second round. It was the kind of gutsy, come-from-behind effort that should have made everyone sit up and take notice and it established the Colorado-based fighter as one to watch in the bantamweight ranks.
While Lineker certainly would have been a stern test, Sandhagen can still make an impact this weekend by outclassing Bautista and picking up a third straight stoppage win inside the Octagon. He's gone from being a significant underdog to a serious favorite and this is his chance to further show he's capable of competing with the best the division has to offer in the year ahead.