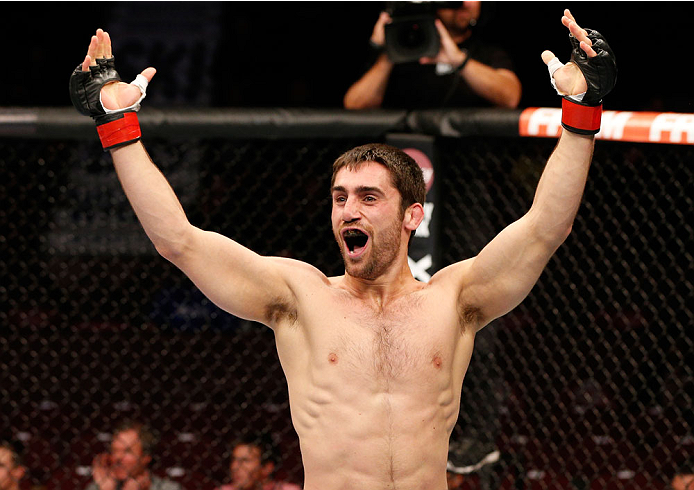 The injury was bad enough, but it was the sound of Jason Saggo's Achilles tendon rupturing last March that sticks with you. And thanks to the wonders of modern technology, Saggo just happened to be recording his training session when he took a step and suffered the injury that kept him out of action since his October 2014 bout with Paul Felder.

"It sounds like a shotgun," Saggo said. "I'm actually really happy I videotaped that session, because I wouldn't have believed it. What it feels like is if somebody is taking a bat and hitting you from behind right in your Achilles."

It was the kind of injury that not only sidelines an athlete, but in some cases makes them want to reconsider doing anything physical for a living anymore. Not Saggo though, and the proof is that he will make his return to the Octagon this Saturday to face Justin Salas in Las Vegas. But as an active individual outside of competition, being unable to walk for eight weeks could be a crushing blow. Saggo made it work though.

"It was a good thing for it to happen, because when you're injured, it's not just about dealing with the process of recovery," he said. "It's a process of discovery, so me being put on the sidelines, I was forced to reevaluate my game, look at different aspects and I was forced to fix the holes in my game and tighten up certain aspects. So I'm going to come back an even better fighter than I was before the injury."
RELATED CONTENT: Jason Saggo fighter bio | Matchup vs. Jusin Salas | Watch: Saggo win his UFC debut on FIGHT PASS
So what did Saggo do while being sidelined? Not surprisingly, he still went to the gym.
"I would go the classes and sit there and watch," he said. "I'd watch and take notes, watch more video and I'd analyze certain fighters and just dissect their game. So it's a different form of training. It's more mental training. Physically, I couldn't do anything. But mentally, I was always training and getting better that way."
In a lot of ways, what Saggo did is a prime example of the true essence of martial arts. And while you could describe the Charlottetown, Prince Edward Island native as an intellectually restless sort who is always up for the next adventure, he makes it very clear that whatever path his life takes in the coming years, he will always be a martial artist.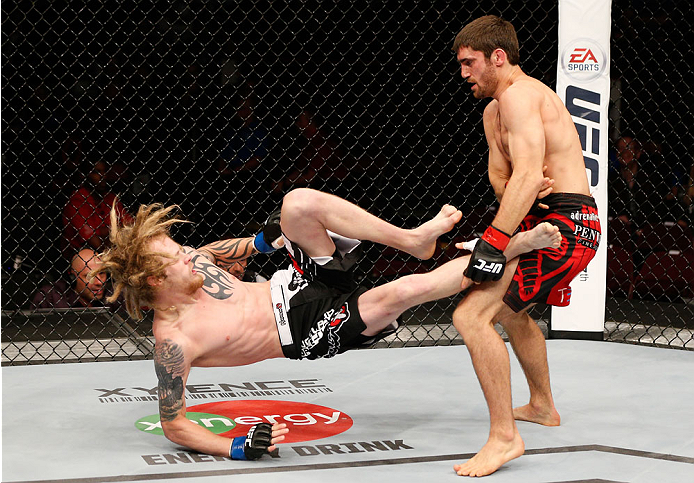 "Martial arts is my passion, it's what I love to do," he said. "I love to teach, I love to train, I love to get better, and when you're studying martial arts, it's like you're always learning something new. So I love martial arts and I see it's had a positive effect, even on the students I teach. When I teach kids' classes, you can see their demeanor change. You see a kid walk in and his head's down and he's shy, and he can't even make eye contact with you. And after two or three months of martial arts, he's looking up, he's carrying himself high, he's smiling and it's amazing the positive effect martial arts can have on anybody, but especially kids at a young age."
There is still the fight though, and for many traditional martial artists, it's tough to put the art to the side in order to fight. That's not an issue for the 30-year-old Saggo, who is eager to break the 1-1 deadlock on his UFC record by defeating Salas. But as soon as someone's hand is raised, that's when the fight ends.
"I was reading this book called 'The Fighter's Mind,' and the author said if you're going to pick up the sword, you're going to be a swordsman," Saggo said. "So if you're going to agree to the fight, you gotta fight. I've got to be willing to go in there and do damage, but at the end of the day, I have no animosity towards my opponent. Once the fight's over, it's all good. But when you're in the ring, it's time to fight, it's time to bring it on."
And Saggo can't wait to hear that crowd and get waved into battle once more.
"I'm excited," he said. "UFC 196 is a great card to be a part of. I'm a fan of Conor McGregor, so it's going to be awesome to fight early on in the night and then it's enjoy the rest of the show."
MORE ON UFC 196: Buy tickets to UFC 196 | McGregor vs. Diaz First Staredown | Read: Always a superfight when Conor is in town | Diaz clears up McGregor comments | Watch: UFC Minute - Inside UFC 196 Numbers | McGregor - Rogan Riffs | McGregor on UFC 194 | Holly Holm - Ready to Defend | Miesha Tate - And New | Read: Reasons to watch | McGregor doesn't disappoint in verbal war w/ Diaz | Diaz steps up, states case against McGregor | Fight week blog: McGregor, Diaz, Holm, Tate making moves | Sanchez ready to entertain on UFC FIGHT PASS | Pre-order UFC 196 PPV
More importantly, those long days on the sidelines are over.
"I think I just missed being on the mats," he said of his return. "I missed physically training and being in there and moving my body around. I'm a physical guy and I like to move around. Even outside of training, just going on hikes, running on the beach, swimming, all that. So being physically disabled for that eight-week mark where I couldn't even walk, it was a completely shocking experience for me. So I'm just so happy that I'm healthy right now and able to participate in this huge fight and huge opportunity for me at UFC 196. I'm grateful for it."