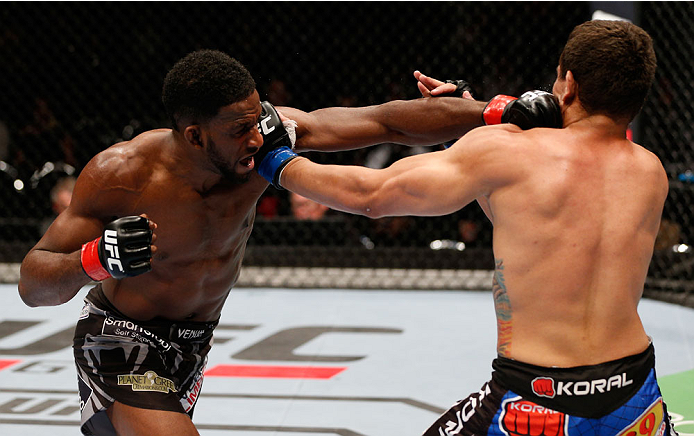 Let's talk reach advantage.

Moments prior to a UFC bout, the phrase "Tale of the Tape" is spoken and it is accompanied by a graphic highlighting the two fighters' age, nationality, height, weight, and reach. On average, a fighter's height from head-to-toe equals a fighter's reach, or wingspan from fingertip-to-fingertip. It's not uncommon to see fighters with lanky arms extending their reach by a few inches more than their given height.

And then there is Neil Magny.

At 6'3", the taller than typical welterweight should have about a 75-inch reach. Maybe 77 inches or 78 if he's lucky, right? With measurements like that, Magny would rival former UFC heavyweight champion Junior dos Santos' size stats. Actually, Magny extends the measuring tape much longer than that to an absurd 81 inches.

> Watch: The UFC Minute: Monday, August 18

While that is an eye-popping number on paper, the real question is - does Magny know how to use it in a fight? And, at 3-0 inside the Octagon in 2014, the answer is yes.

"I'm just starting to understand how effective my reach can be standing," Magny states. "When I started training mixed martial arts it was with Miguel Torres. He's more of a jiu-jitsu guy, so my reach was more for guillotines and chokes like that. Now, working with my striking coach, you realize what footwork you can use to keep guys on the end of your punches to the point that you're not getting hit at all. You're frustrating the guy the entire fight and forcing him to take shots from farther out and it's affecting their confidence and their pace. I'm learning how effective having a reach can be and not just having long arms for the heck of it."

The Ultimate Fighter 16 semifinalist is on an incredible roll this year, which started at UFC 169 with Magny walking into the Octagon on a two-fight losing skid. After winning his UFC debut a full year earlier in February 2013, Magny saw setbacks in his next two outings before hitting his stride, which is in no small part because of the consistency of the high-level training he has been getting as a member of Nate "The Great" Marquardt's Elevation Fight Team. Specifically, striking coach Christian Allen has shown Magny the light about how to use this natural gift of his.

> Watch: The Ultimate Fighter 16 on UFC Fight Pass

"A big thing that has happened is that this is the first time in my career - and I've been training for nine years - where I've had a consistent striking coach," Magny reveals. "I would work with this guy for a fight and then switch striking coaches or not have a striking coach at all and just wing it as far as striking goes. For the last two fights, I've had the same striking coach and it's been doing wonders. He'll see how guys are reacting off my jabs and he'll say add this to it to switch it up and make my opponent think about something else, so it keeps the jab more effective throughout the fight or throughout the round."

The 27-year-old Brooklyn, New York native has been seen three times in a row this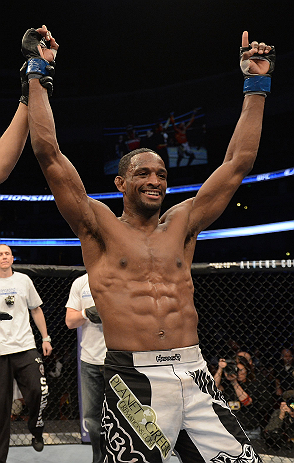 year popping his opponent with his jab from great distance and then stinging them with straights with nary a counter in return. In these last three outings, Magny's adversaries owned individual reaches of 71 inches, 75 inches, and 75 inches, so with simple enough math Magny oversaw a half foot to nearly a foot advantage in the skillful art of touching his foe's face with his fist.

Magny's first two wins this year were unanimous decisions, but the most recent one at UFC Fight Night: Te Huna vs. Marquardt, saw him score a second round TKO over BJJ specialist Rodrigo de Lima. It was an impressive performance that was taken on short notice on the other side of the globe in Auckland, New Zealand, which was an event Magny originally planned to attend to support his teammate in the main event. The first round saw Magny fight off a triangle choke and the round came to a close with Magny hoisting up de Lima in that sub attempt and putting him against the top off the fence only to slam him to the mat ala Matt Hughes vs. Carlos Newton at UFC 34. As for the second round, Magny simply outstruck de Lima using his range and outpaced de Lima using his superior gas tank.

"When I started MMA, I had pretty decent cardio because I was a distance runner in high school and a little bit in college," Magny said. "Moving to Colorado and working with Loren Landow - we're just getting it all together, training at elevation and having someone set your training for you where you're not overtraining and you're peaking at the right time and resting and doing what it takes for your body to perform at its best. Loren Landow has helped me understand what your body needs to push itself, when to pull back, and knowing how to get yourself in the position where it's not just more cardio, but it's more explosive and more powerful as well without gaining too much weight or losing too much weight. It's about being effective at your weight class."

Besides learning how to use the length of his arms, Magny is getting a master's in understanding how to prepare and maintain one's body at Elevation Fight Team, which is set in the, literal, mile-high city of Denver. Magny's two professors are Director of Sports Performance at Steadman Hawkins Clinic Loren Landow and former Strikeforce welterweight champ Nate Marquardt. Landow has overseen the training of professional and Olympic level athletes for years and Marquardt is a perennial top contender and a veteran of nearly 50 pro MMA bouts. Also, Marquardt has spent most of his esteemed career at 185 pounds, but did orchestrate a cut to 170 pounds for four bouts, which is the exact road map Magny follows.

"Not only is he a good guy in the gym to get a good push, but Nate wrote the book on cutting to 170 and I just copy the answers from him," Magny laughs. "He has the diet down pat, he has the training regime down pat, whatever he did to get down to 170 - I do the exact same thing. I feel great doing it that way. I follow his exact same diet and his exact same training regime to get down to 170 and whenever I get a fight, the first person I tell is Nate. We'll get together and watch the video on the guy and just break it down on what I need to do. Not only is he a good training partner, but he's a mentor. Nate's been fighting for the UFC for almost 10 years now and he's someone you can look up to. He's already walked the path and made some mistakes and I don't have to make the same mistakes to learn from it."

What to eat and what to lift are not the only lessons the former Army National Guard Sergeant is taking from Marquardt, as Magny's learning about that famed "killer instinct." "If I make a small mistake with the other guys, I may be able to get away with it, but when I go with Nate every time I make that small mistake I'm either getting submitted or getting the crap beat out of me (laughs)," Magny says of Marquardt, who owns 25 of his 33 wins by finish, including a first-round armbar against James Te Huna in June, which netted Marquardt a Performance of the Night bonus. "It's those small mistakes that he catches me doing over and over and it makes me less likely to do them in a fight."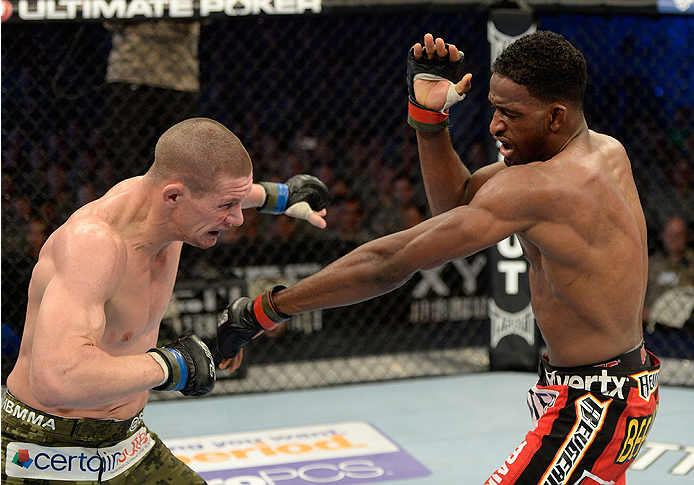 Up next, Magny will enter the Octagon at UFC Fight Night: Henderson vs. Dos Anjos to take on fast starter Alex Garcia. Another rising talent from the Tristar Gym in Montreal, Garcia has earned back-to-back wins in his first two UFC appearances and is riding a six-fight win streak. With a 12-1 pro record, Garcia is a born-finisher, owning 10 stoppages, with nine of them occurring in the first round, including his UFC debut knockout of Ben Wall last December. Like Magny's other opponents, "The Dominican Nightmare" will be working to overcome a reach disadvantage to the tune of nine inches.

"I'm excited for this matchup because he's a different caliber of fighter and definitely a step-up in competition," Magny says. "One thing that I'm excited about is that from my perspective I think we're equally skilled as far as grappling or wrestling goes. But I feel I have a huge advantage as far as striking and cardio. I know from his last fight that's something he has struggled with. You lose cardio trying to be explosive for 15 minutes. It's really hard for guys to try and do. I think two things that will work my way in this fight are my reach and my cardio advantages."

This Saturday at BOK Center in Tulsa, Oklahoma, two young welterweights will war as Magny collides with Garcia.

"One guy is going to look for the early knockout and the other guy is going to push the pace and look to break his opponent physically and mentally," Magny affirms, and he will be aiming his long punches toward another W on his hunt to be the first to four UFC wins in 2014.