If 2015 has proved one thing, it's that Myles Jury is a young man who doesn't do anything quite like anyone else.
"I think that's a good thing," Jury laughs. "I don't want to be like everybody else. It's my path, my journey, so I'm making decisions that I feel are best for me and my close, core group. That's the way I like to roll the dice in this game.
When you hear "roll the dice," there's a gambler's component to such a statement, but the 27-year-old has made his risks as calculated as possible.
But any time you make a move in the fight game, there is an element of walking the tightrope, and as Jury enters his second fight of the year against Charles Oliveira this Saturday in Orlando, he's made not one – but two – major changes since the last time we saw him against Donald Cerrone in January.

More on Fight Night Orlando: Fight card | Samman right at home after battling grief | AKA helps Edwards fight right mix for success | Usman's golden dream | Watch: Road to the Octagon – Dos Anjos vs. Cerrone | Watch: Road to the Octagon – Dos Santos vs. Overeem | Watch: Road to the Octagon – Johnson vs. Diaz

Oh yeah, he's coming off an injury too. But Jury is staying as positive as he's ever been.
"2015 has been good," he said. "A lot of changes, mixing up some things. It's been challenging, having an injury and not being able to fight as much, but I'm making the most of it and making some solid changes, so I'm just excited to finish out the year with a bang."
The first change was team-based, as Jury made the move from California's Alliance MMA gym to the Power MMA squad in Arizona.
"With the head coach, Aaron Simpson, and the team and training facility that they had out here, I thought it was a good change to get out and learn new things," he said. "I'm basically trying to become a better fighter and a better athlete."
Some would say he wasn't doing too badly, as he raced out to a 15-0 record, six of those wins coming in the UFC, before losing for the first time in his career against Cerrone.
"There's always room to improve," he said, but at this level of the game, the wrong move when it comes to training could be the difference between victory and defeat. Jury is willing to take that chance.
"I've had a good camp and I feel like when you make a choice in life, you stick with it and take the good with the bad," he said. "But as far as training goes, I feel like it's been great, and I feel better than ever, so I feel like it's the right decision for me at this time in my career."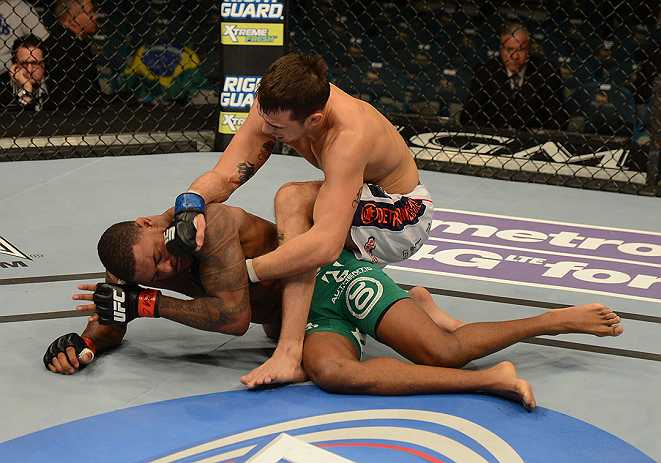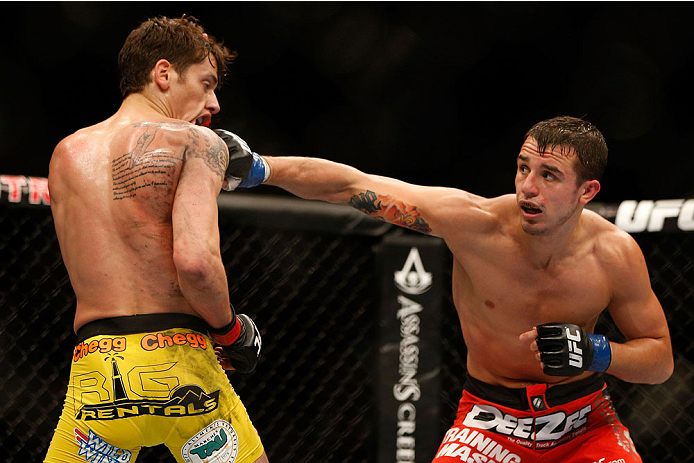 Truth be told, fighters change camps often, and change can be good. Yet the more surprising of Jury's two major moves came after his July bouts against Anthony Pettis, then Edson Barboza got scrapped.
"One thing I took away from the Cerrone fight was I need to become a better athlete and get in better shape," he said. "My cardio's always good, but I wanted to get leaner and become a better athlete. So I got on a good diet and I noticed my weight was just coming off as I got leaner, and I was still killing my workouts and feeling great, so I noticed that I was becoming a smaller lightweight. So I said I might as well stay disciplined and drop a weight class and get an advantage by being, if not the bigger guy, then not being outsized."
So this Saturday, Jury will debut as a featherweight. The Hazel Park, Michigan native was on the verge of getting into the 155-pound title picture if he would have beaten Cerrone. And the same would have been true had he fought and beat Pettis. Now, he's apparently starting from scratch, but maybe not, considering that Oliveira already sits at No. 7 in the rankings.
"I felt like I was getting close to a title shot and a win over Cerrone would have put me right up there, if not the next one in line," Jury admits. "But I feel like I'm one win away from getting into title contention already. So I feel like I can do the same thing I was doing at lightweight at featherweight. I can just be a little more physically imposing."
And while he admits taking a closer look at the 145-pounders before making the move 10 pounds south, he is well aware that there are no easy roads in the UFC. But with his jump to featherweight, he hopes to compete on a level playing field physically, and if he has his way, he'll even be the bigger man come fight night.
"I'm always looking at the divisions, and especially in the UFC, there's no easy division," he said. "It's going back to getting as many advantages as I can get and I feel like nobody's going to be able to outpower me or outsize me in the featherweight division, and I think with an advantage like that, it puts me even closer to that belt."
Brazil's Oliveira plays a big role in the whole process. Owner of nine post-fight performance bonuses, "Do Bronx" is either going to beat Jury or give him the opportunity to put on a statement-making effort with bonus potential. That's the way to make an impression in one of the sport's hottest divisions.
"Definitely," Jury said. "I'm getting a tough opponent and somebody that, with a win over him, puts me right where I want to be. I'm excited for the opportunity."