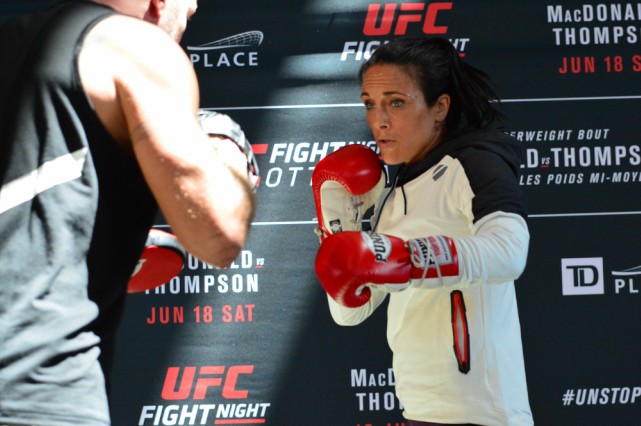 OTTAWA

Given the chance to skip the weight cut down to 115 pounds for their Fight Night Ottawa main card bout, Valerie Letourneau and Joanne Calderwood snatched it like a slice of pizza on fight week.

Instead, Letourneau, the No. 5-ranked strawweight, and No. 12-ranked Calderwood will make history on Saturday when they meet in the first UFC female flyweight bout.

Calderwood doesn't expect a lot to be different about fight week though – just more food. How does she feel about that?

"Less hungrier," Calderwood said. "But hungry at the same time to get in there and fight. I took it on seven weeks' notice so I didn't want to stress about getting my weight down and then not being able to perform on the night. I've been feeling great and have more energy. I can train a lot more and the training is more productive."
RELATED CONTENT: Matchup - Letourneau vs Calderwood | Fighter bios: Letourneau | Calderwood
Fight Night Ottawa marks the second-straight event in which fighters are allowed to weigh in early in the morning and within a three-hour window to make the experience less difficult.
The response from the fighters has been extremely positive in Ottawa and in California at UFC 199.
Letourneau cuts about 25-30 pounds to make strawweight so a permanent move to 125 would allow her to continue to compete in MMA.
"I really hope I'm not going to have to make 115 again," she said. "As I said, I'm going to do it again if I have to because I don't see myself competing at 135. I'm too small. There's no healthy way for me to make 115. So I don't know how long I'd be able to do this."

Calderwood is not completely shutting the door on 115. If the stakes are raised she would be quick to make the cut and return to the division.

"I would make strawweight this week if it was for the belt," Calderwood said. "These are the dedications and sacrifices you make as a fighter especially if you have a chance to fight for the title."

Letourneau and Calderwood are expecting to steal the show. Calderwood is hoping for a Fight of the Night performance and Letourneau, who took champion Joanna Jedrzejczyk to a decision in a tough fight back at UFC 193, said Calderwood is a very tough opponent.

"She is a big name," Letourneau said. "I think she is a better fighter than Maryna Moroz. But I don't know, I was watching the tape (of their fight) and she really didn't look good mentally that day. I can see she didn't show up. I think it's a challenging fight."