As the Irish community reaches new heights in the MMA world, Leah McCourt from Northern Ireland continues to excel as an athlete and as an inspiration to others.
Faced with a full list of athletic and personal responsibilities, McCourt finds balance in her extremely busy life. A black belt in judo, she is the current IBJJF European No Gi champion, having earned a gold medal last November in the 2015 European Open Championships in the Lightweight division.
McCourt – a dominant star who trains full-time in a variety of disciplines, including judo, Muay Thai, boxing and Brazilian jui-jitsu – will be competing for gold again in the 2016 IMMAF World Championships this week in Las Vegas.
If that didn't keep her busy enough, McCourt is the mother of a 5-year-old daughter, Isabella, and dedicates herself to working with Mencap, the United Kingdom's leading learning disability charity that assists children and adults with learning disabilities, as well as their caregivers and families.
After sustaining a knee injury that required surgery, McCourt has refused to allow her intense rehabilitation and recovery process to be a setback. As always, she is a forced to be reckoned with and an inspiration to all who know her.
McCourt talked to UFC.com about her career, her advocacy work for Mencap and what she's hoping to accomplish this week in Las Vegas during the 2016 IMMAF Championships.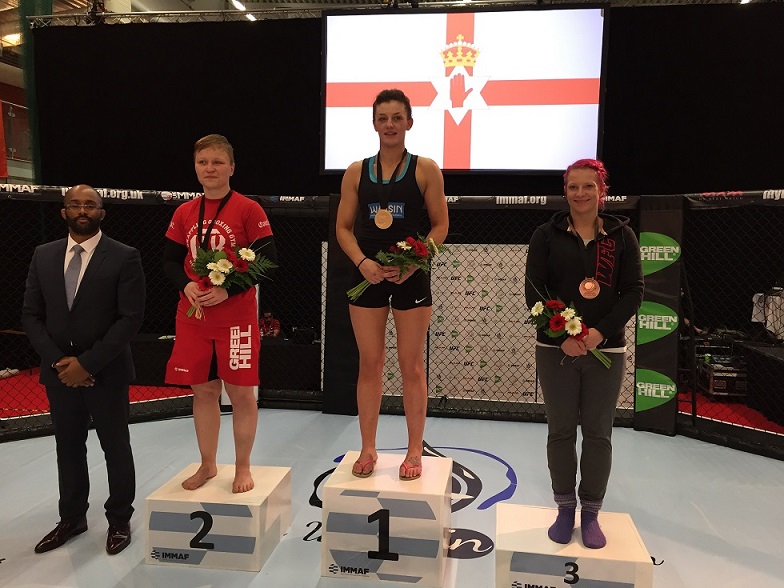 What inspired you to start in your MMA Career?
"I've done judo since I was a kid. I've always loved martial arts and boxing. I loved watching it. I think the first fight I watched, my friend sent me Gina Carano and Cyborg and I just thought it was so great. I sort of got into it and started following it from then. I started training in a MMA gym after I had my daughter Isabella. After that, my coach Paul said, 'You have a judo background why not try MMA?' I just fell into it that way."
What age did you start MMA?
"I must have been about 9 so I was quite little, but I did have a grappling background when I was a kid. I picked it up and obviously watched Ronda (Rousey) and how she used her judo. I watched that and sort caught that style of MMA and did my throws and things as well."
You have a 5-year-old daughter who just started Judo. Can you explain why you're encouraging your daughter to follow in your footsteps?
"Yeah, she is. She loves me. She loves watching me compete in the gym and she's always asking, 'Bring back gold medals.' She's my inspiration. I think judo is a fantastic sport for kids, for the coordination and confidence. There are great opportunities to compete. I wouldn't force her to do MMA. If she wanted to do it later on when she was a bit older she could try it. I think having one foundation of martial arts and working through that as a child is going to be more beneficial and they will be practicing it more frequently. As she grows up she's going to want to do a bunch of different things … She may want to do MMA later on in her life."
Can you elaborate on how challenging it is to train for what may be the biggest fight of your MMA career here at the 2016 IMMAF World Championship, while maintaining your responsibilities of being a mom, and working with children with learning disabilities?"
"Yeah, obviously I work for a charity called Mencap. I work with children with learning disabilities. I have Isabella. I train full time. I had knee surgery just at the end of Feb - March time. Training for this has been extremely tough. It's been my focus, from why I had my surgery to get better and get ready for this tournament. It has been really hard to balance everything but I'm extremely motivated. I feel like I have a very good work ethic. I love the challenge of doing everything. I have a really great family that obviously supports me with Isabella when I'm training and when I'm working, so I feel like I'm really fortunate in that way as well."
Can you elaborate on what you do for Mencap?
"Yes, I actually have fundraisers in the community so I would teach them about people with learning disabilities and if they wanted to get involved. I would run events and corporate events, different type of things, quite a wide range of jobs, but I absolutely love it. It's such a fantastic and rewarding job especially because my office is based where the children come in the mornings. Being able to come in and see how you are able to help other people is amazing."
How long have you been working for Mencap? Was there something that sparked your interest to start working with Mencap?
"Over a year and a half now. I worked in the fitness industry. All I wanted to do was train and it isn't realistic for me as an amateur to quit my job and be able to train full time. Your work is what you do most of your life. I'd rather be able to help somebody, work for a charity or do something that would make a difference rather than making money for other people that I don't really care for (laughter)."
Are there any children at Mencap that look up to you being a professional athlete?
"We have a nursery for children ages 2-3 with learning disabilities and we have also have a lot of employment and young ambassadors programs for people that are older with learning disabilities so they do follow me on my Facebook and Instagram and they always see me. We have a guy that comes in and works on a part-time basis with a learning disability and he loves it. It is great for them to know someone who fights and competes. "
Have you been able to get any more help from sponsors to support your MMA career?
"MMA isn't yet recognized as a sport in Northern Ireland so I, Pat, Danny, and Rodney are all working toward MMA becoming a recognized sport. There's no legislation and different riddles and things you have to set up for it to be a recognized support. Then you would be able to get funding or apply for funding. It is extremely difficult for amateur fighters to be able to come and compete for something like this. I have a fantastic sponsor called Walsin. They're completely amazing and very supportive. They help fund with the European championship, training costs, and coming over here. They really have been pivotal and make it possible to come out here. We have a lot of fundraising as well. A lot of the people in Northern Ireland have helped us. They really do look after their own and they are happy when people do well, especially athletes so it's been great!"
Who are your fighter inspirations?
"Yeah, I love all the girls! I love Ronda, Miesha, Holly and Gina Carano. She was my first love. She was my favorite. We watch fights all the time -- Meisha coming back after her two losses to Ronda and winning the championship. She is such an inspiration to people, especially if the loser doesn't do well, to keep working and come back even better."
Since you're competing for gold in the 2016 IMMAF World Championships here in Las Vegas, is your knee still a concern?
Not anymore, it is 100 percent; my knee feels amazing. It was sort of like a 50 percent surgery. The surgery I had, people don't always recover from it so I did a lot of praying, and thankfully it is 100 percent. There was a lot of rehab, a lot of training with focus on the knee. I didn't push it too hard; I did the right thing. It feels amazing. A lot better now than it did before."
What does it mean for you to be the first ever IBJJF European champion?
"From Northern Ireland, I'm the first IBJJF European champion and ADCC British champion. I'm actually going to compete in ADCC European trials in Germany in October. Supposedly it's a bit of a surprise, BJJ isn't really in my background, and it's not something I did. I went in and competed in them after doing BJJ less than a year. The judo has definitely benefited me, and grappling for balance and things. I kind of want Isabella to get into it. It is such a great sport for her to get involved in."
What is your ultimate goal with your MMA career?
"Yeah, obviously going professional, having it as my career. Being able to compete around the world but it's obviously a financial concern as well. I have a daughter. She is my first priority. Down the road, I'd like to go professional and compete in the UFC but my main goal at the moment is to win this tournament."
Editor's Note:The International Mixed Martial Arts Federation's World Championships return as part of UFC International Fight Week. A total of nine weight classes for men and five for women will use a tournament-style format to crown its champions, with action continuing today through Sunday. Entry is free for the first three days of competition.
Aaron Klock is a digital intern for UFC.com. Follow him on Twitter at @AklockUFC