Don't miss a brand new Ultimate Fighter episode this Wednesday on FS1
James Krause's decision to enter the Ultimate Fighter house for the "Redemption" season of the series was a simple one, even if it wasn't to a lot of people.

"I really don't care what other people think," Krause laughs. "I did it because I wanted to do it. It was pretty simple to me. Everybody else made it out to be some complicated thing, but it wasn't."

The way the Lee's Summit, Missouri product sees it, "It was just something I wanted to do. I still had a bad taste in my mouth from the first time around and I hadn't gotten over it yet. I chose to challenge myself and do it."

Back in 2012, Krause was 15-4 as a pro, a WEC vet, and a favorite to make some noise on TUF 15. But Justin Lawrence put an end to that quest with a first-round stoppage.

"It wasn't about losing; it was how I lost," Krause said. "When I was in the fight, I collided heads with the guy and it knocked me out. I felt kind of cheated. If I would have been knocked out with an overhand right or something like that, then I lost. I'm not a fan of losing, but sometimes in this game, especially at the high level, it's just not your day. So I don't mind losing, but the way I lost really didn't sit with me. I felt slighted and I just wanted another chance at it."
Tune in this Wednesday for a new episode of #TUFRedemption on @FS1 pic.twitter.com/H4hLSD0LdW

— UFC (@ufc) May 5, 2017
He got it this year, but what happened between his visits to the TUF Training Center in Las Vegas is what made his decision to return such a huge talking point among MMA fans.
Following the loss to Lawrence, Krause won four straight and then got a call from the UFC, where he debuted in June 2013 with a win over
Sam Stout
that earned him Submission and Fight of the Night honors. He hasn't left the promotion yet, and after back-to-back wins over
Daron Cruickshank
and
Shane Campbell
, it appeared that Krause had hit his stride and was about to make his run for lightweight gold.
But he had other plans, and his goal on TUF wasn't to get back into the UFC – because he was already there - but to answer some of his own questions.
"Those guys (the rest of the TUF 25 cast) were obviously there to get into the UFC," he said. "To me, it's about way more. I've been in the UFC, I know what it's like, and it was about challenging myself and I think I'm in a different place in life. I'm not afraid to risk it all. It's how I live my life."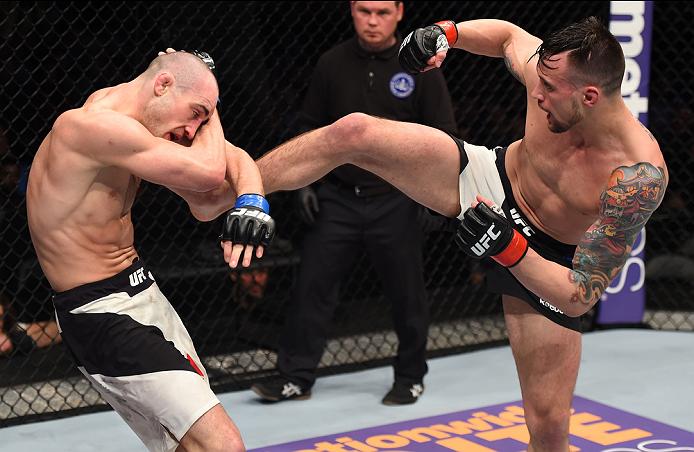 On Wednesday, Krause fights Johnny Nunez on the show, and fans will see whether he takes that next step to winning TUF or if he will fall short. But now that taping is over, it's clear that he found the answers that he was looking for, and they had nothing to do with which fighter's hand was raised at the end of the night.
"It's something that I felt I needed to do, and it was like a life challenge," he said. "And what I love about this show is that it's kind of like prison, and I don't mean that in a negative light. (Laughs) All you have is time, and what that does is allow you to remove yourself from all the bulls**t in your life and take a look at what's important. Sometimes what you think is important and what's really important is a very dated opinion. But whenever you're away from everything you know and love for six weeks, you get a very, very clear picture of what's important to you in life. This sounds super-cliché, but it was a life-changing experience."