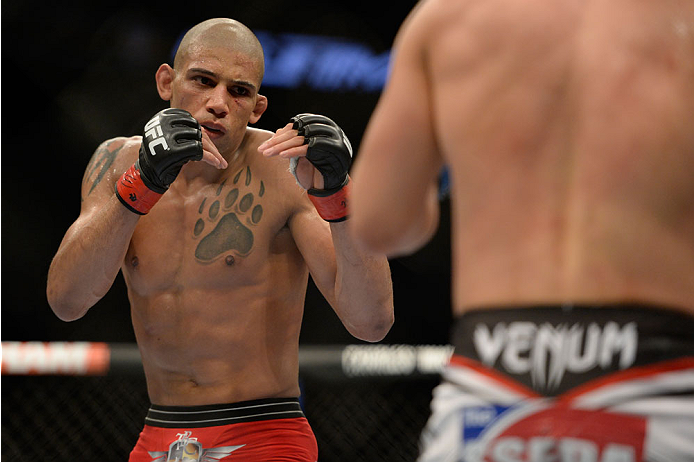 If 2013 was the worst year of Kajan Johnson's professional life, one in which he couldn't get a fight and was left wondering if he would ever get the opportunity to take his career to the next level, 2014 may have been the best.
No, he didn't get four fights, win them all and establish himself as a fighter to watch in the UFC's lightweight division. But he did introduce himself to the world through The Ultimate Fighter Nations, where he made it to the series' semifinals, and he also picked up a Fight of the Night bonus in his UFC debut against Tae Hyun Bang last June. So things weren't perfect, but they were better than they used to be.
"I know here that there's a light at the end of the tunnel," Johnson said as he prepares for his second UFC bout this Saturday in Manila against Zhang Lipeng. "I knew that I would be able to come back and that I would still be signed to the UFC. I felt very blessed this whole time that I got that bonus and it allowed me to take the time that I needed to make the adjustments that I needed and I didn't see it as a hindrance as such; I just saw it as a blessing. That being said, I never get down and my energy didn't get that low. I was still able to resonate pretty high."
As Johnson healed up some lingering injuries back home in British Columbia following the Bang fight, he made the time off work for him, as he delved into an area of himself that a lot of fighters don't, or at least don't discuss. And as he evaluated everything outside of the physical part of the sport, he realized what he needed to do if he wanted to make the run in the UFC his talent seems destined for.
"I took the time to work on my spirituality," he said. "I went back and I fasted, something I hadn't done since 2008, which was amazing, and I got amazing benefits out of that. I spent most of the summer in BC, then I came back to Montreal and I began training very lightly in September and started trying to recreate myself. I realized that the theories that I was employing in my last fight and the way that I was fighting and the way that I thought I had to fight was obviously wrong. I did everything to a tee, exactly the way I was supposed to do it and I still got a bad result. So I had to go and kind of recreate myself. I think that's why the loss happened, so that I can learn those lessons and I can come back stronger and more prepared to the top levels."
It's a rare admission from a fighter after a defeat. Usually a fighter will have a laundry list of excuses as to why he lost. Johnson admits that he did everything he wanted to against Bang and still came up short. So he decided to fix what needed fixing instead of blaming everything on anything but himself.
"In order to be successful in anything, you need to be a whole other person," he said. "So if I'm just working on the physical part of my journey, then I'm not really whole. I need to be working on physical, emotional, spiritual and the mental side as well."
That attitude also made his family breathe a little easier, especially after seeing the rocky road Johnson has traveled to make it to this point. It hasn't been easy, but he's still fighting, and those who care about him support him.
"They're all on board," he said. "They understand why I'm doing this and they also realize that I'm a smart kid and I'm not going to just continue to do the same thing and expect a different result. The fact that I was willing to see the flaws in my style and see the flaws in every aspect that led up to that bad result, and do everything in my power to change what I needed to change and keep what I needed to keep - my ability to do that puts my mind at ease because now they realize that, in a sense, it's going to be a completely different person fighting out there. Obviously, I'm the same man, but with new knowledge it will be a different result."
He hopes it's a winning one, but no matter what happens in Manila this weekend, Kajan Johnson has turned a corner in his fighting career. He says this other side has always been there, but sometimes he needs a little reminder that the fight game isn't all about the physical, but about the mental as well.
"It's more important than your left hook and cardio, in my opinion," he said. "You can have the best cardio in the world, but if you don't believe you have the best cardio, then you're not going to have it. And in order to not doubt and hesitate, you have to be truly in the moment, and in order to be truly in the moment, you have to be very, very whole spiritually, and you have to be one with everything in that moment. For me, that needs a lot of cultivation and I have to actively work on that. It's not just going to come by itself."