BOSTON
Jose Aldo was a good sport on Saturday afternoon during his Q & A session ahead of the Fight Night Boston weigh-ins at the Orpheum Theatre.
Aldo fielded questions from a predominantly Irish crowd.
It was tough to hear the questions as the fans chanted and sang throughout the 30-minute Q & A. The majority of the fans wanted to know how Aldo plans to deal with Conor McGregor if he wins against Dennis Siver and becomes the official No. 1 contender.
> Read: Conor McGregor, Captivating Leader of the Irish MMA Movement, Was Born To Fight
Aldo doesn't seem concerned. He made one thing clear throughout the session: he is and will continue to be the king of the featherweight division.
"Nothing changes. After I hit (McGregor), I'll still be the king," Aldo said. "Chad (Mendes) is the prince and he'll still be the clown."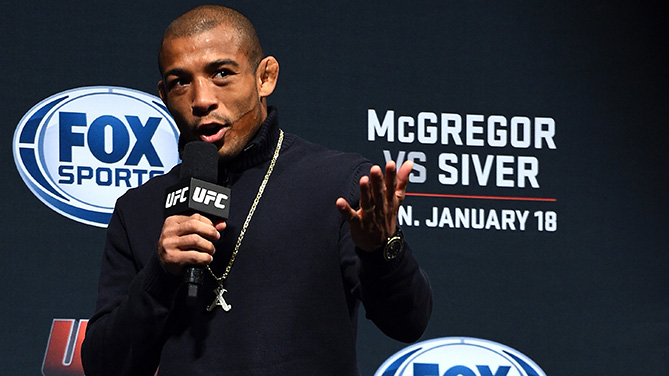 Aldo said he considers himself the pound-for-pound best. He has never lost in the UFC, putting together an astounding 15-0 record between his time inside the Octagon and in the WEC.
His only loss came back in 2005 when he got caught in a rear naked choke submission. Other than that, he's been perfect; a shining example of success in MMA.
Aldo has seen everything in the fight game, and he said that McGregor is just another opponent.
"I'm not really worried," Aldo said. "Conor McGregor isn't going to beat me. … After I beat him, whatever comes my way, I'll take it."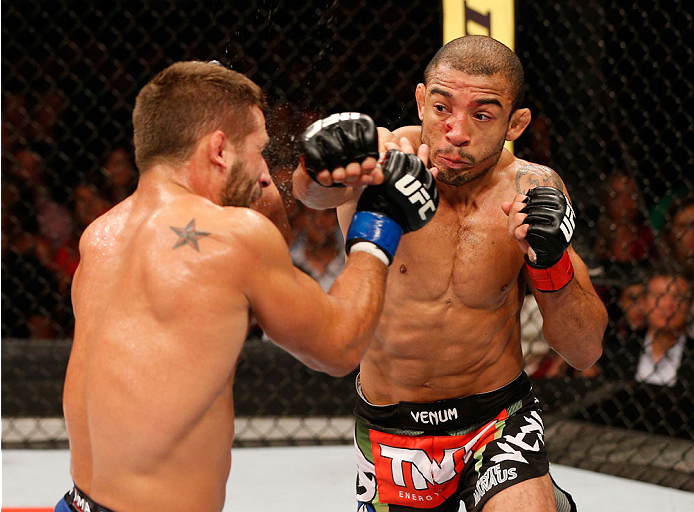 As the Q & A progressed, the crowd seemed to get louder. Aldo said he'll be happy to shut everybody up after his bout with McGregor.
"It's going to be great for me to fight Conor McGregor in Ireland," Aldo said. "It'll be even more exciting to shut you guys up."
Aldo will be front and center for the fight between McGregor and Siver on Sunday night. He is pulling for the Irishman to set up what could be one of the biggest fights of 2015.
"I really hope Conor wins tomorrow," Aldo said. "Otherwise he'll get beat down twice. Once to Siver, and then by me."