Haven't heard of No. 7-ranked light heavyweight
Jimi Manuwa
? Here's a quick crash course:
The London, England product is 15-1 as a professional and 13 of those wins have come by way of knockout. His only loss came against No. 2-ranked
Alexander Gustafsson
back in early 2014, and next up for "The Poster Boy" is No. 1-ranked
Anthony Johnson
Saturday night at UFC 191.
The reason you may not be familiar with Manuwa is because, despite Saturday being his sixth fight in the UFC, it's his first time fighting in the United States. That's right; he's fought 16 times in Europe.
Manuwa thinks that will all change at UFC 191.
"People will know me after Saturday night," he said. "I'm not too into the hype and stuff like that. … Just look at my highlights. I'm a knockout specialist."
RELATED CONTENT: Rumble says fight vs. Manuwa to determine 'Alpha Male' | UFC 191 Media Day highlights | The Matchup - Johnson vs. Manuwa | The Watch List w/ Joe Silva and Sean Shelby
Johnson has been watching and listening, and the former No. 1 title contender is extremely impressed with Manuwa.
"Pretty legit? The dude is legit," Johnson said, annoyed by the insinuation that Manuwa was anything but a first-class fighter. "He's [15-1] and the only guy he lost to was Alexander, who is a beast. I mean, sometimes beasts lose to beasts. That doesn't make you any less of a beast than you were before.
"If they don't know who he is now, they'll know who he is after my fight because we're going to put on a show. "
Manuwa is a man of few words. He likes to do his talking with his fists and his legs. A quick YouTube search will yield a bevy of destructive strikes – many came long before he stepped foot in the Octagon.

The kickboxing phenom said no the first time the UFC came calling. He wanted more experience and knew it would only be a matter of time before he'd hear from the UFC again.

Since his debut, Manuwa has finished three fights – all by doctor's stoppage. After the Gustafsson setback, he went to a decision against Jan Blachowicz in Poland, handing him his first UFC loss.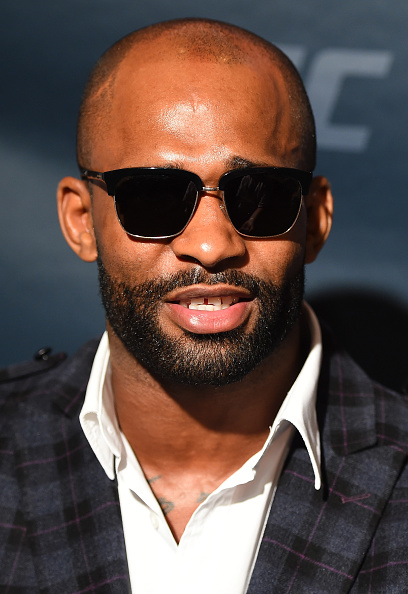 Now Johnson will be on the receiving end of Manuwa's fierce striking arsenal.

"This is definitely one for the fans. I know that this is the people's main event," Manuwa said. "We're two of the hardest hitters in the division and it's going to be a train crash in there."

On paper, Manuwa conceded that Johnson is his toughest challenge to date. He said that MMA is impossible to predict because there are so many variables, but he guarantees an entertaining scrap.

"[Rumble's] a great fighter. He's an exciting fighter, he's a knockout fighter and he hits hard. He's great for the fans to watch," Manuwa said. "It's all about hitting and not getting hit. We'll see – I'm ready for everything.

"I trained hard. I've done my last training session [Wednesday] night. I might do a little something tonight, depending on how I feel. But last night I was super sharp. I feel good and I'm confident."

Matt Parrino is a digital producer and writer for UFC.com. Follow him on Twitter at @MattParrinoUFC